Q&A: NYC Rock act Skaters Glide Around the Globe

In the ever-changing music industry, a young rock band signing to a major label isn't as common of an occurrence as it once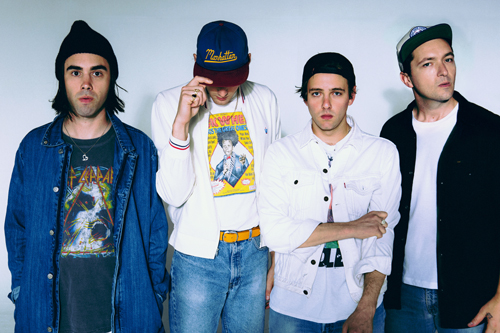 was. Record sales aren't what they used to be, so organizations like Warner Music have to pick their new investments very carefully: enter Skaters, a band that's sound can be easily compared to early 2000s efforts by The Strokes.
Born in New York City back in 2012, Skaters – Michael Ian Cummings (vocals), Noah Rubin (drums), Joshua Hubbard (guitar), and Dan Burke (bass) – became one of those select few to be given a golden ticket very early into their life as a band.
In 2013 follow a gig that happened to be attended by Warner reps, the band would be whisked away to the West Coast to sign upon the dotted line, and to make their full-length debut, 2014's Manhattan.
This week, Riffyou.com caught up with Cummings to learn about the group's quick rise, and the feelings that go along with that.
RY: You recorded Manhattan at Jimi Hendrix's Electric Lady Studio. I'd have to think that's quite the place for a band to make their debut album.
Mike: "The thing is, we picked the studio on the top floor because it was the smallest one and it had windows. We felt really intimidated by a lot of the studios' 'A' rooms. They were so big and it seemed overwhelming to be recording a debut full-length for a major label and be in a huge room…it was almost too much. I don't need that pressure. So, we picked the small room on the top floor and we tried to feel as cramped-in as possible to make it feel like a home studio.
"But yeah, that place was amazing. A lot of records have been made there…a lot of great records that have inspired tons of people. There's a little bit of pressure you put on yourself when you're across the hall from Usher; and then you see Yoko Ono in the hallway; and Arcade Fire down the hall. [You have to think] you're there to make something good."
RY: You obviously had an idea of what you wanted this album to be before you entered the studio. How much did your ideas change once you got into the recording process?
Mike: "Somewhat, but only in the way that you don't really understand what songs are going to come through well until you try to record them. Sometimes songs that have really great demos just don't translate when you try to make them a little more high-fidelity. Then you fall in love with other songs that surprisingly excel in that platform. You have to keep an open mind and try not to force songs onto records."
RY: I read that you were a bartender leading up to this album. What type of impact did such a person-heavy, story-heavy job have on the songs?
Mike: "That was just one aspect of my life at the time, but it was the one that kept me out all night. Obviously, I got into certain things, and met a lot of different kinds of people…it's not like the 9-5 crowd from New York. I don't see [the album] as a bar-inspired thing. I think it was just part of the life that we were living in New York and started making this band."
RY: By comparison to a lot of other bands out there, you formed and then signed very quickly to a major label. How did that happen?
Mike: "It was very quick. We just started playing shows in New York and told everybody that they had to see our band. We pretty much told everyone that they were missing out [if they didn't see us]. You just say you're the best band around over, and over, and over, and people start believing it. [Warner Music] came to one show, and before we knew it, we were on a plane to L.A. It was a shock to us too, and we were really apprehensive at first. It took a while for the deal to get done."
RY: What factors led to not signing the papers right away once they were placed in front of you?
Mike: "To have a five record deal is a lot. You start thinking about where you're going to be in 10 years and [that's hard] when you've only been around for one. You definitely think about the contractual obligations, and the reality of being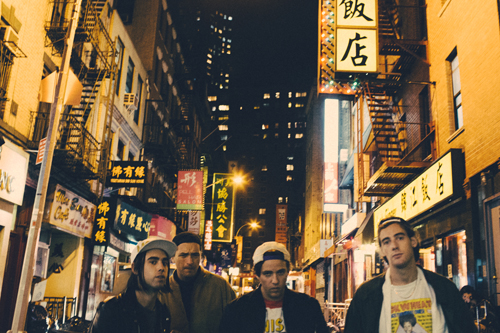 held to something like that. It really makes you think about what you're doing."
RY: Did you receive much backlash for being signed so fast? I know some can be really pissy about something like that.
Mike: "No, because I don't think that exists anymore. I think everyone resents young bands that get success quickly, when they're not good. I don't think anyone rags on a band that's good. People only get pissy when it's a manufactured thing and it looks fake…and you can tell that there's a higher power behind it.
"And the other thing is, is that we've been around the block. We know how this works. When we signed, it was a very adult decision. It wasn't like 'woo-hoo, we hit the jackpot!'"
RY: Was there a small part of you that wanted to remain independent?
Mike: "Yeah, of course. There was that bullshit part of me from when I was 16 sitting on my shoulder and saying 'don't do it, don't do it!' Then there's the real part of me that's like 'you're going to have to get a job for the rest of your life while you play in bands, if you don't take it.' There's a finite amount of time you have with this kind of shit. People start dropping out and getting jobs because you can't be broke forever."
-Adam Grant
Please be sure to follow us on Twitter @riffyou and at Facebook.com/riffyou.