Getting to Know: Hartford Metalheads, Sever the Drama

In today's edition of Getting to Know, we get more familiar with Hartford, Connecticut metalheads, Sever the Drama. If you are in an up and coming band that would like to partake in a Getting to Know feature, contact editor@riffyou.com to receive the questionnaire and instructions. Thanks!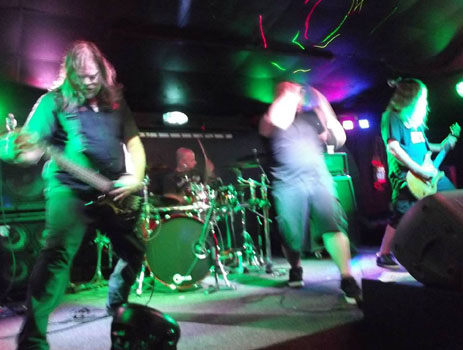 Band Name: Sever the Drama
Band Members: Chris Collman (guitar, backing vocals), Carl Murawski (drums), Sam Hatch (bass, backing vocals), and Scott D. (vocals)
Years Active: Since 2009
City of Origin: Hartford CT
Who are you and what do you do?
"I'm Chris Collman and I'm the guitarist for Sever the Drama."
In 100 words or less, tell us how your band has gotten to this point.
"We've been a band for about five years now. We are built on a foundation of hard work and dedication.  Once there is a goal in mind, we place all hands on deck to set out and accomplish that goal.  So far, we've been fortunate to share the stage with the likes of Nonpoint, Saving Abel, Eye Empire and Sevendust, as well as winning round three of 106.9 WCCC's Homegrown Local Artist competition. None of this would have been possible without the countless hours of promotion that each member takes part in."
What is your latest release and how would you best describe it to someone who hasn't heard your band?
"Our first record, Vested Interest, was released digitally in December 2010 and is currently available via iTunes and Amazon MP3. For those that haven't heard Sever the Drama, I'd describe our efforts as heavy, dynamic and fully energized! We try and take the listener on an intense emotional journey. We're currently back in the workshop crafting more tunes for our second album, Chasing Shadows, due out in spring 2014!"
When making an album, which aspect of the process do you put the most time into and why?
"I'd say all aspects are of equal importance. First, you need to craft your idea, which starts out as just that, an idea. Then through the writing process that idea may change a few times until it's finished and it becomes a full song. Once it's done, you need to rehearse it over and over until it's ready to be recorded. Then it's just as important to make sure the production of the recording is similar to what you sound like live. We always want to make sure the energy that comes across live, comes across on the production of the recording."
What is the best part about your band and why?
"We have a solid lineup that's not only filled with everyone's ability to work their craft, but with an endless desire to GET IT DONE! We're lucky enough to have a collectively focused, driven and determined group of guys."
What makes your band unique from the rest?
"That's a tough question to answer from our perspective. It's funny though…after a few shows we've had feedback from spectators saying that we sound like different bands in different genres. One fan told us we should change our name to Lamb of Panteranthrax! We got a huge laugh out of that. I guess he can hear a few of those bands' (Lamb of God, Pantera, and Anthrax) influence in our playing. I guess I'd say that it's unique that our members are able to have a variety of influences, not only in metal, and be able to bring them all to the table and make it work!"
How does your band survive the challenges of touring/gigging?
"That's simple! Feeding off the energy of the audience. When you're tired, and you feel like it's going to be a rough night, all you need is to see the crowd getting into it and you just feed off of that energy!  I guess you could say adrenaline kicks in and takes over!"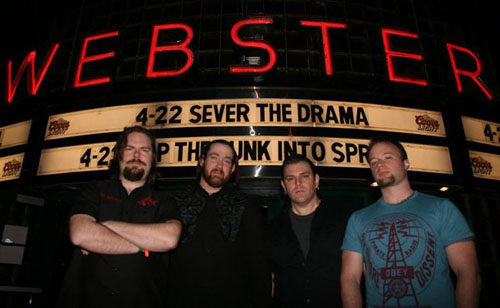 Would you rather be critically-acclaimed; rich and famous; or an under-the-radar band with a dedicated fan base?
"Of course we'd all love to be able to get paid well for what we love to do as well as be critically acclaimed. But, without dedicated fans, we're nothing. We're very lucky to have some unbelievable people both as fans and behind the scenes supporters."
If you'd have to compare your band to another one out there, living or dead, who would it be and why?
"We all have a variety of influences that can be heard in our music. For me, personally, I'm a riff guy.  You play me a 'Hetfield,' a 'Dimebag,' or other chucky-muted guitar riff and my eyes will light up like a Christmas tree! Though, if I had to throw a few names out there to compare us to, I'd say maybe Lamb of God, Pantera, or Sevendust. Like I said, it's hard to classify yourself."
Which band/musician would you like to share many drinks with? What would you talk about?
"Well, my biggest influence doesn't drink anymore. But if he did, I'd love to sit and have some drinks with James Hetfield of Metallica. By far, [he is] the single reason I wanted to learn guitar. I was just drawn to the 'riff.' I'm a sucker for evil, chunky muted guitar!!"
Please be sure to follow us on Twitter @riffyou and at Facebook.com/riffyou.