Getting to Know: Ireland Punk Rockers Valentino is Dead

In the Monday edition of Getting to Know, we introduce you to Ireland's Valentino is Dead. Although punk rock is their inspiration, the band believes their music spans well beyond such a category. If you are in an up and coming band that would like to partake in a Getting to Know feature, contact editor@riffyou.com to receive the questionnaire and instructions. Thanks!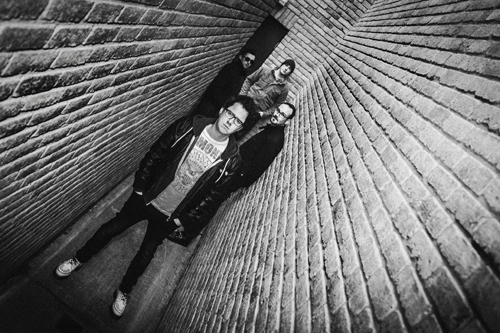 Band Name: Valentino Is Dead
Band Members: (including who plays what): Keith Smith (vocals, guitar), Boey (guitar), David Black (drums), and Clive Walsh (bass).
Years Active: 2
City of Origin: Drogheda, Ireland
Who are you and what do you do?
Keith: "We are a hard working band from east coast Ireland that write meaningful songs, wrapped in punchy guitars, pounding drums and coated in catchy-as-fuck melodies. We are not restricted by genres and write in whatever kind of style we want from hard rock, ska and punk, to alterative rock, Celtic rock, and even a bit of pop."
In 100 words or less, tell us how your band has gotten to this point.
Keith: "We've gotten to this point by remaining true to ourselves and faithful to the spirit of why we formed our earliest high school bands. It wasn't for the money or the fame or the excess – it was for friendship and the desire to connect with people in a way only music can. We continue to follow our hearts and not our wallets. Our integrity is not for sale and for us this is the key to a long, happy and successful music career we can be proud of whether we sell 10 albums or 10 million albums."
What is your latest release and how would you best describe it to someone who hasn't heard your band?
Keith: "Our debut album is called Misadventures in Punk Rock, and it's not your typical punk rock album. It's a very diverse album with a potent cocktail mix of hard rock, punk rock, pop, ska and indie held together with punk rock attitude and spirit. The key ingredients running through all the songs are hooks and melody, so you can be sure to find something to grab you and get you on your feet."
When making an album, which aspect of the process do you put the most time into and why?
Keith: "The most important part of the process for us is jamming out new song ideas. There's nothing more exciting than playing through a song in its infancy and hearing it develop over the course of time. Depending on the song, it could take anything from an hour or two to literally months or years to finish it. We've often had songs we've not been able to finish…just lying around with no chorus, or a weak chorus until one day we blow the dust off it and it just comes together and suddenly makes perfect sense. If a song doesn't get past this early stage, then it will be dropped or shelved until such a time the missing piece of the puzzle is found."
What is the best part about your band and why?
David: "The best part about our band is the energy we create when playing our music. I think when we play live, the buzz of being able to play our own music to fans that want to hear it really is the most important part of being in Valentino for me. And, I think people that come to our live shows can see how much we love doing what we do! Bouncing (not literally) off each other on stage, rocking it out, and having a laugh in the process can't be beaten in my opinion!"
What makes your band unique from the rest?
David: "It seems these days to be unique amongst the vast array of bands out there you have to do something gimmicky, or follow some trend. I think what we have done is stayed true to our ethos of punk rock; hard graft; and not changed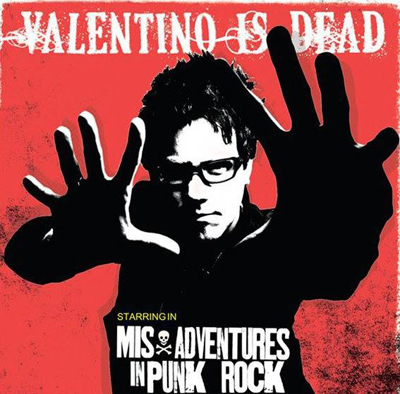 our songwriting to fit in with a current sound. We love the music we write and will continue to better ourselves with each song we write together. We all work together to get everything done from booking gigs; designing our website; and promotional work with little outside help. I thinks this punk rock ethos makes us unique from a lot of bands out there today."
How does your band survive the challenges of touring/gigging?
Keith: "I think like any relationship, friendship is key. If your band is built on a good strong foundation, then nothing can bring it down. Our band is democratic so we tend to go with the majority vote and whenever tensions do arise, diplomacy usually works… so far anyway!"
Would you rather be critically-acclaimed; rich and famous; or an under-the-radar band with a dedicated fan base?
David: "Hey, the riches wouldn't go amiss! But I would rather be an 'under-the-radar band' with fans that really dig our music. I would opt to play a gig with a hundred fans that really rocked out to us than play bigger shows where people half-listened to what you were doing. To have created music that affects people's lives is an amazing thing."
If you'd have to compare your band to another one out there, living or dead, who would it be and why?
David: "I try not to compare our band to someone else as I think by doing that you can subconsciously start sounding too much like them, but influences in the band come from The Clash, Ramones, Therapy?, Faith No More and any music that puts its heart on its sleeve. Music that strikes an emotion is what we seek out and we will continue to do this until we are old, wrinkly and well past it."
Which band/musician would you like to share many drinks with? What would you talk about?
Keith: "Myself and Boey were lucky enough to have that experience a few years ago when we supported '70s punk legends, The Buzzcocks. It was one of those magical moments you can't plan…it was just our band and the lads from The Buzzcocks hanging out backstage after the gig. There was no bullshit or attitudes, just a group of friends hanging out, having a few drinks, a laugh and swapping stories. We have so much respect for those guys and they are legends in their own right yet I remember Steve Diggle being really excited recalling the time they supported Nirvana, and Kurt Cobain came up to him looking for his autograph. During our experience, there was no 'Buzzcocks and us,' instead we were all just excited music fans enjoying each other's company. I don't like 'talking shop' with other bands – I prefer having 'the craic' (having a laugh) as we say in Ireland."
Please be sure to follow us on Twitter @riffyou and at Facebook.com/riffyou.