Fan Review: Goo Goo Dolls Take Over Hamilton Place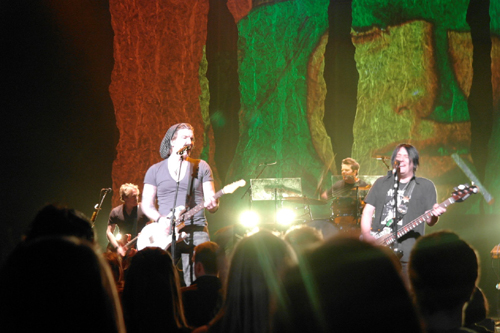 Hamilton Place is probably the best venue I've ever seen a concert at. I saw the Goo Goo Dolls there on Friday, February 21, and the much smaller seating area gave fans the opportunity to get closer to the band, making the experience that much more special and intimate.
I was a mere six rows away from the amazingly cool and talented John Rzeznik, lead singer of the band. Being that the theatre was small, John was able to interact with fans much easier by holding the microphone out to them to answer questions he had asked. To top it all off, the band were astonishing live, perfecting every note and not once missing a beat.
Singing chart-topping singles such as "Iris" and "Slide," the Goo Goo Dolls kept every audience member on their feet, dancing and singing along to every lyric. Rzeznik even kept the audience laughing by making comments like, "You guys have to shut up now so I can concentrate, this is the hard part of the song," or making jokes about "freebies" in relationships. They also performed many hits off their new album, Magnetic, such as "Come to Me," "Rebel Beat," and "Bringing on the Light."
For 28 years, the Goo Goo Dolls have been producing songs with inspiring lyrics that amaze fans and Magnetic is no different. I enjoyed how they incorporated many of their older hits with the new ones to make for a great show that all fans would like.
Besides the Goo Goo Dolls' incredible performance, they also had an amazing opening act, Prince Edward Island's Tim Chaisson. Chaisson did an incredible job opening up and definitely made a fan out of me. Before the Goo Goo Dolls played, Chaisson took the time to sign autographs and take pictures with fans. It was awesome to be able to meet him and tell him how amazing he was.
Overall, the Goo Goo Dolls were absolutely incredible and I could rave about them forever. This was definitely one of the best concerts I've ever been to.
-Fan Review by Tanja Saric