Riff Review: Kings of Leon More Than Mechanical in London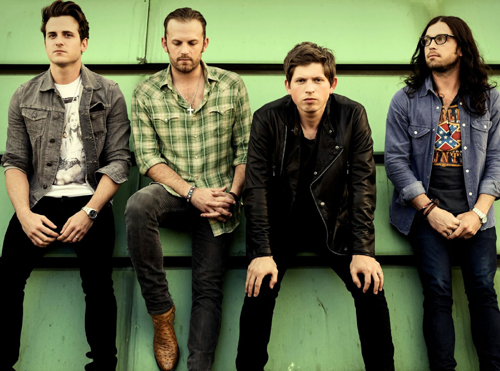 It may be a tired story to relive, but it's no secret that Kings of Leon had some serious issues going on within the band as they toured 2010's Come Around Sundown, thus leading to a premature ending to their road duties.
After needed time off to recoup from whichever rumours were actually true, the band released their marvelous 2013 Grammy Award-nominated follow-up, Mechanical Bull. Filled with equal parts spirit, grit, emotion, and hooks, it felt as if KOL were actually enjoying themselves once again. Fortunately for the attendees of the band's Sunday night gig at London, ON's Budweiser Gardens, that feeling carried over to the stage.
Opening the night as silhouettes behind a giant sheer curtain, the guys started off with a blistering edition of "Charmer," from 2007's Because of the Times, an album which would be heavily pulled from on this night. Mechanical Bull standout, "Rock City," followed as the curtain dropped to reveal the family Followill in good spirits.
While Kings of Leon have emerged into an efficient arena act that draws upon a grocery cart of lasers, strobe lights, and trippy clips upon a massive rear-stage screen, the musicianship and growing catalogue of impressive work manages to over-shine the expensive glitz needed to pull certain live experiences together.
Caleb Followill's voice rang true all night through his performances on tracks like "Temple," "On Call," "Don't Matter," "Molly's Chambers," and "Notion," and successfully navigated the boogie-friendly "Family Tree," and "Back Down South." Meanwhile, the evening's ballad-ish selections – "Wait for Me," "Immortals," and "Pyro" – proved to equally win over the mixed batch of radio single fans and deep album cut devotees.
In addition to Caleb, brothers Nathan (drums) and Jared (bass), and cousin Matthew (lead guitar), were on the case throughout the night, leaving very little to chance. While not rambunctious stage trapesers, or conversationalists, the band was unified in their execution and performance without giving off the working-on-the-clock vibe.
"Cold Desert," "Use Somebody," and "Trani" beautifully led the band off the stage ahead of their encore break. Once they re-emerged, beastly versions of "Crawl" and "Black Thumbnail" shined through, before the obligatory – but necessary, and still awesome – closer, "Sex on Fire."
For years, Kings of Leon have gotten a hell of a lot of flack for their leap from dirty southern indie rockers to arena stars who have the ability to pen radio-digestible material almost at will. But ultimately, as bands evolve, so do their tastes. Let's not forget, these guys were practically babies when they got going.
Sure, their crowd may now consist of soccer moms, business executives, and pop radio gushers, but that doesn't take away from the fact that Kings of Leon – based strictly on songs and the execution of them live – are a great friggin' rock n' roll band. There's still plaid, tight t-shirts, dirty jeans, and leather in the crowd, but now you just have to look a little bit closer for that.
-Adam Grant
Please be sure to follow us on Twitter @riffyou and at Facebook.com/riffyou.
Kings of Leon Set, February 23, 2014:
"Charmer"
"Rock City"
"My party"
"Temple"
"Notion"
"On Call"
"Family tree"
"Closer"
"Immortals"
"Back Down South"
"Wait For Me"
"Supersoaker"
"Milk"
"Pyro"
"Tonight"
"Don't Matter"
"Radioactive"
"The Bucket"
"Molly's Chambers"
"Four Kicks"
"Be Somebody"
"Cold Desert"
"Use Somebody"
"Trani"
Encore:
"Crawl"
"Black Thumbnail"
"Sex on Fire"