Getting to Know: Ontario Pop-Punk Upstarts, Cheap Date

In this Friday edition of Getting to Know, we meet up with up and coming Oshawa, ON, pop-punk quintet Cheap Date and learn about which member would turn into a "fan girl," if he ever encountered Blink-182's Mark Hoppus. If you are in an up and coming band that would like to partake in a Getting to Know feature, contact editor@riffyou.com to receive the questionnaire and instructions. Thanks!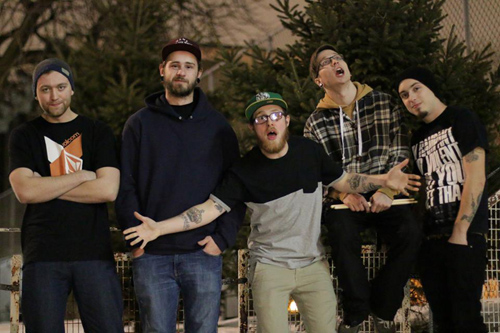 Band Name: Cheap Date
Band Members: Anthony Parry (vocals), Evan Payne (guitar), Anthony Stark (guitar), Taylor Hewitt (bass), and Boden Jones (drums).
Years Active: 6 Months
City of Origin: Oshawa, Ontario
Who are you and what do you do?
"My name is Evan and I play guitar in Cheap Date."
In 100 words or less, tell us how your band has gotten to this point.
"Things just fell into place. We began writing these songs over a couple beers for fun and realized the potential pretty quickly. The only issue was finding a vocalist (which is every band's nightmare). Luckily, we came across Parry fairly quickly. Our first gig was tossed our way from our friend Brendan Kennedy (Fairview) and we never looked back. We've recently recorded with Donnie from Skynet and we couldn't be more stoked on the outcome. We're planning a tour with our buddies in The Maysides for the end of February."
What is your latest release and how would you best describe it to someone who hasn't heard your band?
"We just released our newest single "Superheroes Have Bad Days Too," online. You can find that on YouTube and also on SoundCloud. People have already described it as Four Year Strong meets New Found Glory, and I'm pretty content with the comparison. If you're a fan of The Story So Far, Four Year Strong and Blink-182, we're what you've been looking for."
When making an album, which aspect of the process do you put the most time into and why?
"So far we're in the process of recording our first EP. We spend the most time and attention on song writing. We've fallen into a pattern with how our songs are being processed. We want to release the best possible record we can, so we spend most of our time perfecting these songs. We will play these songs over and over trying new chord progressions and different leads to get the best outcome. We can be pretty damn picky when it comes to what we choose to release. Since we're not afraid to say to one another 'Dude, that riff sucks,' we're always able to bust out a solid track."
What is the best part about your band and why?
"The best part about our band would be the fact that we're really down to earth dudes. We're the guys that will play a gig and be the first to ask 'where's the party after?' The best part about being in a band is meeting so many different people and getting a chance to hang-out with them. We're already discovering the perks of playing house shows. With that being said, who's going to have us play their next one?"
What makes your band unique from the rest?
"What makes our band unique is the members' musical influences. I'm a huge pop-punk fan and our other guitarist is a huge metal head. So you can imagine how fun it is when we sit down to write a song together, ha ha! In all honestly though, we're able to pump out a sweet compromise that a lot of people are able to get into. Our music can appeal to people who want something heavier and people who want something they can sing along to."
How does your band survive the challenges of touring/gigging?
"It's pretty funny actually, ha ha! We're currently making the treks to each show in two tiny cars. Our drummer Boden will drive up our cabs and sometimes another member, and we're always calling up friends at the last minute (we can't stress how last minute we mean) to drive to our shows too. When it gets down to it, we're relying on our friends a lot to help us out in these early stages. As far as getting shows, we have been really lucky. We know some awesome promoters that have been tossing us some sweet gigs."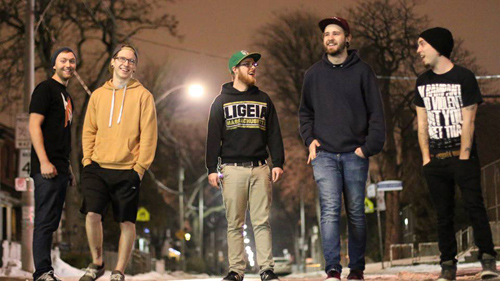 Would you rather be critically-acclaimed; rich and famous; or an under-the-radar band with a dedicated fan base?
"As of right now, we really want to play our music to as many people as possible. When we find out that anyone is digging our music, we all get pretty stoked. I think it's safe to say that as long as we can keep playing shows and kids come out and get into what we're doing, then we're content with whatever happens."
If you'd have to compare your band to another one out there, living or dead, who would it be and why? "I have found a lot of my influences in Blink-182, Four Year Strong and The Story So Far, but if I had to compare Cheap Date to just one, it would be The Story So Far. We have sections within our songs that can be quick and punky and then sections that are simple and catchy. We're trying to enjoy the best of both worlds and stay current with the pop-punk world."
Which band/musician would you like to share many drinks with? What would you talk about?
"Everyone knows how I'll answer this question! I'd be the typical pop-punk kid and would hands down pick Mark Hoppus (Blink-182, +44). If I ever got the chance to have drinks with him I'd be amazed if I would even be able to ask him anything, ha ha! I'd be such a fan girl. But, if I got the chance I'd definitely ask him about any crazy tour stories he has. Knowing Blink and how energetic they are, I'm sure they have a couple. I'd also ask him if there will be any follow ups to +44's debut record. I got really into that one."
Please be sure to follow us on Twitter @riffyou and at Facebook.com/riffyou.