Getting to Know: Ottawa Rock act, Overnight Collides

In the Thursday edition of Getting to Know, we catch up with Ottawa-based rock trio, Overnight Collides, a band that has a hard time comparing themselves to anyone else out there. If you are in an up and coming band that would like to partake in a Getting to Know feature, contact editor@riffyou.com to receive the questionnaire and instructions. Thanks!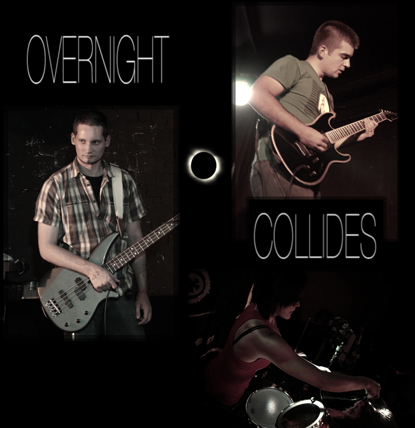 Band Name: Overnight Collides
Band Members: Melissa Kay (vocalist, drummer), Andrew Smith (lead/rhythm guitar), and Scott Chamberlin (bass)
Years Active: 2
City of Origin: Ottawa, ON.
Who are you and what do you do?
"We are Overnight Collides from Ottawa, ON."
In 100 words or less, tell us how your band has gotten to this point.
Melissa: "With a lot of patience, dedication, luck and strong friendship. We are fortunate to be playing and making music with our best friends and work hard to ensure those relationships do not become severed while continuing our band's growth. In May of 2013 we were contacted by a producer Brian Lanese (of the band Permanent Ability) who loved our music and wanted to help create our first album."
What is your latest release and how would you best describe it to someone who hasn't heard your band?
Scott: "We are currently recording, but various demos are available digitally only. It's upbeat, fast, but subtle hard rock."
Andrew: "It's rock music that's not commonly heard. This band mixes their influences and combines unique and original material within their structure."
When making an album, which aspect of the process do you put the most time into and why? 
Melissa: "A lot of work goes into our song writing – we like to incorporate different styles of music into our songs, which can take time. But, we rehearse like crazy to get them down. After all, the quality of your production relies heavily on how well you know your tune."
Andrew: "Personally, I work on all the guitar parts, from recording demos at home to rehearsing everyday until we get every track perfect. After about a month, we head to the studio to lay down the tracks."
Scott: "Each time we play a new song, we re-invent it a little each time until we get it to a point that we all believe it is complete. Our process is to let the music flow and create itself, so the hardest part of creating is just letting it grow."
What is the best part about your band and why?
Andrew: "The way we write and get along with each other, as well as my role as both rhythm and lead guitar. Plus, how we continue to write original and unique material."
Melissa: "The way we interact with each other, our friendships with one another and writing styles."
Scott: "We each have our own influences, passion and mixing those feelings generates our unique sound – it makes our music fun. We enjoy it, and because of that, others do as well."
What makes your band unique from the rest?
Scott: "Combining metal, light and heavy rock, and punk is not new, but the way it comes out [of us] in melodic fast paced songs with feeling [seems unique].  A lot of new rock music is about nothing. It is catchy, it moves you… but does it make you think or feel anything? We like to think our music does."
Andrew: "We try not to sound like what you would typically hear either on the radio or at shows. We want to continue to stay clear from copying other groups."
How does your band survive the challenges of touring/gigging? 
Melissa: "We haven't done much in the way of touring and gigging recently – with all the work we have put into our upcoming release. But, now that we are almost done, we are sure that gigging will be a challenge."
Would you rather be critically-acclaimed; rich and famous; or an under-the-radar band with a dedicated fan base?
Melissa: "I would rather be under the radar with dedicated fans. I enjoy playing the smaller shows.  It's more up close and personal."
Scott: "Either or neither… we are doing what we enjoy. To set goals and value upon those things, means you view it as a business and rating your personal success by the reactions of others. As much as we all want to be rich and famous… it should never be the driving factor to do anything."
Andrew: "I wouldn't want the status of Justin Bieber or Paramore, but maybe Billy Talent or Protest the Hero."
If you'd have to compare your band to another one out there, living or dead, who would it be and why?
Melissa: " I don't like to compare us to other bands because we're not them and they aren't us."
Andrew: "I get inspired by bands but I can't describe, or find another band who sounds like us."
Which band/musician would you like to share many drinks with? What would you talk about? 
Melissa: "Gerard Way from My Chemical Romance. I love theatrics, and I would probably spend time talking with him about all the hidden meanings inside The Black Parade.
Andrew: "Protest the Hero or Billy Talent…we'd talk about life and music."
Scott: "Slipknot and Stone Sour. Corey Taylor is a lyrical genius. Mostly, I would just like to see what he is like, and exchange stories of the things we have seen and been through."
Please be sure to follow us on Twitter @riffyou and at Facebook.com/riffyou.