Interview: Against Me! – Friendship in a Time of Change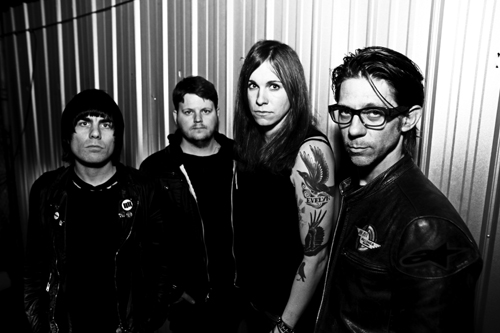 Against Me! guitarist James Bowman didn't anticipate that his high school friend and bandmate Tom Gabel was planning to transition into life as a woman: "I'm sure there were little [hints] here and there, but it's not necessarily something you expect," he explains in an interview with Riffyou.com. "But with the people you love, you support them for whatever they want to do and whatever they want to be."
In March 2012 in an exclusive interview with Rolling Stone, Gabel explained that for the majority of his life that he'd been suffering from gender dysphoria, a condition that is described as feeling highly-disconnected and unhappy with the gender in which you were born. He admitted to cross-dressing a lot when younger; playing with girls' toys; supressing his feelings with drugs and alcohol; masturbating like a girl more so than a man; and considering the possibility that he was gay.
After nearly a lifetime of struggle, Gabel has become Laura Jane Grace. In addition to the obvious emotional hurdles, she is also taking hormone injections; considering multiple surgeries down the road; and fully presenting herself in public as a woman.
"If I could have chosen I would have been born a woman / My mother once told me she would have named me Laura / I would grow up to be strong and beautiful like her / One day I'd find an honest man to make my husband," is what Grace, then Gabel, wrote in a passage of Against Me!'s 2007 New Wave track, "The Ocean."
A little less than two years after the revelation, Against Me! has soldiered forward with their astoundingly profound and powerful 2014 album, Transgender Dysphoria Blues. This emotionally-intense 10-song effort shows Grace throwing away the barricades and bravely sharing with the world the long and winding journey that has brought her to this point. Not all subject matter is easy, but it's presented with great honesty and conviction. (You can read our review here.)
"We seem to have a fan base that is fairly open-minded – more so than that a pop band, where people are less invested. People who generally listen to our band seem to have an open mind and are open to alternative views of anything," explains Bowman when asked if he felt that some Against Me! listeners may find Transgender Dysphoria Blues' subject matter too tough to handle. "So, at least we had that. But in general, people are going to think what they want to think.
He continues: "There was definitely nothing in there that made me feel uncomfortable and nothing in it struck me as 'oh shit!' It's cool content – it takes courage and heart to talk about things that aren't a mainstream opinion. I've always loved that [about Grace]."
When asked about the first leg of the band's latest tour, Bowman notes that the reaction has been positive and he feels that fans are "connecting with the album."
In interviews with other publications, Grace has hinted that she feared for the future of the band after initially sharing her plans to become a woman. As the dust settled, bassist Andrew Seward and drummer Jay Weinberg would end up leaving the band for personal reasons (eventually to be replaced by drummer Atom Willard and bassist Inge Johansson), leaving Bowman and his best friend Grace to deal with the future.
"Laura's been a major part of my life and been my best friend and musical cohort for so long. There was no question to me about whether I wanted to keep doing it or not," says Bowman when Riffyou.com inquired about why he chose to stick with Against Me! "This is what I do and I love doing it with her.
"There was a time of figuring things out – obviously. She's been figuring out things for herself too," he adds. "It was a 'take it as it goes' type of situation. There was never a point where she was too careless. It was a comfortable [process] of 'what should we do,' and it evolved from there."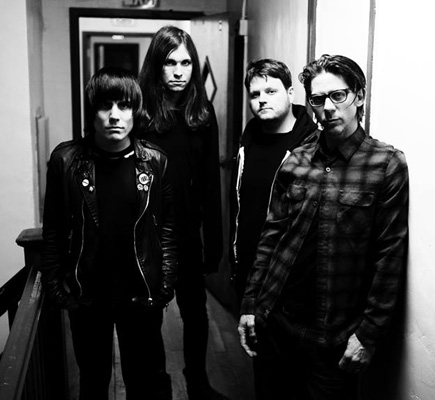 In terms of lessons, Bowman says that Grace's metamorphosis has taught him that everyone is on their own path, and that you can't expect people to have everything in their head or their heart figured out. He's also learned that not all situations can be seen from afar.
As for the idea of being a new voice for the transgender society, Bowman says that the band isn't attempting to be spokespeople, "but helping people out along the way or giving them a little bit of inspiration or courage in their own situation," is something that Against Me! loves.
"If the voice of the record is a step for other people too, then that's important," he offers.
With the first grouping of shows now complete, the band will take a bit of a breather before heading back out onto the road. As noted, the outside reaction has been positive. Internally, Bowman and Grace's long-lasting friendship remains iron clad.
"It's as close as ever," says Bowman of his current relationship with Grace. "There hasn't been a change – I don't view her as a different person or anything. She is one of my closest friends and I love her, and it's always going to be that way."­
-Adam Grant
Please be sure to follow us on Twitter @riffyou and at Facebook.com/riffyou.