Getting to Know: PA Rap-Rockers, From Ashes to New

In today's Getting to Know, we are introduced to PA-based rap-rock upstarts, From Ashes to New. It may be too early to compare them to other bands, but they definitely don't want to be put in a category with Lynard Skynyrd. If you are in an up and coming band that would like to partake in a Getting to Know feature, contact editor@riffyou.com to receive the questionnaire and instructions. Thanks!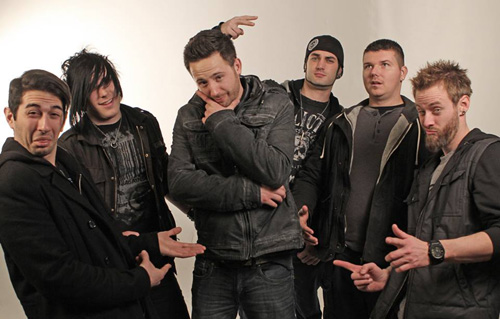 Band Name: From Ashes to New
Band Members: Matt Brandyberry (rapping, vocals), Chris Musser (vocals), Dan Kecki (guitar), Garrett Russell (bass), Branden "Boo" Kreider (guitar, screams), and Tim Donofrio (drums).
Years Active: Formed in October 2013
City of Origin: Lancaster, PA
Who are you and what do you do? 
"From Ashes to New is an amalgamation of members from the local scene. We are just a bunch of music fans writing and playing the music we want to hear!"
In 100 words or less, tell us how your band has gotten to this point. 
"Basically, we have all played together in bands over the years. When the band was formed, Matt wrote 5 songs; they were recorded; the director of Sirius Radio found the song "My Fight" on FATN social media; and then put it on Sirius Radio's Octane station. The response was overwhelmingly positive."
What is your latest release and how would you best describe it to someone who hasn't heard your band?
"We recently put out our five-song EP which you can find on iTunes, amazon.com and Google Play. I would describe the EP as us wearing our influences on our sleeves and letting people decide for themselves if it's for them. If you're into old school Linkin Park and Hollywood Undead, we might be something you dig."
When making an album, which aspect of the process do you put the most time into and why? 
"Well the process per song takes a while. Matt will usually write with a couple of the guys to get a skeleton of a song together, and we really like to let it develop naturally. We give each song time to develop over time; fill them out; and then we bring it to our producer Grant McFarland to add his touches to it. I wouldn't really say there is one aspect that takes priority over the other.
What is the best part about your band and why?
"The best part about From Ashes to New is we are all good friends and we always have fun when we're around each other. I think that comfort level between us really comes through when we're playing too."
What makes your band unique from the rest?
"I think it's honest. Like I said before, we may wear our influences on our sleeve, but it's not because we're trying to rip anyone off. We're just playing the music we want to hear and I think people can tell the difference in a time when so much music coming out seems like a snake eating itself."
How does your band survive the challenges of touring/gigging?
"This band is still in its infancy, we'll let you know when we have more advice on the matter…ha!"
Would you rather be critically-acclaimed; rich and famous; or an under-the-radar band with a dedicated fan base?
"I think if you're smart and put the work in, those three aren't mutually exclusive. My answer is all of the above.
If you'd have to compare your band to another one out there, living or dead, who would it be and why?
"I think it's a little early yet to draw any comparisons. Whatever that comparison turns out to be, hopefully it's not Lynyrd Skynyrd! Or since I'm the drummer; definitely not Def Leppard."
Which band/musician would you like to share many drinks with? What would you talk about?
"I can only speak for myself, so definitely Dave Grohl. I wouldn't want to talk about anything in particular, I'd just wanna get fucked up with the dude and have some good laughs. Recently though, I've been on a huge 12 Foot Ninja kick…those dudes seem like they'd be a fucking blast to hang with!"
Please be sure to follow us on Twitter @riffyou and at Facebook.com/riffyou.