Interview: Danko Jones Goes Back to the Garage

During his 18 years within the music community, Danko Jones has been everywhere, man. While Toronto is his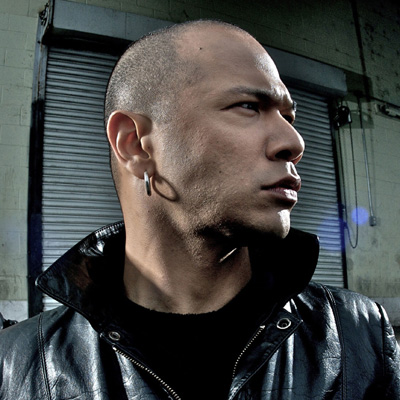 stomping grounds, the world has been his stage. He's toured back and forth through the northern climate of Canada, he's managed to take his talents to various European stages and become a popular hard-rocking entity.
Next month, however, Jones is going back to the garage with the release of Garage Rock! A Collection of Lost Songs from 1996-1998. Comprised of 17-tracks, this look back at Jones' early rock n' roll days came about almost by accident.
"I just found them," Jones informs Riffyou.com of how the Garage Rock!… songs were tracked down. "They were sitting in a box and I found them last year. We didn't even know we had them.
"I knew there was a box at my parents' place with all of these old cassette tapes, but I didn't exactly know what was on them," he continues. "When I started listening to them, I realized that there were over 20 songs that no one's ever heard."
During this period of discovery, Jones discovered songs that he'd completely forgotten about, and others that he deemed "questionable." He admits that about 10 tracks didn't make the cut.
On the brighter side, Jones became re-acquainted with "Best Good Looking Girl in Town," a song in which he believes to be "one of my top five favourite songs that we've ever written." Also tracked down was the lead single for Garage Rock!… "Who Got It?" which was "the first song that we ever really wrote."
So then, why the hell did these songs vanish from existence in the first place? Obviously at the time, they were, or should've been, at the front of Jones' mind. Simply put, he explains, "We got tired of playing them," and subsequently nixed them from gigs. Next up, new songs would arrive and push those older entries further into the rear view mirror.
"We're a band that, yeah, we've gotten play on the radio, and people could arguably call us a radio rock band, but that comes loaded with a lot of negative connotations," says Jones. "This album is a reminder of where we come from. A lot of people get into this band, maybe this year; or last year; or five, seven, eight years ago; and they still don't know where this band's from.
"When we started our band, we did it because we wanted to be around a certain scene that was around in the '90s – the garage rock scene – which eventually spawned mainstream staples like The White Stripes and The Hives," he adds. "Underneath those bands, is an ocean of garage rock bands that most people don't know, and that was the scene we were a part of."
-Adam Grant
Catch Danko Jones on March 7 in Windsor; March 8 in London; and March 14 in Toronto. Click here for full details.
Please be sure to follow us on Twitter @riffyou and at Facebook.com/riffyou.