Getting to Know: Quebec Rockers, unsung

In today's Getting to Know, we are introduced to Quebec's unsunq, a trio of gentlemen who have the rock n' roll aesthetic, along with a punk rock work ethic. If you are in an up and coming band that would like to partake in a Getting to Know feature, contact editor@riffyou.com to receive the questionnaire and instructions. Thanks!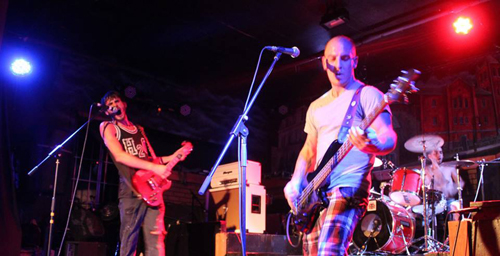 Band Name: unsung
Band Members: Randy McCone (lead vocals, guitar), Chris Bax (bass, backing vocals), and Marc-Andre Massicotte (drums, backing vocals).
Years Active:  2+ years
City of Origin: Montreal, QC.
Who are you and what do you do?
"We're just friends that play music and we play it loud. For us, it's all about live shows, meeting new people and bands, as well as playing as many different venues and cities as possible. Just sharing our songs with total strangers is the real reward."
In 100 words or less, tell us how your band has gotten to this point.
"Jamming all the time. Sounds simple enough, but playing together breeds new ideas and most importantly builds a chemistry between us. We honestly love just beating up our instruments together and singing as loud as we can. It's a thrill you can't recreate any other way."
What is your latest release and how would you best describe it to someone who hasn't heard your band?
"We're currently working on our first full length album. I guess the best way to describe what we're doing is that we're a rock band with a punk work ethic. We love songs with a juicy riff, but the lyrics need to say something…they need to make you think. We're big on sudden breaks and tempo changes too – just throwing contrast into a song out of nowhere. Also, we keep it short and sweet; you'll never hear anything repeated over and over again. Our theory is that two to three minutes should be enough to get your point across."
When making an album, which aspect of the process do you put the most time into and why?
"Definitely writing and rehearsing. The most important part of a song for us is that it has to work live and work every time. As a three-piece, we can't rely on too many tricks at a show and we want the recordings to reflect what we're doing live. No illusions, just three guys playing their songs."
What is the best part about your band and why?
"I think that chemistry and our work ethic seem to get to people at a show. We're genuinely having a blast and I think that gets to be contagious. We feed off the crowd and they feed off us. It's a two-way street, and it's important for us to remember that playing shows is as much for the band as it is for the people that pay their hard-earned money to go and support local bands they've never heard of."
What makes your band unique from the rest?
"We're not too concerned about what scene we fit into or not. We have no costumes, distinctive styles, or sounds that we're forcing ourselves to stick to. We just want to write songs that might resonate with people and get them moving around. We play songs, not a style."
How does your band survive the challenges of touring/gigging?
"By having a sense of humour and a real family feeling within the band. We treat each other like brothers and nothing else. Family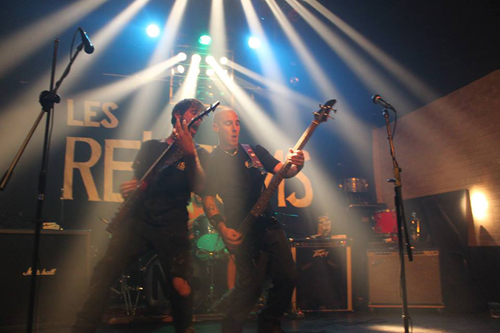 might get on each other's nerves from time to time, but they always get over it and move on. No one in the bands owes anything to another. We are all equal parts of something we built together."
Would you rather be critically-acclaimed; rich and famous; or an under-the-radar band with a dedicated fan base?
"What we really want to is to be lucky enough to affect at least one person with what we're doing. If that spreads to more than one person, that would be incredible. Whether or not that leads to money or fame is beside the point, and should never be the focus or driving force behind a band."
If you'd have to compare your band to another one out there, living or dead, who would it be and why?
"I think each person brings their influences to the band and highlights each song the right way. We never set out trying to write a song that sounds like something else on purpose, so we'd like to stay away from making those comparisons ourselves.  Although, we do get comments after shows of people telling us 'hey the vocals sound like ____, or the bass like ____,' and that's pretty cool to find out what people are hearing when they see us live."
Which band/musician would you like to share many drinks with? What would you talk about?
"It would be pretty sick to knock back a few with NOFX and talk to them about doing everything themselves. From the ground up, they've been DIY for over 20 years and shown a lot of kids growing up that it's possible to make music and not owe anything to anyone, or be owned. Also, guys like Neil Young and Johnny Cash, people that never forgot that a song is still supposed to be a story. The words matter as much as the riff."
Please be sure to follow us on Twitter @riffyou and at Facebook.com/riffyou.