Getting to Know: Rock n' Roll Upstarts, The Mohrs
In today's Getting to Know, we meet The Mohrs a young rock n' roll collective that continually keeps its audience in mind and wouldn't shy away from fame. If you are in an up and coming band that would like to partake in a Getting to Know feature, contact [email protected] to receive the questionnaire and instructions. Thanks!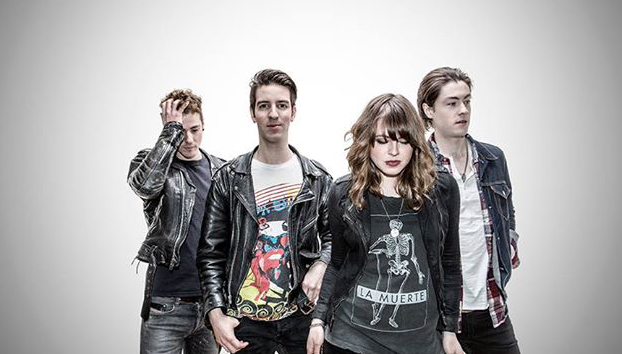 Band Name: The Mohrs
Band Members: Jackie Mohr (vocals, guitar), Greg Markham (bass), Marc Girardin (guitar), and Max Trefler (drums).
Years Active: 1
City of Origin: Toronto, ON. & Winnipeg, MB.
Who are you and what do you do?
"We are a band called The Mohrs. We play hard and sweat on stage. We want to whole world to hear our debut record!"
In 100 words or less, tell us how your band has gotten to this point.
"Marc and Jackie started co-writing an album with producer Hawksley Workman while still living in Winnipeg, MB. They'd played together for about 12 years at this point. Soon after moving to Toronto to finish the record, The Mohrs were eventually pieced together. We started playing the Toronto circuit, trying to make a name for ourselves, while Hawksley was trying to find a good home for the record. We developed a strong relationship with Jonathan Simkin of Light Organ Records, which lead to a record deal."
What is your latest release and how would you best describe it to someone who hasn't heard your band?
"Just this month, we released our first single, "Perfectly Sane," on iTunes, along with a video filmed and produced by Hawksley Workman and Steve Bays of Mounties. We've been told our sound is reminiscent of '80s pop and '90s grunge rock. "Perfectly Sane" is a good example of both."
When making an album, which aspect of the process do you put the most time into and why?
"When we sat down to write this record, songwriting was the most important aspect. We tried not to spend too much time on production, because we wanted each song to be just as strong when played stripped down with an acoustic. Production is big for us as well, but it really doesn't come until we feel we have a solid group of great songs with great lyrics."
What is the best part about your band and why?
"Marc's muscles, 'cause he carries heavy stuff. No, well he does, but a few things really. Jackie's never been so in love with a band that she's been a part of. Also, our sound. It's our own and it's unique, but still fun. Additionally, we fit together as people. Finding the right people to bring this record to the world was a biggy. We love this record and it shows."
What makes your band unique from the rest?
"I think you would want to come see a Mohrs show because there are no gimmicks. We feel like we've written an album of strong songs played by strong musicians. I know it sounds basic, but we wanted to write an album that people could sing along to, and some songs are quite pop based with synths and stuff. When it came to our live show, we weren't sure what to expect, having never played these songs full band. But, it has turned into a real raw rock n' roll band with heavy drums and powerful vocals."
How does your band survive the challenges of touring/gigging?
"When we put this band together, I think we knew through past experiences what characteristics to avoid. When you're on the road, you want to know that you're playing with people that are out to accomplish the same things as you (as a musician). We want to have fun, but most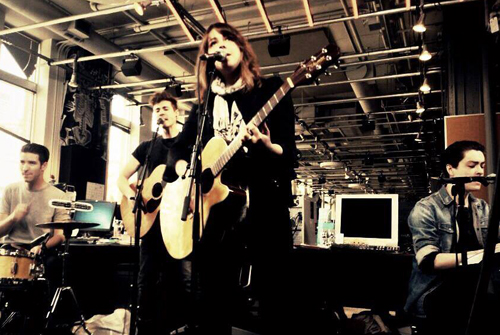 importantly we want to put on a good show. Just knowing that about each other creates a mutual respect. And although always being together can be the greatest part about touring, personal space can be a necessity. And all the booze helps."
Would you rather be critically-acclaimed; rich and famous; or an under-the-radar band with a dedicated fan base?
"Why can't we have it all? The other day we were thinking about how fame defines success, or vice versa, or maybe not at all. I think for us, if fame came along with success than that would be incredible, but being successful means we get to sustain our jobs as musicians. That being said we know that it's 'uncool' to say that we want to make money, but I don't think that there's any other way to do it. We never want to write music that's not worth listening too, but being in a band costs money… especially putting our music out into the world the way we want to. Also, the underground route can be very successful, and very respectable. We're just aiming for more."
If you'd have to compare your band to another one out there, living or dead, who would it be and why?
"We probably all emulate different bands or band members in different ways. Maybe this is more along the lines of a band we admire, but Foo Fighters, maybe. As flattering as it sounds, I feel there are aspects of that band that we possess. They have strong songs, they put a lot into their recordings, but when you see them live, it just comes down to a high-energy rock show. Sweaty!"
Which band/musician would you like to share many drinks with? What would you talk about?
"The Rolling Stones because they ooze sex and rock n' roll. They would drink us under the table, but trying to keep up would be an experience. Or perhaps Steven Tyler 'cause he's incredible. We'd grill him about babes, and music I think."
Please be sure to follow us on Twitter @riffyou and at Facebook.com/riffyou.