Billy Corgan Gets Cuddly with Cats

There is no questioning the fact that Smashing Pumpkins founder Billy Corgan is one of the modern era's most important alt-rock figures. Even though some of us would like to forget about the stretch of time he spent dawning a leather gown on stage, or some of his most recent representations of the Smashing Pumpkins, his earlier work can never be denied.
While hard at work on two albums (rumoured to be released in 2015) Corgan took time out of his schedule to partake in a feature for Paws Chicago Magazine. On the cover, Corgan's accompanied by his cats Sammi and Mr. Thom, next to the headline "Billy Corgan's Siamese Dream."
In the accompanying interview, Corgan discusses many things Smashing Pumpkins, as well as his trek toward feline ownership. That is all fine and good, but really, who needs anything else but this cover?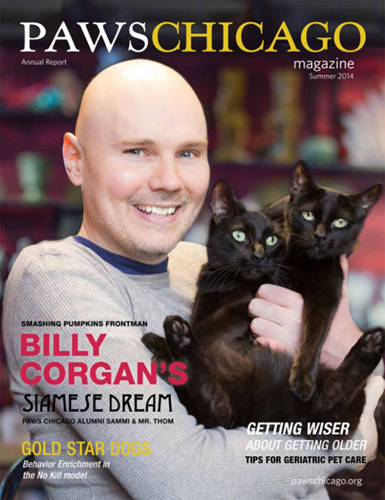 Please be sure to follow us on Twitter @riffyou and at Facebook.com/riffyou.