Getting to Know: Static Fiction

In this edition of Getting to Know, we meet Static Fiction, a Huntington Beach-based pop-punk quartet that loves them some Beach Boys. If you are in an up and coming band that would like to partake in a Getting to Know feature, contact editor@riffyou.com to receive the questionnaire and instructions. Thanks!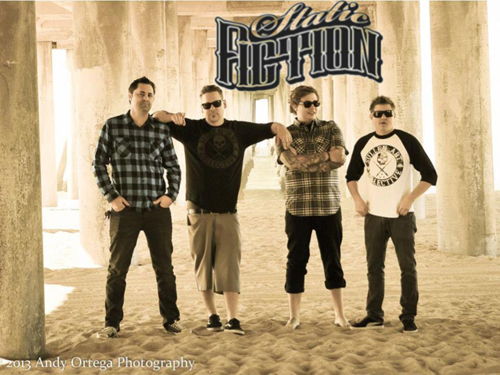 Band Name: Static Fiction
Band Members:  Paul Lapinsky, Ryan Brown, Justin Herder, Kyle Helm
Years Active: 2 years
City of Origin: Huntington Beach, CA.
Who are you and what do you do?
"I'm Ryan and I play bass and sing backup."
In 100 words or less, tell us how your band has gotten to this point.
"Hard work, elbow grease, great PR representation, good people in our circle, and positive feedback from our fans."
What is your latest release and how would you best describe it to someone who hasn't heard your band?
We just released our Christmas song and are in the middle of pre-production for our second album. We are still playing songs from our first EP, Introducing. It's classic pop-punk songs that got us into this genre of music in the first place. If you know bands from Fat Wreck Chords, then you know Ryan Greene, the producer we worked with. He helped us make our songs the way they are now."
When making an album, which aspect of the process do you put the most time into and why?
"We do it the old fashioned way. Somebody comes up with a riff and we go on from there. But now with the magic of technology, we can record something we like [more conveniently] and then write from there."
What is the best part about your band and why?
"Our live shows and (without sounding too high of ourselves), our singing. It's something we take pride in and constantly try to perfect. We try to be as good as The Beach Boys or Def Leppard live. It's a constant battle."
What makes your band unique from the rest?
"Same as what's the best part of our band. We don't see this as a hobby. This is our lively hood and if you do something you love, then why not try and be the best at it?"
How does your band survive the challenges of touring/gigging?
"We survive by leaning on each other. Each person is in charge of something that can get us to the next venue or show. Whether that be talking to fans, selling merch, or lining up the next show. Static Fiction is a machine with a lot of gears. It takes all of us working together to make the band work."
Would you rather be critically-acclaimed; rich and famous; or an under-the-radar band with a dedicated fan base?
"Fan base. You could have all the money in the world, but without a loyal fan base, what's it really for? I could name names about certain artists out there with all the money and the fake fans that just go along with the trend. But, trends die out, so they'll move on to the next thing. I want to play for the person that took the time to listen to our songs and show them a great time –the working man or woman that I can have a beer with and shoot the shit with for a while. That's who I want to play for."
If you'd have to compare your band to another one out there, living or dead, who would it be and why?
"The Beach Boys. [We mix their] harmonies with early '90s pop-punk riffs. You just have to take a listen for yourself."
Which band/musician would you like to share many drinks with? What would you talk about?
"God there's a list of people that I would love to sit down with, but I'll only name a couple. Mark Hoppus (Blink-182), Les Claypool (Primus), and Geddy Lee (Rush). Mark, I've met him a few times in the real world and was only able to say 'hi' and give him a high five. I would love to talk to him about how he was able to turn Blink-182 into a household name without going down the Kiss road. Les Claypool, because I took a class at my college about his bass playing skills…a session would be nice. As for Geddy Lee, who wouldn't want to talk to that great of a musician?"