Interview: The Presidents of the USA Over Their Lumps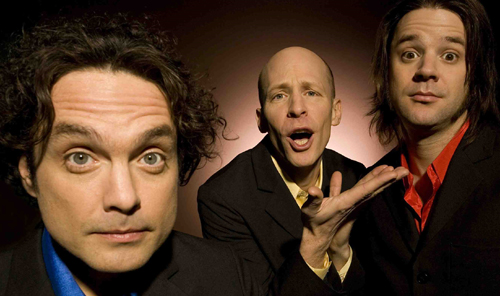 In 1995, Seattle, Washington's The Presidents of the United States of America (PUSA)  made a great first impression. Their debut, Self-Titled, album was weird, but not too weird for it to not become one of those big '90s albums that lives and breathes beyond the nostalgia factor.
Kurt Cobain was dead and rock fans arguably needed something with a little more fun attached to it. Call it a coincidence or whatnot, but out of the shadow of the fallen Nirvana leader came songs about millions of peaches for free; a girl named "Lump" confusing all the passing piranhas; and a kitty that partook in a cat and mouse game with its owner. Like Nirvana, but not to the same degree, PUSA became frighteningly popular.
"The fame machine…it's super excited to pump you up, then really excited to tear you down," admits PUSA frontman Chris Ballew, when reflecting upon his band's first, and only, hugely popular album with Riffyou.com. "It's a dangerous little machine to live in. I was really happy to experience the upswing; experience the plateau; and then I couldn't wait to climb down – it was unsafe.
"I looked forward – as we were on the plateau of success," he continues, "and I saw this long slog of re-proving ourselves and how hard that was going to be. I said, 'we need to back out now.' I tried to convince the guys to breakup right then, right at the height – like the Sex Pistols…disintegrate immediately and be forever preserved."
That did not happen. Needless to say, once PUSA became a radio and music video television staple thanks to the stupidly fun "Lump" and "Peaches," a second album, II, was pushed out in 1996. It featured the hook-laden, underrated single, "Mach 5," but failed to reach the same heights of popularity that the previous album had. That feared journey toward the re-proving stage was approaching quickly.
As for Ballew, this period of time proved to be one of internal struggle. Today, he admits that it took three or four years for him to be able to get over what had happened and to be able to get back to being creative for the right reasons again: "You get conditioned very quickly to create to succeed, once you've succeeded," he explains.
However, at the time, Bellew's struggle to contend with the fame, attention, and success that had landed at his feet was ripping his life apart.
"I lost my life. I lost the ability to have a relaxed day with my friends, where a funny image might pop into my head, so that I could write a song about it," recalls Ballew. "My day became hotel rooms; stage; tour bus; onstage; meet and greet; radio; promotions; interviews – there's nothing funny about all of that stuff. There's little opportunity for your mind to wander when you're constantly being prodded and [put] on display. I couldn't walk down the beach or make a fire with my friends in the backyard, drink beers, and talk about ridiculous stuff. It was more like losing my life, than losing myself."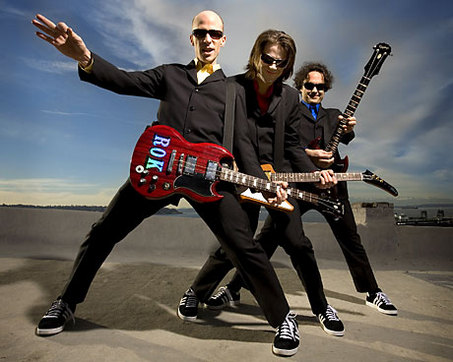 As the years went on, so did PUSA. Away from the shine of the spotlights that dominated their early years, the group continued to create and tour. In 2000, the band put forth Freaked Out and Small, followed by Love Everybody (2004) and These Are the Good Times People (2008). February 14 of this year, meanwhile, will see yet another new album, Kudos to You!
Described by Ballew as "explosive, raw, and fun," Kudos to You! came to be as a result of he, along with original drummer Jason Finn and newer guitarist Andrew McKeag (he replaced Dave Dederer in 2004), going into the studio without the goal of making an album. The plan was to develop new tracks, but once momentum began to swing, the guys built up enough material to justify a full-length release.
"I'm a little worried that I'm not going to be able to sing these songs live without passing out," jokes Ballew. "It sounds like we are 24 and we didn't even start The Presidents until I was 27, so we sound younger than when we started." [laughs]
Also helping bring this album to fruition is fan generosity. To get the album off the ground, PUSA recently launched a Pledge Music crowd-funding campaign. Essentially, fans are encouraged to donate what they can in exchange for cool rewards like handwritten lyrics to hits like "Lump" and "Peaches;" autographed memorabilia; as well as archive bundles. During the holiday season, PUSA exceeded their fundraising goal, but donations are still being accepted.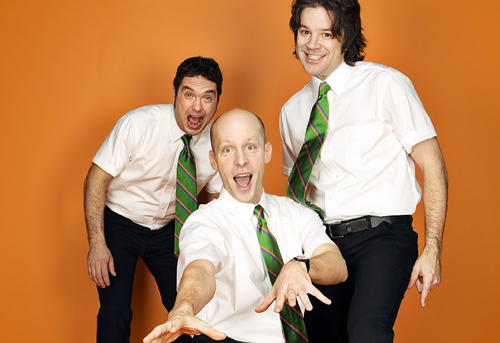 "When we went to record new material, the idea was to take care of the people that care about us, rather than go into it with the attitude that this is going to be huge and we're going to take over the world again," says Ballew. "[We wanted] to please ourselves and the people that already care. That works really well with Pledge Music, because it's not trying to broadcast our project to the entire world – it's an opportunity for the people who care about us to interact and feel that they're part of the process."
As for now, Ballew notes that the goal is no longer world domination: it's now all about making music for the sake of making it, be it with PUSA, or as a children's music maker that goes by the name of Caspar Babypants.
In terms of the past, Ballew is now able to relax outside of it and appreciate it for what it was.
"To whatever degree we were famous, it was enough," he relays. "[At first] it was excellent, amazing, perfect and great, and we did it from making an album that was so weird, personal and unique. I loved that we didn't make something that sounded like everything else on the radio – it sounded like us. We had success on our own creative terms and that was extra satisfying."
-Adam Grant
Please be sure to follow us on Twitter @riffyou and at Facebook.com/riffyou.