Getting to Know: Toronto-based Punks, The Bare Minimum

To close off this glorious week, we hear the story of Toronto-based punk band, The Bare Minimum. They claim to have some pretty sweet t-shirts and no appreciation for Vampire Weekend. If you are in an up and coming band that would like to partake in a Getting to Know feature, contact editor@riffyou.com to receive the questionnaire and instructions. Thanks!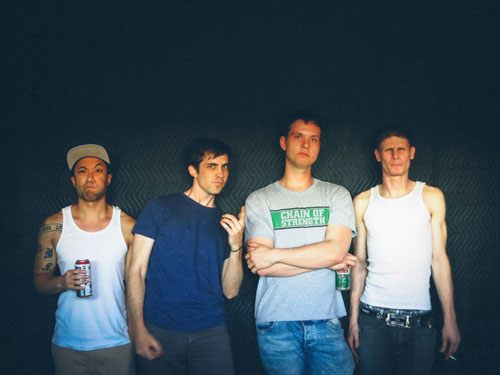 Band Name: The Bare Minimum
Band Members: Cam Gray (guitar, vocals) Mick Hutchinson (guitar), Allen Davidson (bass), and Chester Razal (drums)
Years Active: Since 2011
City of Origin: Toronto, ON.
Who are you and what do you do?
"I'm Mick, the guitarist from The Bare Minimum."
In 100 words or less, tell us how your band has gotten to this point.
"It's all been a blur – the story of this band doesn't fit into 100 words. It involves many struggles. Struggles involving jail time, splinters, hospitals, and banning from bars. About a year ago we released our last EP Why Isn't Allen Here?, and the year before that we released a Self-Titled EP."
What is your latest release and how would you best describe it to someone who hasn't heard your band?
"We are releasing our first full-length album, Hit After Hit, on March 25, 2014. I would describe it as sounding like the Foo Fighters, but through cheap speakers. If you dig the Bouncing Souls, Face to Face, or the Lawrence Arms, you'll probably appreciate us."
When making an album, which aspect of the process do you put the most time into and why?
"Finding riffs to steal from other bands is definitely the most time consuming process. Working out and drinking is a distant second."
What is the best part about your band and why?
"We're awesome at interviews. Also, we have pretty good t-shirts."
What makes your band unique from the rest?
"We live in an age where an increasingly over-saturated music market is competing for a shrinking listenership with decreasing attention spans. Because of this, a lot of bands resort to gimmicks and tricks; like banjos, keytars, and nostalgia ridden revivals of dead genres. This is all just an elaborate attempt to capture the attention of the lowest common denominator, and have their shitty content go viral. For these reasons, we want to stay away from easily identified 'unique' features and write music about the real issues we face on a day to day basis; from the boredom and loneliness of city life, to the cultural decadence of modern society."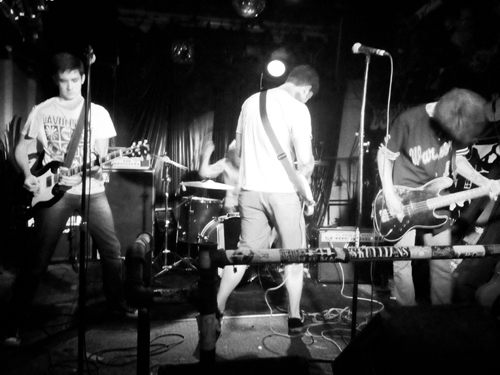 How does your band survive the challenges of touring/gigging?
"We haven't figured that out yet. We've lost a band member each time we've put out a release, and those were only EPs. We will probably be completely finished as a band by the time the new album drops."
Would you rather be critically-acclaimed; rich and famous; or an under-the-radar band with a dedicated fan base?
"Honestly, at this point we'd take any of those options. At least someone would be listening."
If you'd have to compare your band to another one out there, living or dead, who would it be and why?
"I think we'd pick Vampire Weekend, because next to them we look awesome. That 'music' belongs in a poorly lit Leon's furniture store. If you're asking who we sound similar to, I would say a mix between The Kinks and The Bronx."
Which band/musician would you like to share many drinks with? What would you talk about?
"The alcoholic from the Backstreet Boys, I bet he's hilarious when he's drunk."
Please be sure to follow us on Twitter @riffyou and at Facebook.com/riffyou.