Getting to Know: UK Hip-Hop Artist, Refraze

In today's edition of Getting to Know, we speak with up and coming UK hip-hop artist Refraze, someone who wouldn't mind more fame than money, but would ultimately desire a dedicated fan base. If you are in an up and coming band that would like to partake in a Getting to Know feature, contact editor@riffyou.com to receive the questionnaire and instructions. Thanks!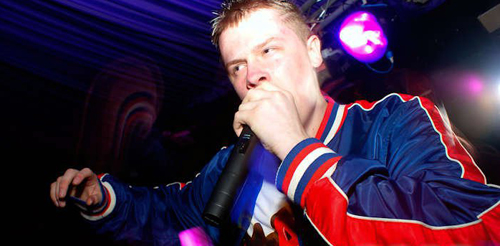 Band Name: Refraze
Band Members: Refraze
Years Active: 7.5 years
City of Origin: London, United Kingdom
Who are you and what do you do?
"I am Refraze. I rap/sing & produce mainly hip-hop/rap music with a twist of other genres from time to time."
In 100 words or less, tell us how your band has gotten to this point.
"From the beginning, I got a local fan base pretty quickly from word of mouth and the collaborations I'd do with other local artists set me up to pursue this. Here I am today seven and a half years on with an album out!"
What is your latest release and how would you best describe it to someone who hasn't heard your music before?
"It is my debut album, Infamous. I'd describe it as humorous, sad and motivating all at the same time."
When making an album, which aspect of the process do you put the most time into and why?
"Song writing. On the new CD I really upped my game for the first few songs I recorded, so I really had to get stuck in and keep trying to raise the bar with every song and keep the energy and lyricism up. I feel I did that! But, whoever is listening can always tell me otherwise… even though they'd be wrong, haha! Joking!"
What is the best part about your project and why?
"I feel that I can change my flow with every song I do, so that it's not just the same song on a different beat. I also keep the standard of lyrics up with it."
What makes you unique from other artists in your genre?
"I get told my voice is quite unique for the music I do. I'm easy to listen to and there's always clarity with my raps. Whatever tempo I tend to go with is just as clear. Some artists can't do that, so I guess I am proud that I can maintain the quality."
How does your band survive the challenges of touring/gigging?
"I haven't actually toured yet…I've had a few performances, but that was a while ago because I was just focused on getting my album finished and out there for the people to hear. I wanted to have something to perform if I got into a touring situation."
Would you rather be critically-acclaimed; rich and famous; or an under-the-radar band with a dedicated fan base?
"To be honest, I always say I'd prefer fame over money, but it would be nice to have both wouldn't it? However, a dedicated fan base is always the most important thing for an act, other than the quality of the music. I have days where I want one and the other. Until I sample both, I don't think I could fully answer that, Sorry!"
If you'd have to compare yourself to another artist out there, living or dead, who would it be and why?
"Voice wise, I wouldn't say that I sound like somebody else. But, maybe some of the concepts in my songs are similar to other artists."
Which band/musician would you like to share many drinks with? What would you talk about?
"Musician wise, Eminem, because he is the Rap God after all! I'd try to convince him why it would be in his benefit to do a song with me! Band wise, Linkin Park, because they were one of the first bands I was into properly, and still am like 10 years on. They're crazy!"
Please be sure to follow us on Twitter @riffyou and at Facebook.com/riffyou.