Interview: The Head and the Heart Will Folk You Up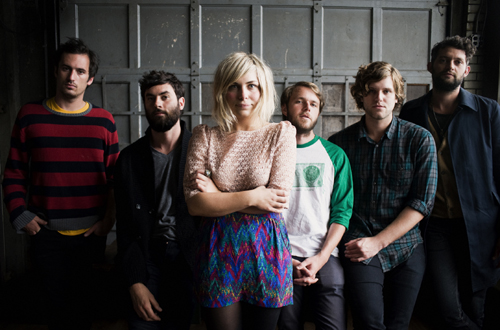 Coming out of Seattle, WA, it would've been easy for The Head and the Heart to abrasively play their instruments and write about how miserable life in the rainy Pacific Northwest can be. It worked for Nirvana, and countless others who have risen out of that region.
Instead, what we have here is a six-piece collective – Josiah Johnson (vocals, guitar, percussion), Jonathan Russell (vocals, guitar, percussion), Charity Rose Thielen (violin, vocals), Chris Zasche (bass), Kenny Hensley (piano), and Tyler Williams (drums) – that first found their folk-footing in an area pub, Conor Byrne, back in 2009.
Upon their acoustic instruments, the group would belt out harmonies, stomp their feet, and make it a challenge for patrons not to notice them. Yes it was a fresh spin on an old genre, but onlookers soon grasped on.
"Living in Seattle had a lot to do with the sound that we were molding at the time, because it was just a really a good outlet for that type of music," Russell informs Riffyou.com when asked about his band`s early years. "There seemed to be a really good response to music with melody and harmony and dynamic.
"We weren't sure for a really long time what the band was going to be like," he adds. "We just knew that the songs we were writing sounded really nice with the piano, violin, and harmony. Beyond that, none of us were really strong players on guitar."
Looking back, Russell notes that those early years in such a venue allowed the band to grow and feel nurtured at a comfortable pace. Through this environment, the group was able to figure out what it wanted to be, all without having any peer pressure crawl up from behind.
Instead of worrying about such outside presence, The Head and the Heart instead encouraged those in the crowd to openly partake in their early gigs. Russell recalls times where the band would bring a dozen or so homemade noisemakers to a gig and pass them out to the crowd. They'd join in, and thus a following would soon develop.
Local record label Sub Pop Records (Nirvana's one-time label) would eventually realize what all the fuss was about, sign the band, and push them toward the world via a 2011 Self-Titled debut album. Two years later after much touring, learning, and becoming more of a band, The Head and the Heart would release 2013's astoundingly beautiful Let's Be Still, again through Sub Pop.
This effort does travel down some of the roads of modern folk, without falling into the 'bands who sound like Mumford and Sons and The Lumineers' category. The Head and the Heart's sound is fresh intricate, soulful, and foot-stomp worthy, while the wonderful wordplay pulls you in deeper. Vocally, there are moments that would make an artist like Ryan Adams smile and take notice.
"[We evolved] quite significantly," explains Russell. "The band that got signed to Sub Pop and made the first album, was really still getting its footing. With a lot of the songs from the first record, the emphasis was really on the voice and the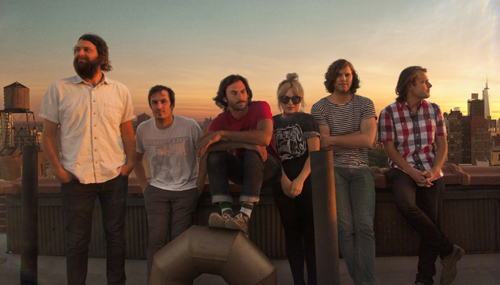 song…sort of like a song writer with a backing band behind him. Playing live, the band became a lot tighter and more of a band and less two song writers (Russell and Johnson) with a band. It is now more of a unit.
"What I love about being in this band is that everyone has their own strengths, and everyone contributes," he continues. "So, you get the chance to see those strengths from song-to-song. It's not the same formula track, after track, after track. Once you've heard five songs, you're not going, 'okay, I get it.' You're thinking, 'oh shit, what's next?'"
Others have recognized Russell's points as well. The Head and the Heart recently played The Tonight Show (when Jay Leno was behind the desk); Jimmy Kimmel Live; and is poised to take the stage at this year's Bonnaroo, Coachella, and NYC: Governors Ball festivals. Currently, the band is in Europe, but will set off on a Canadian tour beginning in Ottawa on March 27.
"The chemistry we have as a band is real – there's nothing forced on that stage," says Russell. "Everyone has their own wingman in the band…and that'll change day-to-day, or show to show. When we get up there, there's a lot of trust and confidence within ourselves and that just allows a band to face any situation. Obviously, you're not going to be great at all situations initially, but it allows you to think it through and grow. We have something internal that's allowed us to persevere."
-Adam Grant