Getting to Know: Idaho Thrash Metal act, Krystos

In today's Getting to Know, we meet Idaho-based thrash metal act, Krystos, a band that has worked itself into the hearts of loudness fans through hard work and dedication. If you are in an up and coming band that would like to partake in a Getting to Know feature, contact editor@riffyou.com to receive the questionnaire and instructions. Thanks!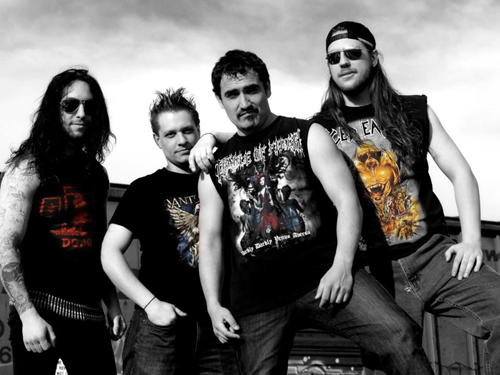 Band Name: Krystos
Band Members: Billy Thornock (lead guitar, lead vocals), Dan Johnston (lead guitar, backing vocals), Anjru Kalibyr (bass, backing vocals), and Adam Brimhall (drums).
Years Active: 8
City of Origin: Boise, ID.
Who are you and what do you do? 
"This is Adam Brimhall and I take care of all things percussion for Krystos. I also do a lot of odd jobs like setting up and tearing down; shared bus driving responsibility' helping with lyrics and song structure; and lots of other band business.
In 100 words or less, tell us how your band has gotten to this point.
"Old fashioned DIY. We came together, got creative, made some music, and recorded it all on our own dime. After a few local shows, we did what we could to reach out to out of state venues and bands to put our own tours together…four of those to date. The touring is what has gotten us a lot more recognition than anything else – it has gotten us to where we are now."
What is your latest release and how would you best describe it to someone who hasn't heard your band?
"Krystos is a unique mixture of mainly thrash metal and power metal. We are four individuals that have come together to put their two cents into the music. Our latest release is technically the song "Terror King." That was releases as a sort of 'reward' for 1,000 Likes on Facebook as a digital only download. Before that, we had a demo release called Blood Magick, which features four tracks recorded with the current lineup."
When making an album, which aspect of the process do you put the most time into and why?
"We put more time into writing music than anything else BY FAR.  This is because we are very critical of ourselves and want to make our songs perfect, so that hopefully the listeners love it as much as we do.  The rest is actually kind of easy in comparison."
What is the best part about your band?
"I've not really had the pleasure of being a Krystos fan outside of being actually in the band. With that being said, as a guy who is actually a member of the band, the best part about it is that we are doing what we love with the people that we love! We are all very close friends, brothers even. We have also developed good friendships with fans. Being creative and making heavy metal music with your best friends. . . doesn't really get much better than that!"
What makes your band unique from the rest?
"I feel like what makes us unique is that we try to do what we love and what we approve of without too much regard for what demand is out there. Do we want people to love our music and for us to be popular, sure, who doesn't? But, when you get right down to it, we care a lot more about pushing ourselves to our limits; going places musically we have never been before; and being proud of what we make. Another unique thing about us is that we aren't the stereotype rock band. We don't just play music, and get hammered, and party it up. We work really hard. We always love to have a good time, but we are much more interested in making music than being rich, getting laid, or doing drugs."
How does your band survive the challenges of touring/gigging?
"It's all about perspective and attitude. Touring and gigging is not easy, but it's one hell of an adventure.  Just look at a tour as a crappy road trip that takes forever. We have to unload all our gear and play for 15 minutes and then load it back up…your experience can be really bad. If you view it like I do, as a sweet adventure and journey to go play our music for new people and make new friends, who knows what's going to happen next. That's exciting!! That's what keeps us going. Touring and gigging can be emotionally and physically draining, so you have to prepare and maintain yourself properly and really keep a handle on it. When you do, it is a really great experience."
Would you rather be critically-acclaimed; rich and famous; or an under-the-radar band with a dedicated fan base?
"Money is nice, but it isn't everything. Being critically acclaimed would be really, really awesome, but even that still isn't really meaningful to us in the long run. It would be to be in the underground and have a lot of fans that are really passionate about our music. That would be a dream come true."
If you'd have to compare your band to another one out there, living or dead, who would it be and why?
"The two most common names we hear from fans (even though we don't really think it's necessary) are Testament and Iced Earth."
Which band/musician would you like to share many drinks with? What would you talk about?
There are lots and lots of bands and musicians that I think all of us in the band would love to get together with and have a few drinks. It's nearly impossible to put it down to one band, or even only five.  Any chance we would get to grab a beer with any band we are a fan of, we would take it. I know most of us in the band would love to hang out with Blind Guardian, Wintersun, Clutch, and the Big Four. But, there are lots of bands we already have gotten beers with that we love and we think are really rad dudes: Vektor, Havok, Lord Dying, Witch Mountain, and to a lesser extent, 3 Inches of Blood are all examples of this. . .though with 3IOB it wasn't beers, it was helping load their gear."
Please be sure to follow us on Twitter @riffyou and at Facebook.com/riffyou.