Riff Review: Kaiser Chiefs – "Education, Education, Education & War" (Universal)

Admittedly, I lost touch with Kaiser Chiefs after their remarkable debut album Employment got into my blood stream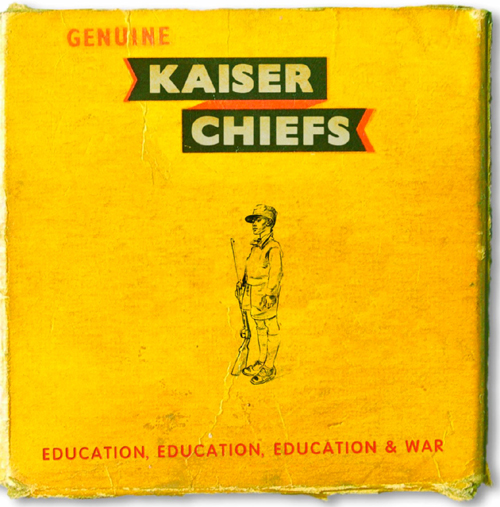 thanks to the power of "I Predict a Riot," and "Every Day I Love You Less and Less." Their follow-up Yours Truly, Angry Mob just didn't do it for me, and without any tangible reasoning, I didn't seek out any further recordings from the unequivocally British band.
When their new album, Education, Education, Education & War found me, I honestly didn't know what to expect. I hoped for the best, and fortunately that's what I got. Here, Kaiser Chiefs have pushed out a defiant, hooky, lyrically-inspired album that takes a number of anti-war stances; preaches independence; and celebrates bouts of solidarity.
Due out March 31, the bomb doors first blast open with "The Factory Gates," a track that's instrumental intro is reminiscent of the old Batman theme song, but evolves into frontman Ricky Wilson (whose voice is phenomenal throughout the album) encouraging the story's subject to get the hell away from the factory and stick it to the man. "Coming Home" bats second, and is the obvious lead single. It rolls early like an angry wave with amazing pop-hookability. As the song builds, the enthusiasm and relief about heading back to a familiar place is overwhelming. (You can see the full video at the end of the review).
"Misery Company" has a marching intro and reveals a character that can't get along with his surroundings, and sardonically laughs his way through the struggles of carrying around the weight of the world. "Ruffians on Parade" is no "Bulls on Parade," but is fearful of a drone-infested time.
As the back half of Education, Education, Education & War gains traction, any doubt of this being a concept album largely based on the troubling nature of a war machine are quickly vanquished. "Bows & Arrows," paves a poppy-path toward the ambitious "Cannons," which features a spoken word account of a modern war effort, and without a break in the action welcomes in "Roses," a gliding, yet sad song about the bleak after effects of human combat.
By Kaiser Chiefs standards – or at least what I consider to be their standards – this is a very, very serious album. It's not quite as ambitious as an American Idiot, but it does attempt to thematically move down similar paths, all the while pushing forth a musicality that is engaging enough to keep the crowd moving. The tone may be more challenging here, but it can still be thoroughly enjoyed and danced to.
This album is: Riff Respected
-Adam Grant
Please be sure to follow us on Twitter @riffyou and at Facebook.com/riffyou.