Getting to Know: Quebec Pop-Rock act, Third Place

In today's Getting to Know, we meet Third Place, a Quebec-based pop-rock band that fear driving their van in bad weather, but not potentially fighting Kiss. If you are in an up and coming band that would like to partake in a Getting to Know feature, contact editor@riffyou.com to receive the questionnaire and instructions. Thanks!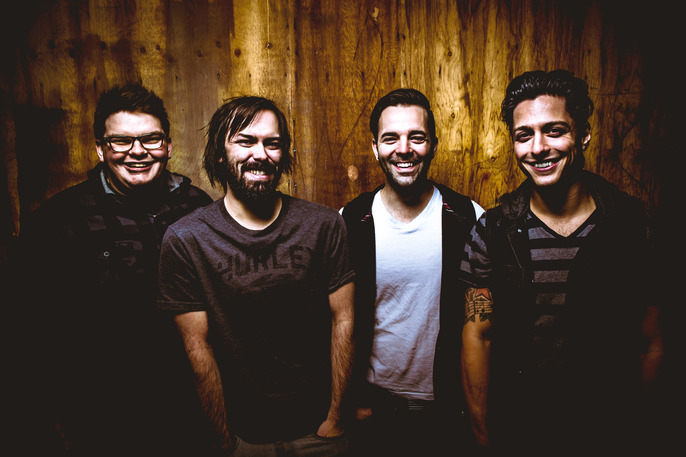 Band Name: Third Place
Band Members: Corey Shane (bass, vocals), Frank Rainville: (guitar, vocals), Nick Mayer (vocals), and Steven Cope (drums, vocals).
Years Active: 8
City of Origin: Rawdon, QC.
Latest Release: Upcoming Album/EP in 2015.
Who are you and what do you do?
"We are Third Place. We play commercial rock with a twist."
In 20 words or less, how would you describe your band?
"We are energetic, funny pro-active bunch of guys that love to have fun and play music."
Why should people care about your band?
"We are in it for the long haul. We eat, breathe and sleep music. Also, we care about our fans and try to be engaged with them."
What is the most hilarious, frightening, or weird thing you have seen from the stage or while on the road?
"The multiple times we've seen the van go sideways when driving 100km. Whether it is going to record in the studio or on tour 14 hours away, somehow snow finds us and we almost end up on our side."
If you become a band that eventually fills stadiums or arenas, what would be the most ridiculous thing you'd require backstage?
"We don't need any luxury just some warm up instruments."
Which band could your band defeat in a street fight? What methods would you use to ensure victory?
"We'd fight Kiss. A glass of water to the face, and their make up would run into their eyes. Bam! No visibility!"
What is the most pretentious thing you've seen or heard from another musician/band? Did you love it or hate it?
"A few years back with Green Day and the iHeart Radio Music Festival. Meltdown. Billy Joe flipped his shit 'cause he didn't have time left on his set. I didn't agree with his meltdown. It was an event that is planned and scheduled."
How do you feel about smartphones lighting up concert venues instead of lighters?
"Hey, go with the times… it's all the same to us."
If you had to be a tribute act for just one band, who would it be and why?
"Collectively, it would be Blink-182."
Is it better to burnout than to fade away?
Burnout, 'cause we all give it 110% all of the time. Who says you have to burnout early?
Please be sure to follow us on Twitter @riffyou and at Facebook.com/riffyou.