Getting to Know: Stoner Rock act, Social Hysteria

In today's Getting to Know, we meet Social Hysteria, a stoner rock act that wants the opportunity to throw meatballs at Sweden's Ace of Base. If you are an indie artist or in an indie band that would like to partake in a Getting to Know feature, contact editor@riffyou.com to receive the questionnaire and instructions. Thanks!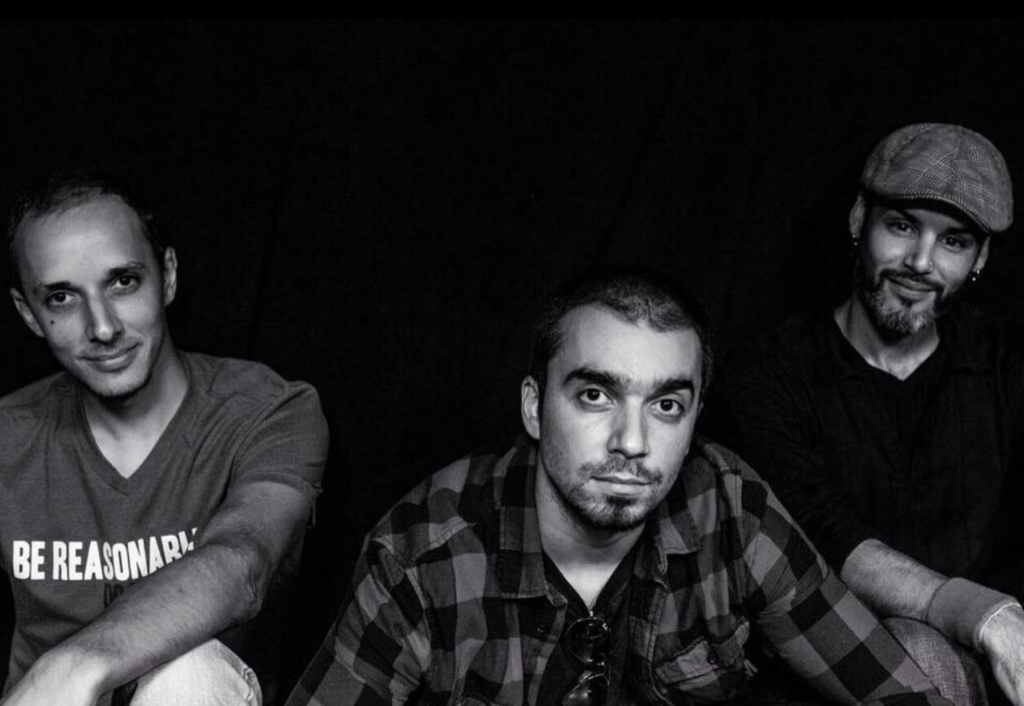 Band Name: Social Hysteria
Band Members: George Lopes (guitar, vocals), Alex Lopes (bass) and Malcolm Obery (drums).
Years Active: As a project, 15 years. Under the name Social Hysteria, 2 years.
City of Origin: Toronto, ON.
Latest Release: Strange Way Of Life (EP)
Who are you and what do you do?
"My name is George and I collect Molly Ringwald memorabilia."
In 20 words or less, how would you describe your band?
"Melodic alternative rock meets stoner rock, with growly vocals and sometimes harmonies. The lyrics are mostly autobiographical, depicting life experiences."
Why should people care about your band?
"Because we care about people! Music has changed our lives for the better and what better way of spreading the joy than playing it and sharing it with the world?"
What is the most hilarious, frightening, or weird thing you have seen from the stage or while on the road?
"Frightening: people clapping. Funny: While playing a festival in Europe, at the end of the show George (our drummer at the time) threw his drum sticks off stage and into the crown (thinking he was cool), only to realize he threw them way too high and they bounced off the vent and fell back on the stage. Reaction of the crowd was priceless."
If you become a band that eventually fills stadiums or arenas, what would be the most ridiculous thing you'd require backstage?
"A poster of Bryan Adams riding a black stallion, plus a copy of Buns of Steel on VHS."
Which band could your band defeat in a street fight? What methods would you use to ensure victory?
"Ace of Base. We would rule victorious by playing Milli Vanilli's 'Girl You Know It's True,' as a distraction, and then we'd finish them off by throwing aged Swedish meatballs at them."
What is the most pretentious thing you've seen or heard from another musician/band? Did you love it or hate it?
"Without commenting on Kanye Kardashian comments… Once, opening for a well-known punk band from out west, they arrived at the venue and placed their merchandise and the boxes they came in, right on top of our merchandise. We get it, you're more important than any other band."
How do you feel about smartphones lighting up concert venues instead of lighters?
"We're okay with it. There is less chance of starting a fire and it produces more light. Therefore, they're more awesome."
If you had to be a tribute act for just one band, who would it be and why?
"Kiss. Because, I… wanna rock 'n roll all night, and party every day. Or Europe: we would just sing 'Final Countdown' over and over again."
Is it better to burnout than to fade away?
"I guess it depends on the context of things. If we were referring to drug use (Kurt Cobain's suicide note), I wouldn't pick any of those options. It's better to get some help. But if the context is musical career or life, I'd say it's better to fade away… with grace."
Please be sure to follow us on Twitter @riffyou and at Facebook.com/riffyou.