Guns N' Roses is Not Reuniting – Even if You Think So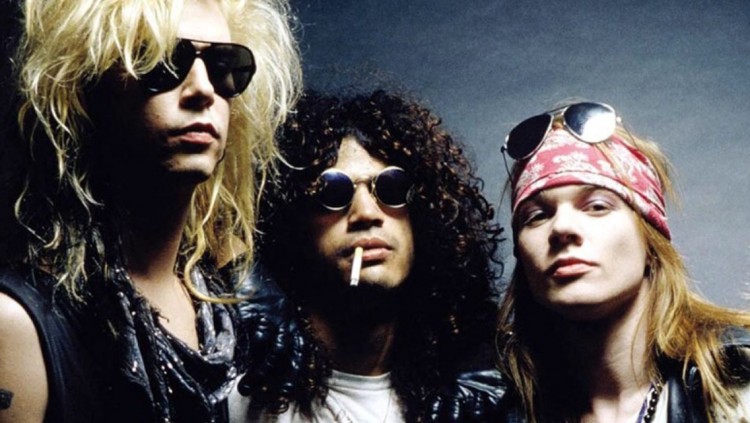 Three-fifths of the original Guns N' Roses lineup has officially joined forces for this April's Coachella and supposedly, to be announced, pocket-filling football stadium tour this summer. While Axl Rose, Slash and Duff McKagan have agreed to once again share a stage, it doesn't appear that original guitarist Izzy Stradlin or drummer Steven Adler will return to the fold. But, don't let that get in the way of that sexy word nostalgists want to sleep next to: 'reunion.'
Because it helps sell tickets and make music press articles more desirable, we can't escape attaching the word 'reunion' to whatever this GNR 2016 thing is. Riffyou.com has been guilty of pushing that word as well, but we have finally come to our senses.
This is NOT a reunion. Firstly, to honestly sell the idea of a band reuniting, the band has to be, well, reuniting – not fragments of it. Although not original members, we would've even accepted inclusions of guitarist Gilby Clarke and drummer Matt Sorum under the GNR 'reunion' banner – at least they existed alongside Rose, Slash and McKagan during the band's prime. Stradlin doesn't desire the spotlight enough to return and even if he's turned the corner on his heavy substance abusing past, it's likely that Adler isn't trusted enough with an endeavour this enormous.
From what we can tell, this 2016 incarnation of GNR will also include Dizzy Reed (okay, he's been here for awhile, so we won't question his likely involvement), along with a number of current and/or recent GNR members.
That's another thing – GNR has not really gone away. Ever since driving the likes of Slash and McKagan out of the band thanks in part to his challenging personality, Rose has been pushing GNR for years – in varying formats, primarily as a touring entity, but also as a recording one. Sure, that Chinese Democracy album is one that many GNR appreciators would love to forget, but the hard reality is that it exists in the band's post-relevancy catalogue. (One has to wonder if Slash has any interest whatsoever adding his flare to any of those tracks in concert – likely not.)
In essence, then, GNR has never 'officially' been gone. How can a band reunite if it was never in the ground in the first place?
Because it sounds better to say 'GNR reunion' as opposed to 'Slash and Duff have forgiven Axl and will play with some other dudes that have kept GNR an always-accessible ATM for the erratic frontman.' Perhaps, maybe, we should call this get together what it really is: 'an appetite for capitalism.'
Then again, it's hard to hate the players here – just the game, just the music industry types that may (or may not) pay GNR upwards of $3 million a night. Grudges hurt, but bathing in a pool of Benjamins must be comforting.
No less, complaining about the nature of the GNR 'reunion' will make great sport until we see how it actually pans out.
Rose's history of being strange is well-documented and his last-minute back away from an interview this week on Jimmy Kimmel Live is his latest questionable move. There, Rose was reportedly going to shed more light on the GNR 'reunion.' Kimmel, one of the few people to have publicly interview Rose in the last two decades, was providing a platform for the anticipated announcement.
But in classic Rose fashion, he pulled the chute. Perhaps, there's still paperwork being passed around and lawyers are admirably attempting to keep Rose, Slash and McKagan's new relationship harmonious. Maybe it's best for everyone if Rose says very little right now. Maybe…
Regardless, I'd be lying if I said there wasn't a level of intrigue for what may (or may not) go down at Coachella when the GNR juggernaut touches down – if it touches down at all.
Knowing Rose from afar as we do, we wouldn't be surprised to see this 'reunion' crumble before Coachella – history tells us that he is capable of that level of unsympathetic sabotage.
If the crumble doesn't happen, then God bless the fellas…as long as they don't fuck it up on stage.
When GNR get there, however, don't praise whatever the band does as a 'reunion.' This is not a 'reunion' – this is something not yet ready to be defined.
-Adam Grant