GWAR Frontman Confirmed Dead by Virginia Authorities

Oderus Urungus (real name David Brockie), the founder and frontman for beloved metal band GWAR, has died at the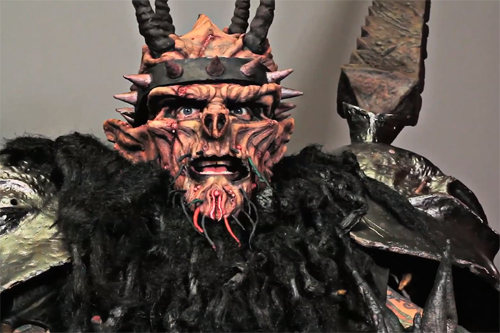 age of 50. He was found at his Richmond, VA, home by a roommate. Via Twitter, the Richmond police department confirmed Brockie's passing. The cause of death is still unknown.
The band's management have yet to confirm the news, but are expected to make a statement this afternoon. SPIN, citing an "unsourced report" from TheMusic.com.au, say that the statement is expected to come at 1pm EST.
After the initial reports of Brockie's death, Mike Bishop, former GWAR bassist was interviewed by Style and shared the following thoughts about his past bandmate:
"Dave was one of the funniest, smartest, most creative and energetic persons I've known," he said. "He was brash sometimes, always crass, irreverent, he was hilarious in every way. But he was also deeply intelligent and interested in life, history, politics and art.
"His penchant for scatological humors belied a lucid wit," he continued. "He was a criminally underrated lyricist and hard rock vocalist, one of the best, ever! A great frontman, a great painter, writer, he was also a hell of a bass guitarist. I loved him. He was capable of great empathy and had a real sense of justice."
Three years ago, GWAR guitarist Flattus Maximus (Cory Smoot) passed away at the age of 34.
GWAR, founded 30 years ago, have released 13 albums in their costume-filled, ever-theatrical, over-the-top career.
Last year, Michigan-based heavy rock band Wilson told Riffyou.com what it was like to tour with GWAR:
"[One show] I was a little inebriated before we had started the set, and I started flailing around," recalled Wilson vocalist Chad Nicefield about his most ridiculous stage incident. "I got a little bit too close to one of our guitar player's headstock and ripped my eyebrow up to my hairline. We butterflied it for two days, but then I had to go get stitches. That's probably the most-gnarly situation – almost having your eyeball ripped out by a guitar headstock. I told that story to Oderus when we did a tour with GWAR and [we talked] real blood versus fake blood and he called me an 'ass pants.'
"Those dudes are real fucking awesome," he continued. "They're real people who have been doing it for a long time and they've handled a lot of weird things as far as the road goes – those dudes have been through it all from recently losing a band member (Cory Smoot) while on tour, to playing in shit holes and stadiums, to doing everything in between. To have them invite us onto the road…it was overwhelmingly kind. I took home one of the GWAR weapons. They gave me a 'human beating stick' that they use in their show."
-Adam Grant