Q&A: Wilson Explains 'Fuckery' & Time with GWAR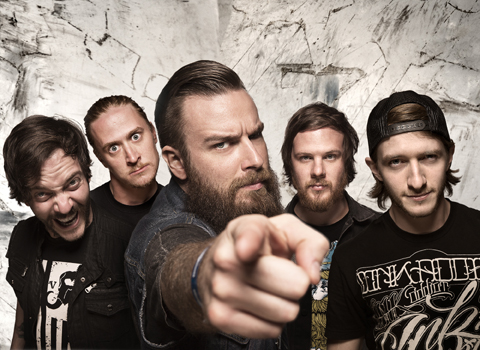 Born and bred in Michigan, heavy rockers Wilson made their formal introduction to the world this past year with the release of their aptly-titled full-length debut, Full Blast Fuckery. Filled with bountiful, speedy aggression, this album has kept the band – Jason Spencer, Chad Nicefield, Kyle Landry, Puhy, and James Lascu – on the road for over 200 shows this year, supporting the likes of GWAR, Jason Newsted, and now Bam Margera's FuckFace Unstoppable.
Ahead of the band's first extensive Canadian tour that starts this month, RiffYou.com caught up with Wilson's wild frontman Nicefield to get a better understanding of their life on the road and the introduction of "fuckery" to the quintet's lexicon.
RY: How do you balance having a good time on the road with playing 220 shows a year?
Chad: "There is a very delicate balance. We treat the band every night that we play a show like it's the last Friday night on earth. Our biggest party is when we're up on stage. For us, we treat the band that way because we know how limited [time is] and how music is dying…in the live sense of it. The number [of people coming to shows] is trickling down because entertainment dollars are so few and far between – especially in the United States. So, the whole party aspect is there to drive people out of their homes and from behind the TV and computer screens, and actually get out there and fucking experience something. We take our band and our partying very seriously."
RY: So you guys make sure that you can actually walk onto the stage each night?
Chad: "Yeah, we learned our lesson early on [laughs]. We don't start heavy drinking until after we've played. We've experienced blood loss in the past. I have stitches and scars to prove it.
RY: If that's the case, what's been your wildest on stage moment?
Chad: "[One show] I was a little inebriated before we had started the set, and I started flailing around. I got a little bit too close to one of our guitar player's headstock and ripped my eyebrow up to my hairline. We butterflied it for two days, but then I had to go get stitches. That's probably the most gnarly situation – almost having your eyeball ripped out by a guitar headstock [laughs]. I told that story to Oderus (Urungus, vocalist) when we did a tour with GWAR and [we talked] real blood versus fake blood and he called me an 'ass pants.'"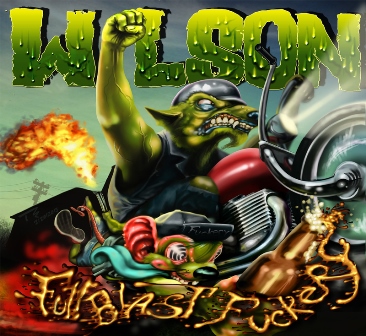 RY: What is touring with GWAR like?
Chad: "Those dudes are real fucking awesome. They're real people who have been doing it for a long time and they've handled a lot of weird things as far as the road goes – those dudes have been through it all from recently losing a band member (Cory Smoot) while on tour, to playing in shit holes and stadiums, to doing everything in between. To have them invite us onto the road…it was overwhelmingly kind. I took home one of the GWAR weapons. They gave me a 'human beating stick' that they use in their show."
RY: You also toured with Jason Newsted (ex-Metallica). What can you say about that experience?
Chad: "Jason sat down with me on the second day of the tour and told me that he had chosen Wilson [to open for him] after seeing our video. We talked a little bit about our dads and the influence they had on us when we started playing music. [He told me] how his dad came to see him in the early Metallica days. He went to some huge festival and patted Jason on the back and said 'Looks like your little band is making you some money now.' That was the first time he got that kind of approval from his father."
RY: Where did the album title Full Blast Fuckery come from?
Chad: "There is a track on the album called "Viking Pussies Fuck Off." It's a 45-second song we'd written and wanted it to be a banger to open up the record. When we finished writing that song, we called one of our managers and I told him that this song we just wrote is full blast fuckery. He went, 'did you say full blast fuckery?' I said, 'uh huh.' And he added, 'I think we just found the record title' [laughs]. It came in this weird and natural way. There was a lot of argument back and forth about whether or not it was appropriate. But, in this day and age, people are going to the office with neck tattoos. Social norms are changing quite a bit. I don't think the word 'fuckery' is going to scare off people. If anything, I can remember the first time I bought a Marilyn Manson record and the imagery gave my 12-year-old self my first boner."
-Adam Grant