Dissed! Noel Gallagher Unloads on Arcade Fire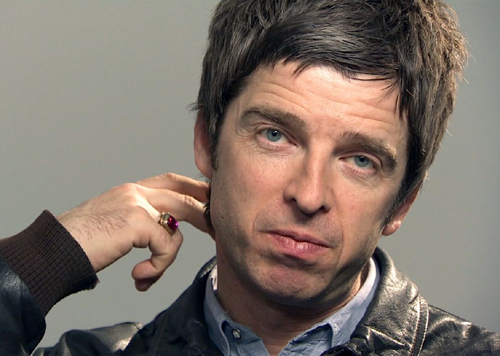 Long before Kanye West meant anything to any music fan and began voicing his opinion in a tremendousy candid fashion, Noel Gallagher (then of Oasis) was arguably the most quotable musician on the block. In a recent interview Rolling Stone, Gallagher attempted to re-claim his throne as he was asked his opinions on a number of subjects including West, Miley Cyrus, and Robin Thicke.
With respect to that trio, Gallagher managed to take a few pointed shots at each, but saved his best for Montreal's Arcade Fire. Turns out that a question as simple as 'Did you hear Arcade Fire's new album?' can evoke such a, ahem, passionate response:
"I haven't heard it. Anybody that comes back with a double album, to me, needs to pry themselves out of their own asshole," quipped Gallagher. "This is not the seventies, okay? Go and ask Billy Corgan about a double album (his band the Smashing Pumpkins releasead Mellon Collie and the Infinite Sadness in 1995). Who has the fucking time, in 2013, to sit through 45 minutes of a single album? How arrogant are these people to think that you've got an hour and a half to listen to a fucking record?"
Realizing that Gallagher had fully taken the bait, the publication chose to seek his opinion on Arcade Fire's request that fans dress in formal wear or costumes at their shows. After a sigh, Gallagher responded:
"Well, what's the point of that? Do you know what the point of that is? That is to take away from the shit disco that's coming out of the speakers. Because everybody's dressed as one of the Three Musketeers on acid. 'What was the gig like?' 'I don't know, everyone was dressed as a teddy bear in the seventies.' 'Yeah, but what was the gig like?' 'Ah, fuck knows, man, I have no idea. I was dressed as a flying saucer.' 'Yeah, but what was the gig like?' 'Fuck knows. I don't know. Seen Cheech and Chong, there, though.' Not for me."
Later on, when informed that David Bowie appears on Arcade Fire's track, "Reflektor," he holds back but still offers, "Oh, that's a shame."
Congratulations Arcade Fire! Only those who make it get Gallaghered.