Interview: Andrew W.K. is the High Priest of Partying

In the early days of this millennium, I was enthusiastically, if not urgently pulled into the backroom of my college radio station. The anxious soul, a friend who happened to be the station's Music Director, rushed in and threw on this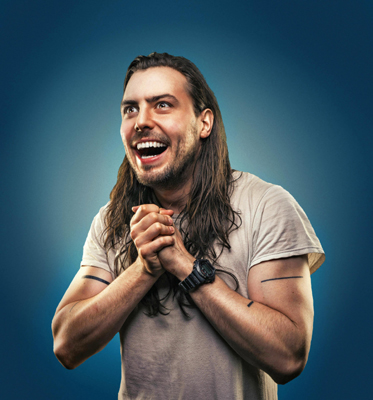 mysterious CD. After a couple of long seconds waiting for the first note to explode from the speaker, it happened: "Party Hard," the debut single by Andrew W.K. entered my life.
Staring at the stereo as this fist-tossing, leg-shaking track escalated, one thing became immediately clear. This dude loved to party, and loved the word 'party.'
The chorus soon rang out: "So let's get a party going (let's get a party going)/Now it's time to party and we'll party hard (party hard) / Let's get a party going (let's get a party going) / When it's time to party we will always party hard / Party hard (party hard, party hard, party hard party hard, party hard, party hard party hard, party hard, party hard…"
Fast-forward a little over 12 years later, and W.K.'s relationship with partying has not dissipated in the slightest. Instead, it's increased exponentially.
Although, his career in music remains ongoing through numerous tours and rock fans able to access his respectably-sized back catalogue, W.K. has – in our words, not his – blown up to become the world's high priest of partying. You see, partying means a whole other thing to W.K. than it does to many others. For him, partying is a metaphor of sorts for living life to the fullest and enjoying each moment of it – it also signifies unity.
"I figure, if we're alive at all, we might as well try to do the thing that feels the best," says W.K. in a recent afternoon interview with Riffyou.com.
"You never really know what's going to happen and what people will respond to," he further explains. "But, it's not like I invented the concept of partying. I don't know if any individual person actually did, but it's the easiest thing to share with people…like smiling, or music, or food. [Partying is] a shared human experience that goes across all cultures and histories, to try and feel good. I just feel happy to be continuing that timeless tradition of enjoying oneself."
When in conversation with W.K., it becomes understood real quick that the long-haired, often draped entirely in white entertainer is a thoughtful man. He approaches each answer deeply, and from a vantage point one wouldn't confuse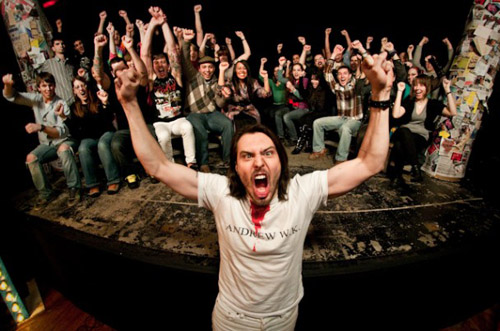 with something traditional. He's not so far off of centre that he comes off as a crazy person, but rather just enough away from the middle to make you listen, and consider his ideals. Many perspectives, though, correlate with his belief that partying helps us humans.
"In keeping with the idea of a party, it is a group effort," responds W.K. when asked if he's surprised by how much his partying mantra has impacted others. "Anyone that I may have helped, have also helped me a great deal. I've been lifted up by the shared experience of partying with other people, as much as I've lifted someone else.
"I also try to remind people to give themselves credit," he continues. "Even if they say that what I said or one of my songs cheered them up, it was their choice to put themselves into a position to hear what I might have to say. It's really up to the individual, always, to have faith in their own ability to feel good. If we can help each other and remind each other of that fact, it's certainly worthwhile."
With that said, it shouldn't be surprising when I tell you that W.K.'s philosophies have taken him beyond the music industry. He's also a motivational speaker; newspaper advice columnist; active social media conversationalist; and soon to be author. He's currently in the midst of developing The Party Bible, an effort that'll eventually be released through Simon & Schuster.
The non-fiction, not-so anecdotal book is still in the works, without a timeline for completion. W.K. explains that this may be his only shot at penning a book, so he is taking his time, and working hard to make sure it's perfect.
"This is my attempt to write a book about tearing down the fabric of what it's like to be alive," he notes. "That's pretty much the most intense thing going on for anybody, so we might as well dive right into it."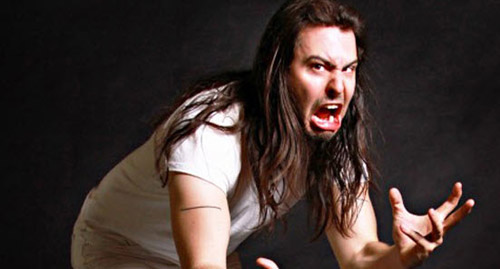 Of course, moving forward with such an ambitious project could push W.K. into the position of a lightning rod. He's all too aware of this, but is willing to deal with all comers so long as one person is willing to embrace his ideas.
"It'll be intense. It's intense writing, and it's intense because I'm not that well educated in anything except for being myself. But, even if just one reader is introduced to some of these ideas – or can relate to them – that'll be worthwhile. I'm sure a lot of people will criticise it, but I'm not putting myself out there as an expert of anything apart from this form of partying that I've experienced."
-Adam Grant
Catch Andrew W.K. on his Canadian Tour:
03/25 Toronto, ON – The Hard Luck Bar
03/26 Montreal, QC – Foufounes Electriques
03/27 Ottawa, ON – Mavericks
03/28 Halifax, NS – The Marquee Club
03/29 St. John's, NL – CLB Armouries
Please be sure to follow us on Twitter @riffyou and at Facebook.com/riffyou.