Interview: Anthony Bleed Talks Solo Songs, New Die Mannequin Album

Die Mannequin's Anthony Bleed isn't a stranger to the craft of song writing, as he spent the first six years of this millennium as a co-writer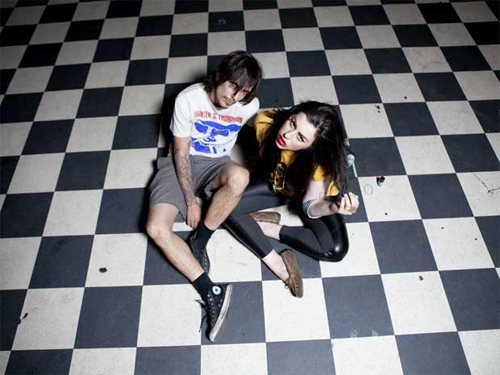 within Toronto rock outfit Kill Cheerleader, alongside Ethan Deth (now of Crystal Castles).
Ever since then, Bleed's been heavily-invested in JUNO Award-nominated outfit Die Mannequin. However, he has continued to write music outside of that band's umbrella. Recently, he began sharing tracks online via YouTube (see videos below) under the moniker of Tonyswar.
"Die Mannequin has been keeping me busy for the past six or seven years, but I've still been writing all along. [Unfortunately] I rarely had time to give my stuff full attention…so I'd do a demo here, a demo there," says Bleed in conversation with Riffyou.com
"I got antsy enough these past few months, and with the new Die Mannequin album is in the can, I figured what better time than now?!" He continues. "The creative juices started taking control, whether I liked it or not, so here we go!"
In terms of expectations, Bleed isn't getting too far ahead of himself. There isn't an apparent desire to individually blow up into a gigantic rock star. Rather, now's the time to focus on "satisfying a creative urge" that's been kept under wraps for some time, and share it with the public any way he can.
"Whatever happens is cool with me," explains Bleed. "If people connect with the tunes, get a feeling or vibe from them, then great…if not, that's cool too. I'm creating for the same reason I eat and sleep, you know?"
Bleed adds that he's hoping to "create a live situation" for Tonyswar, as thus far he's only played a few solo gigs here and there. All songs, he explains, are designed "for a full-band treatment," so eventually he'd like to get a group together to play them.
"One step at a time right now," he relays. "We shall see what happens!"
As mentioned earlier, a new Die Mannequin album is ready to go. To be released through E1 Entertainment this fall, it'll be the group's first offering since 2012's Danceland.
In terms of how he feels about it, Bleed can't help but exude confidence and enthusiasm.
"It sounds pretty cool to me, which I can say without cockiness, as its Care's creation, really," he explains. Since it's been a few years since our last album, I can say our sound has progressed.
He concludes: "We have some synths and cool sounds in there, with some big drums and beats. It's danceable – we'd hoped previous stuff was as well – but it's still rockin' like any Die Mannequin record! I think most people will be pleasantly surprised."
-Adam Grant

Please be sure to follow us on Twitter @riffyou and at Facebook.com/riffyou.