Interview: Anti-Flag Detail 'Angry' New Album "American Spring"

There are few guarantees in punk rock, but one that has existed now for over 20 years is that Pittsburgh's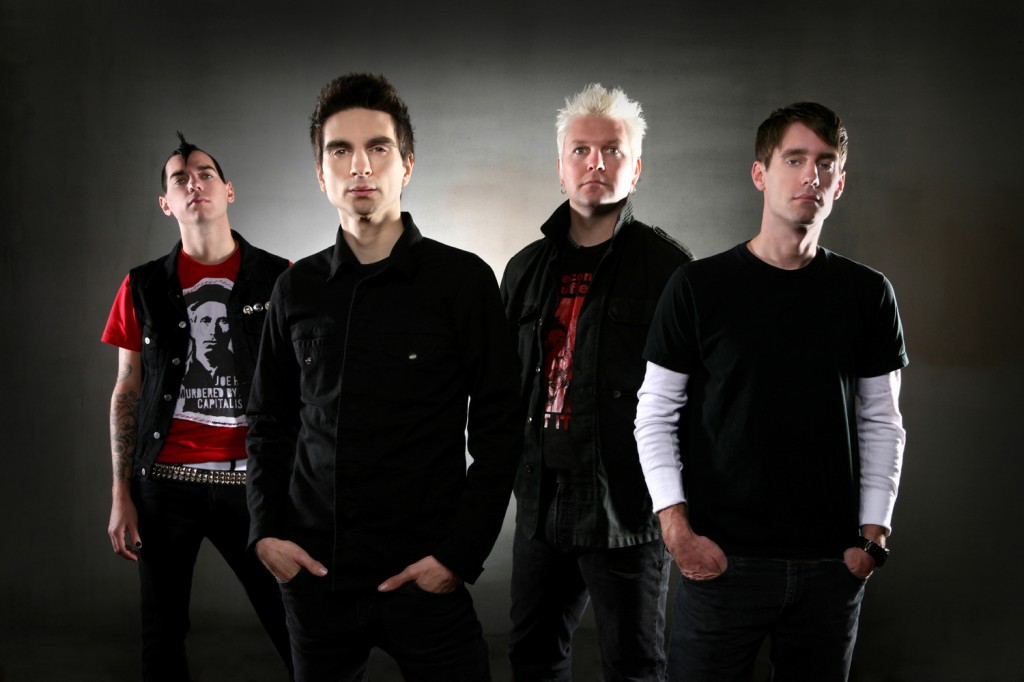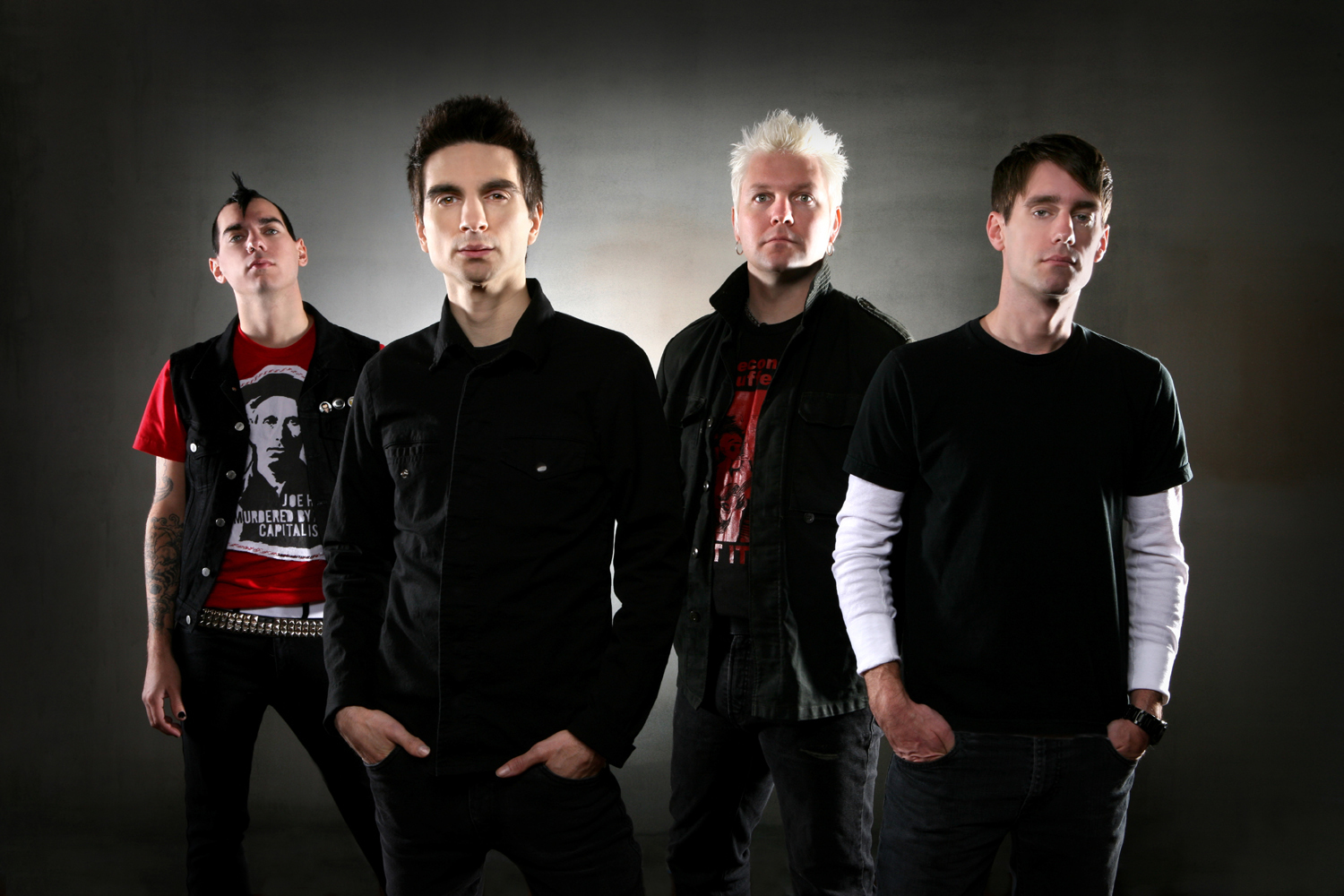 Anti-Flag is not going to shy away from the social and political issues affecting the world in which they reside. They're going to hit their points hammer-to-nail hard, yet give enough sonic energy to make audiences feel like they aren't sitting through a cascading political science lecture.
Last week, it was confirmed that Anti-Flag – Justin Sane (guitar, vocals), Pat Thetic (drums), Chris #2 (bass, vocals), and Chris Head (guitar) – would return in 2015 with American Spring, the quartet's first new album studio album since 2012's The General Strike.
"I feel like American Spring sits somewhere between The Terror State and For Blood and Empire, in being the sound that you've come to expect from Anti-Flag. But, also us proving that even after 20+ years, we're far better than we were when we started," offers Chris #2 with a laugh during a conversation with Riffyou.com.
Since The General Strike, unfortunately, Anti-Flag still finds itself in a scary incarnation of America. Bombs continue to drop in the Middle East; the Obama presidency isn't accomplishing what they hoped it would; and police officers appear to be getting away with murder.
"I would say it's less than hopeful," adds #2 about the album. "But, it's angry. It's an angry record. It's written at a time where we feel let down and that an opportunity was missed. We're going to make sure that we don't roll over in a bed of apathy. That's been my biggest fear of the post-Obama depression: is that it'll make people apathetic."
Beyond Obama, #2 says that Anti-Flag have stepped outside of the creative parameters in which they usually abide by. While social and political topics aplenty are still focused upon on American Spring, so is the topic of how the feelings of personal loss and grief are really one in the same:
Says #2: "I feel like some of these songs are coming from a far greater personal place than before."
The bassist clarifies that there isn't any "whoa is me" moments on American Spring, but that the deaths of Trayvon Martin, Michael Brown, and Eric Gardner, as well as "personal turmoil" he's recently suffered through seeped into the writing for this album.
"There's something personal that comes into the record…I [recently] lost my sister to violent crime," confides #2 with a brief struggle to his voice. "I went and sat in the courtroom and I heard public defenders that were overworked and underpaid, who didn't really give a shit about the poor community because they had seven other cases behind them.
"I heard them fuck up a case and the person who killed a member of my family was set free. I watched American injustice unfold firsthand," he continues. "So when I watched the verdict of Michael Brown – and see him and his family not even get a chance to go to a trial that's mishandled, as it was mishandled before it even got there because the person who killed him was a police officer – I felt so much empathy for them, Trayvon Martin, then Eric Gardner. It just became this moment [where I wondered] how does love and how does loss and how does the political statement we make all tie in. And, how will we get people to understand this?"
Still reeling from the loss of his sister, #2 recalls "weeping like a baby" when it was decided that now-former police officer Darren Wilson would not face a trial after fatally shooting Brown. He equally lamented President Obama's inability to at least humour the population by promising to look deeper into how the verdict came to be.
Another topic very present on American Spring is the use of militarized drones. When discussing one of the new songs, "Sky is Falling," #2 explains that it was inspired by an individual who testified before US Congress who stated that his neighbourhood looks forward to cloudy weather, because that means the drones won't be flying on those days.
"It's more about documenting a place in time and saying we could either go one way, or another," continues #2 when elaborating on the forthcoming Anti-Flag album. "We could introvert and be depressed and not be able to grow, or we can do the opposite and flourish, find new things, relationships, and ideas to carry forward."
Before Anti-Flag fully goes forward with the May release of American Spring, the band will finish touring 2003's The Terror State album (played nightly in its entirety) across North America. This is something the band began doing in 2014 for a very direct purpose.
"Playing these songs again has specifically been about the re-amping of militarism in the Middle East," concedes #2. "With drone strikes going through the roof on a day-to-day basis, it seems eerily similar to 2003 when we wrote those songs.
"For me, it was about getting re-connected with the positive side of the anti-war movement and ways to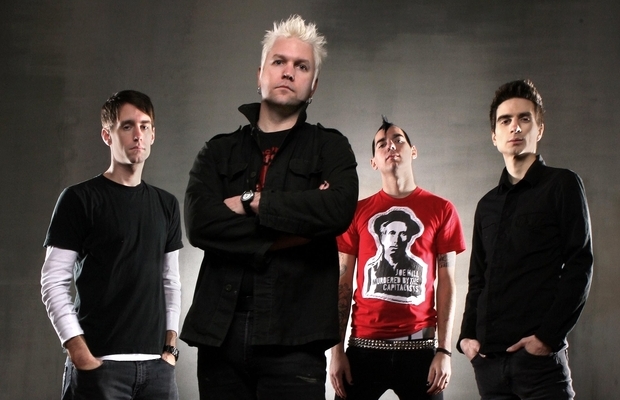 inspire ourselves to become more proactive now, than we were [when the album came out] and try to correct those mistakes. The shows have been a great celebration of that idea."
While revisiting The Terror State has proved fruitful both on an artistic and crowd-acceptance level, #2 says that he does wish that the songs would be more "irrelevant" in 2015 than they are.
That said, #2 still looks back fondly at The Terror State, as he views it as the album the helped Anti-Flag realize what it needed to be.
"That [era is] really when we decided what the band should sound like," confirms #2. "We had these joke songs and we'd been a punk rock band, but we can do far more good if we stay focused and not allow ourselves to give in to the idea of being a band that is aiming for any acclaim or popularity. If we stick our faces to the grindstone and say, 'hey, write the song that makes the most sense for today,' then it'll last longer than the four individuals who wrote it. That's been the goal ever since."
-Adam Grant
Tour Dates:
1/29 – Cleveland, Ohio @ The Grog Shop (w/ Such Gold, The Homeless Gospel Choir, The Public)
1/30 – Indianapolis, Ind. @ Emerson Theater (w/ Such Gold, The Homeless Gospel Choir, and ForeverAtLast)
1/31 – Chicago, Ill. @ Reggie's Rock Club (w/ Such Gold and The Homeless Gospel Choir)
2/4 – Asbury Park, N.J. @ Asbury Lanes (w/ Such Gold and The Homeless Gospel Choir)
2/5 – New York, N.Y. @ Gramercy Theatre (w/ Such Gold and The Homeless Gospel Choir)
2/6 – Pittsburgh, Pa. @ Mr. Smalls Theatre (w/ Such Gold, The Homeless Gospel Choir, and Divorce)
2/12 – Toronto, Ontario @ Horseshoe Tavern (w/ The Dying Arts and Worlds Scariest Police Chases)
2/13 – Montreal, Quebec @ Les Foufounes Electriques (w/ The Dying Arts and Worlds Scariest Police Chases)
2/14 – Peterbourough, Ontario @ The Red Dog (w/ The Dying Arts and Worlds Scariest Police Chases)
2/15 – Hamilton, Ontario @ Club Absinthe (w/ The Dying Arts, Worlds Scariest Police Chases, The Penske File)
2/17 – London, Ontario @ Call the Office (w/ The Dying Arts and Worlds Scariest Police Chases)
2/18 – St. Catharines, Ontario @ L3 Nightclub (w/ The Dying Arts and Worlds Scariest Police Chases)