Interview: Barenaked Ladies Band Together on "Silverball"

Over breakfast at the Soho House during a hot and crispy Toronto morning, Barenaked Ladies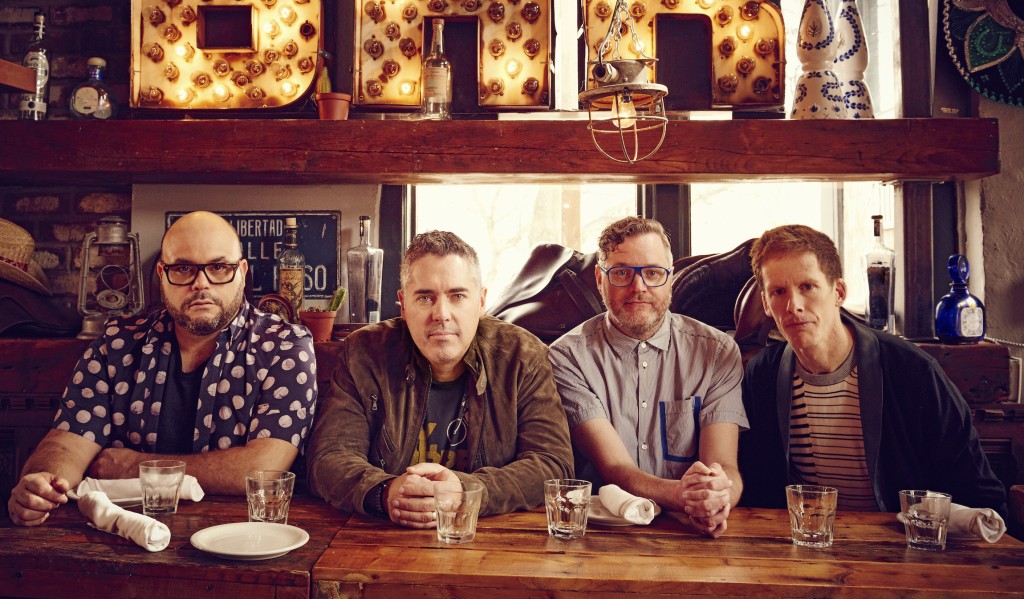 members Ed Robertson (vocals, guitar) and Tyler Stewart (drums) tell Riffyou.com that they are feeling pretty damn good about the band's fourteenth album, Silverball.
"It feels like I'm doing the right thing," offers Robertson regarding Silverball. "I'm doing what I should be doing and I love it. Our latest record is my favourite record that we've ever made."
Adds Stewart: "For me, [Silverball] means hope for the future. I feel like we could keep doing this and it's possible for us to continue to make records and tour, because we're doing it right now."
With Silverball, Robertson, Stewart and Barenaked Ladies cohorts Jim Creegan (bass, vocals) and Kevin Hearn (keyboard, vocals), continue to show strength by doing what it does best: deliver clever, humorous, yet heartfelt lyrical subject matter, all the while backing that up with strong, yet diverse musicality.
Gavin Brown (who worked with Barenaked Ladies on 2013's Grinning Streak) was once again tapped to serve as the band's producer – it was a decision that proved to be a fruitful one.
"We really enjoyed making Grinning Streak with him. My suspicion was that we'd really have the opportunity to start where we left off…and that's what happened," says Robertson. "We really hit the ground running [on Silverball]. For us, it was a pleasure to go to work every day."
When thinking about the experience, Stewart notes how Brown's presence allowed Barenaked Ladies to move at such a solid pace, that it took but an hour and a half into the first day of recording to have the lead single, 'Say What You Want,' recorded.
"Sometimes songs play themselves. Other times, you have to ring your hands a bit, or bring your heads together, to figure out how it goes," says Stewart. "Once we get a vibe or pattern together that we're going for – because we've been together for so many years and there's that level of trust – we can just put stuff down on tape."
When speaking about the internal expectations or anticipation for how Silverball may be received by the public, Robertson admits to being far more at ease with the release of this album than any of its predecessors.
"At some point, you manage to take some kind of objective look at what you do and you go, 'man, I've been in a rock band for 27 years and I get to do what I love; I get paid to do what I love; people love what I do; and I love what I do,'" states Robertson. "For me, it was about looking around and thinking, okay, my career is maybe one-eighth of what it was at our ultimate point of success, but at this level, it is twenty times what most people could ever hope or dream for."
For Barenaked Ladies, the band appears to be in a unique yet comfortable situation. Having sold millions of albums worldwide and being the owner of a profile that's widely known amongst music fans, the guys can really afford to approach their career in a way that makes sense to them.
This is healthy. During their conversation with Riffyou.com, Robertson and Stewart admit that Barenaked Ladies did reach a very jaded place many years back, but fortunately emerged from that: "Nothing kept us out of there," admits Robertson. "We're just on the other side of it [now.]"
Stewart says what has helped Barenaked Ladies on the other side is its ability to appreciate and understand everyone's desires. If a member needs space from the band, it's granted. If a member has an urge to go off and do a solo project, so be it. That wasn't always how the band operated.
"A couple of years ago, we realized that we actually really like each other and enjoy each other," says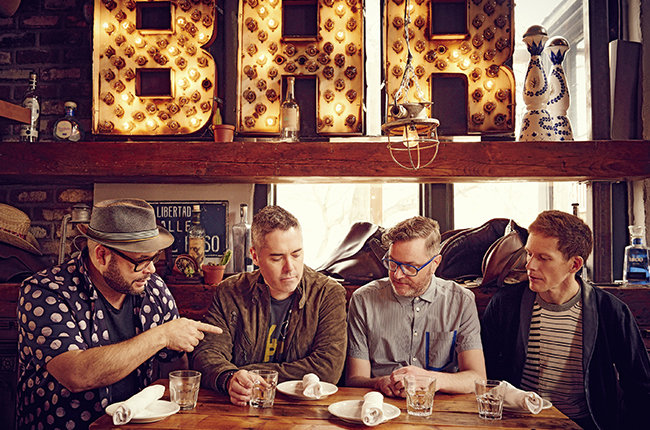 Robertson, before mentioning the importance for Barenaked Ladies members to hang out and enjoy each other's company outside of the band…be it through bike riding or grabbing a bite.
"It's a process – just like being married," adds Stewart. "There's the initial thrill and romance, but then you get into things together. If you don't respect that person, resentment can build up. We're [also] not having sex with each other – which is like marriage, too."
What becomes clear by the time our breakfast chat draws to a close, is that Barenaked Ladies have come to that place where making music, as friends, and playing for audiences is really what it's all about now.
Why? It's simple: the band's already achieved more than it could've imagined – grand achievements are no longer needed for validation.
"In the early days, we were so busy…in many ways, stroking the star-maker machinery," says Stewart. "You're chasing something. You're chasing a number one single or a gold record. But, I feel like now every performance is about the performance itself. There's a goal to entertain, but we are not pursuing something."
"My goal now is to be great," says Robertson. "[I want to] do amazing performances, write great songs, make great records…I don't give a shit about anything else. Not because I don't think it'll happen, but because it already has. We've already sold 15 million records, been nominated for Grammys…we have a dozen JUNOs, plus Billboard and World Music awards. How many more accolades could one possibly desire? To do music for its own sake is pretty refreshing."
-Adam Grant
Tour Dates:
June 8 – Cedar Rapids, IA @ McGrath Amphitheatre
June 10 – Denver, CO @ Red Rocks Amphitheatre
June 12 – Red Wing, MN @ Treasure Island Resort & Casino Island Events Center
June 13 – Milwaukee, WI @ BMO Harris Pavilion
June 14 – Council Bluffs, IA @ Stir Cove at Harrah's Council Bluffs
June 16 – Chicago, IL @ FirstMeritt Bank Pavilion at Northerly Island
June 17 – Indianapolis, IN @ Farm Bureau Insurance Lawn at White River State Park
June 19 – Cincinnati, OH @ PNC Pavilion
June 20 – Detroit, MI @ DTE Energy Music Theatre
June 21 – Salamanca, NY @ Seneca Allegany Casino & Hotel
June 23 – Pittsburgh, PA @ Stage AE
June 26 – Portland, ME @ Maine State Pier
June 27 – Uncasville, CT @ Mohegan Sun Arena
June 28 – Philadelphia, PA @ The Mann Center for the Performing Arts
June 29 – Boston, MA @ Blue Hills Bank Pavilion
July 1 – New York, NY @ JBL Live at Pier 97
July 2 – West Windsor, NJ @ Mercer County Fairgrounds
July 3 – Solomons, MD @ PNC Waterside Pavilion
July 4 – Raleigh, NC @ The Red Hat Amphitheatre
July 8 – Charlotte, NC @ Uptown Amphitheatre at the Music Factory
July 10 – Boca Raton, FL @ Sunset Cove Amphitheatre
July 11– St. Augustine, FL @ St Augustine Amphitheatre
July 12 – Atlanta, GA @ Verizon Wireless Amphitheatre at Encore Park
July 13 – Nashville, TN @ Woods at Fontanel
July 15 – Dallas, TX @ Verizon Theatre at Grand Prairie
July 17 – Albuquerque, NM @ Venue TBD
July 18 – Las Vegas, NV @ Boulevard Pool at The Cosmopolitan
July 19 – San Diego, CA @ Cal Coast Credit Union OAT
July 21 – Los Angeles, CA @ Greek Theatre
July 22 – Saratoga, CA @ Mountain Winery
July 24 – Boise, ID @ Idaho Botanical Garden
July 25 – Portland, OR @ Edgefield
July 26 – Seattle, WA @ Marymoor Amphitheatre
September 29 – Portsmouth, UK – Pyramid
September 30 – Manchester, UK – Ritz
October 1 – Glasgow, UK – O2 ABC
October 3 – Edinburgh, UK – Queens Hall
October 5 – Aberdeen, UK – Beach Ballroom
October 7 – Birmingham, UK – Institute
October 8 – Bristol, UK – Academy
October 9 – London, UK – O2 Indigo 2
October 19 – Prince George, BC – CN Centre
October 21 – Vancouver, BC – Queen Elizabeth Theatre
October 22 – Victoria, BC – Save-On-Foods Memorial Centre
October 24 – Kamloops, BC – Interior Savings Centre
October 25 – Kelowna, BC – Prospera Place
October 26 – Cranbrook, BC – Western Financial Place
October 28 – Grande Prairie, AB– Revolution Arena
October 30 – Medicine Hat, AB– Medicine Hat Regional Event Centre
November 1 – Calgary, AB – Southern Alberta Jubilee Auditorium
November 2 – Red Deer, AB – Enmax Centrium at Westerner Park
November 3 – Edmonton, AB – Northern Alberta Jubilee Auditorium
November 4 – Saskatoon, SK – TCU Place
November 6 – Winnipeg, MB – MTS Centre
November 12 – London, ON – RBC Theatre Budweiser Gardens
November 13 – Toronto, ON – Massey Hall
November 16 – Hamilton, ON – Hamilton Place Theatre
November 17 – Oshawa, ON – General Motors Centre
November 18 – Kitchener, ON – Centre In The Square
November 20 – Peterborough, ON – Peterborough Memorial Centre (ONSALE 1:00PM local)
November 21 – Ottawa, ON – Southam Hall at National Arts Centre

Please be sure to follow us on Twitter @riffyou and at Facebook.com/riffyou.