Interview: Chris Carrabba Goes from Dashboard to Folk with Twin Forks

Remember when 'emo' was that one musical buzz word that drove you insane for three to five years? I sure do. Through no real intentional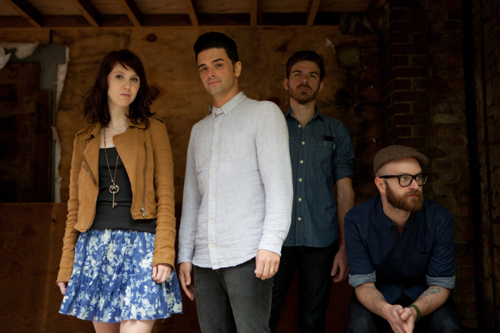 fault of his own, Chris Carrabba and his Dashboard Confessional project became the poster boys of it. Romantic, sensitive, thoughtful, at times high-pitch, and very attractive to the heart-on-the-sleeve types, Dashboard (as its referred to by many, including Carrabba) was classified as what many people believe 'emo' to be.
After originating in 1999, Dashboard went on to sell more than three million records worldwide, and produce pop radio shining stars "Screaming Infidelities" and "Vindicated." By all intents and purposes, Dashboard was a success.
"Dashboard became a very successful band through years and years of hard work that started with four or five years of driving a van for 300 days a year…playing in small clubs and hoping we connect with half of them," reflects a quiet, yet thoughtful Carrabba when speaking with Riffyou.com from a Portland, OR, hotel room.
"It took years to become an 'overnight success,'" he adds with a laugh.
Despite all of that, there was more to Carrabba's musical interests than what appeared on Dashboard albums and at Dashboard shows. Since he was very young, Carrabba had a substantial interest in folk music. Today, he refers to that musical style as his "biggest influence."
That said, it still took a ton of time before he felt comfortable tackling the genre in a public manner. It was one thing for Carrabba to continue playing these kinds of songs by the pool or in his living room – it was another to perform them in front of the masses.
"[The intimidation] is a big reason why I didn't take on this genre of music," explains Carrabba. "I didn't think I could do it justice.
"The fact that I didn't know if I could excel within the parameters of this genre I respected so much kept me from wanting to play it," he continues. "That was a long time ago, and now I feel like I can. I'm a seasoned songwriter and I can certainly play the music. If I can play the songs, then the challenge becomes being able to write within the parameters of that style, excel, and find some new territory."
What it took for Carrabba to step past his early fears was producer and friend Jonathan Clark. One day he heard Carrabba strumming away on a Paul Simon song and issued a challenge.
"He said 'so, why are you afraid to do what you love? Let me make the records,'" confirms Carrabba. "It was a biting moment for me."
In essence, this is what cleared the path for the 2011 formation of Twin Forks, an alternative folk collective fronted by Carrabba. Also featuring Clark on bass, along with Suzie Zeldin (mandolin) and Ben Homola (drums), the band released a Self-Titled EP in 2013, followed by a Self-Titled full-length earlier this year – both were put out by Dine Alone Records.
The latest offering can be considered very reminiscent of Dashboard in terms of Carrabba's very distinct voice and lyrical prowess, but the very well executed folk, country and bluegrass elements turn Twin Forks into its own viable musical vehicle.
"Starting over is starting over," says Carrabba as the future of Dashboard (which is just on pause)is discussed. "I think a lot of people tried to talk me out of doing this, and that's where so much of the drive for me doing this came from. People are skeptical when you do something new. People are skeptical when I do something new."
With starting over comes the struggle. Carrabba refuses to throw the 'Dashboard Confessional' name upon a marquee to promote a Twin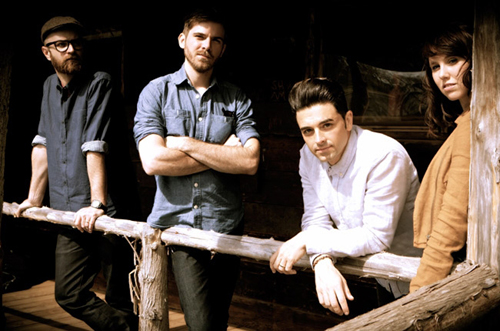 Forks gig, citing that he doesn't want to cheat fans who'll expect to hear many selections from that project's back catalogue.
In fact, Carrabba's very serious when stating that he'd rather have Twin Forks play to 60 people and hope that those fans bring 60 friends the next time around: "We're trying to build this into something," he says. "I think [Twin Forks] deserves to succeed or fail on the merit of the music, not the lineage of the members of the band."
Even with that in mind, Carrabba is embracing the moments when both of his bands are held up against each other. Near the end of our time together, he takes Riffyou.com back to a recent experience he had at The Troubadour in Los Angeles, a venue that he has played over 20 times. It would be here, that he was able to truly feel fortunate about his ability to admirably switch gears.
"One of the bouncers there – a real tough guy – said to me, 'Chris, I just wanted to let you know that I bought the Twin Forks CD. I loved the show. [But] Dashboard just wasn't for me.' That was the nicest way for someone to say your other band sucks," offers Carrabba with a laugh. "I took that on a deeper level…I think that's incredible. I've gone on long enough now where people who may have made decisions on who I am as a writer look at another band I do and give it a chance. I'm really lucky."
-Adam Grant
Please be sure to follow us on Twitter @riffyou and at Facebook.com/riffyou.