Interview: The Puck Drops for The Strumbellas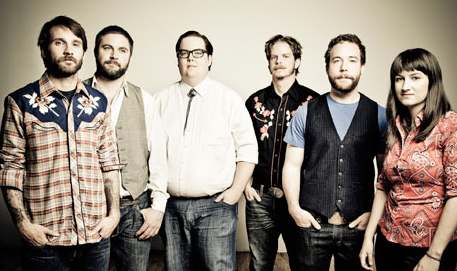 Prior to the puck dropping on CBC's November 9 Hockey Night in Canada game between the Toronto Maple Leafs and the Boston Bruins, many hockey fans from across the land were introduced to The Strumbellas, a JUNO Award-nominated alt-folk act that shares a hometown with the Leafs.
During the customary pre-game montage, The Strumbellas' heartfelt single "Sailing" set the tone for what was to be an emotional match between two of the NHL's proudest franchises. And just like that, the band's sophomore album, We Still Move On Dance Floors, was given that extra push that any young band would appreciate.
"There are so many people out there who look for new music and come out to live shows, but I think that brought us to a wider audience," agrees Strumbellas vocalist and guitarist, Simon Ward, who also admits that the song's HNIC placement resulted in calls from friends who suddenly obtained a renewed interest in his band.
Long before the HNIC plug, The Strumbellas were a band – David Ritter (piano, organ, percussion, vocals), Jeremy Drury (drums), Jon Hembrey (electric guitar, mandolin), Darryl James (bass) – who had received critical praise for their 2012 album, My Father and The Hunter, and, although not admittedly, were tasked with keeping the momentum going with a steady follow-up effort.
To accomplish this, the band signed on to work with producer Ryan Hadlock (Metric, Gossip and The Lumineers) and ventured out to his Seattle-area studio to have at it. Ward (a fan of Hadlock's previous projects) and his fellow Strumbellas soon found themselves truly living with what was to become We Still Move On Dance Floors.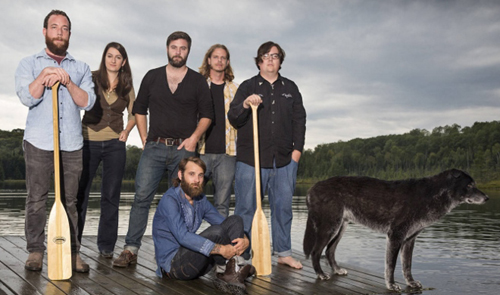 "We all slept and stayed at the studio for the whole time – it was a way different vibe, because we were all together all the time," says Ward, who further notes that the previous album was made in Toronto while members lived within the region. This, of course, would allow life to get in the way, meaning that not everyone in the band was around during the entire recording process.
"Having everyone's input there and people always being around to ask questions and give advice [is great]," offers Ward. "I think everyone is happier with [We Still Move On Dance Floors] as opposed to the last one, where if someone wasn't there one day and we had to make a decision, we'd just make it."
When in studio this time around, The Strumbellas also opted to settle things down. The band took their time with the details; had a better understanding of where the harmonies needed to go; as well as when to scale back the amount of instrumentation on a given track.
The end result is an album that terrifically balances soft and tender moments with more up-tempo fun folk instances that are very comparable to what massive global acts like Mumford & Sons and The Lumineers are putting out.
As for being lumped in with those guys, Ward says that he'd "rather be compared to those bands than bands that I don't like," but does also understand that such artists have opened some doors for The Strumbellas.
"Mumford & Sons set it off for everybody and really brought back this style [of music], then obviously The Lumineers," believes Ward. "There are just a lot of really good bands who are making this type of music right now. I don't know if it's necessarily the fact that this style of music was ready for a comeback…I think people who happen to be making it are doing a really good job at it. I'm sure this will happen again if some wicked people start making polka music really well. It just takes a few bands to get a style going."
-Adam Grant