Interview: PUP Gets Unleashed Upon the World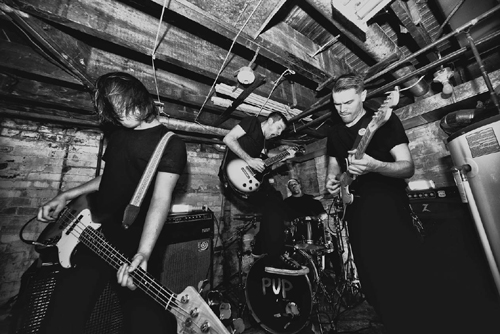 While he still can, PUP frontman Stefan Babcock is laying low. Ever since his band's Self-Titled debut album emerged in Canada this past October, this ride up the music industry's wobbly ladder has been a swift one. They've become the new 'it' rockers in the minds and pages of respected music publications throughout the globe; landed a record deal with SideOneDummy; opened for Billy Talent and Fucked Up; and will leave their homes for tour come the end of January, unlikely to really return before 2015 arrives.
For Babcock, now is the time to not party so much and perhaps get up early to do some laundry. These are his words not ours – although we here at Riffyou.com are very much pro-laundry.
"When we first talked about quitting our jobs and doing this record, all we wanted to do was be busy and not have to go work at Wendy's," explains Babcock.
Toronto's PUP, which is also made up of Nestor Chumak (bass, vocals), Steve Sladkowski (guitar, vocals), and Zack Mykula (drums), are moving along at a fast pace thanks to their scintillating 10-song debut that runs the course of melodic punk rock, metal, alternative, hardcore, classic rock, with a side of emo and wicked chant-along moments. Babcock's lyrical prowess isn't hidden beneath the breadth of the well-performed racket, however, as it too boasts wildly powerful moments worth celebrating.
What made this possible is the differences in the band's outside musical interests. Babcock takes cues from bands like Built to Spill, Modest Mouse, and lo-fi punk rock, while Sladkowski is a "guitar nerd" that has an interest in jazz, and the rhythm section has an appreciation for harder-edge stuff. Somehow when those influences are connected, it all works.
"We wanted to make a record that sounded like our live show and I think we accomplished that. We did most of it live off the floor. Our producer Dave Schiffman's (Weezer, Rage Against the Machine) motto was 'this record should sound like the best show you've ever played and nothing more.' What we wanted to translate most was the vibe, the energy, and the sweat [of our performances]. We think that it's not a perfect record – there's no such thing as a perfect record – but it captures what we do live."
What the band does in studio and upon the stage was initially brought to life when Babcock – whose then band was "blowing up in the bad kind of way" – met Chumak, Sladkowski, and Mykula in 2011 while attending University. That trio, explains Babcock, have played together since their teenage years, meaning that he was presented with the opportunity to walk into an already fully-functional band. He brought in his songs; the four men jammed; and here we are today.
The spring will see the re-release of PUP through the band's new label, SideOneDummy Records. Babcock notes that the album has not been re-worked and will appear stateside and beyond with its original qualities intact.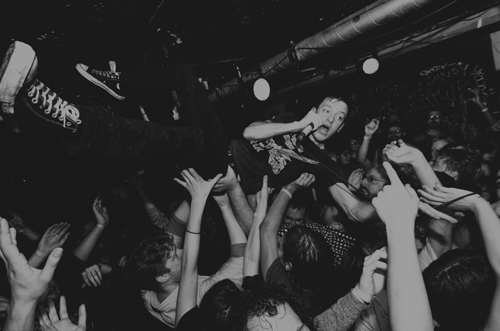 "It was a lot of luck and a lot of being in the right place at the right time," he says when describing how the relationship with SideOneDummy began. "We put out the record in Canada and put out "Reservoir" as the single, and got some good press. I guess [the label] heard it through the press and they flew into see us play CMJ in New York. They were stoked [about the show] and they grabbed us after and said they wanted to put out our record. They're awesome people. Since that's happened, it's been a rollercoaster for us."
That rollercoaster will crank back up on January 30 as PUP plays three more Canadian dates (in Hamilton, Toronto, and Montreal), before shipping off to the UK, Germany, Belgium, and Holland, ahead of a sizeable US jaunt.
"It's exciting for us," says Babcock of the ride thus far. "Our expectations have been reasonably low. We just wanted to make a record that we were going to be proud of – and we've done that. It's been really cool to be in this position. Six months ago, we didn't even have a band name, so to be here now, it feels great, but we don't feel too pressured. We'll keep playing music until people don't care anymore…then, that's it."
Please be sure to follow us on Twitter @riffyou and at Facebook.com/riffyou.
-Adam Grant