Interview: Raine Maida Talks New Our Lady Peace Music, Taggart's Exit

From the outside looking in, 2014 seemed like it would be a year of celebration and reflection for Our Lady Peace. Their debut album Naveed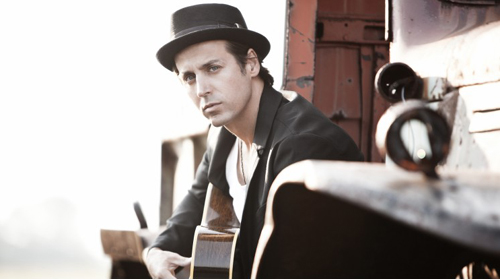 was turning 20, and the band was poised to embark upon a series of dates to pay homage to arguably one of Canada's most important rock records.
Unfortunately, those shows were auspiciously cancelled leaving many to wonder what was going on in the Our Lady Peace camp. Months after that, even as new tour dates were being announced, it was confirmed that original drummer Jeremy Taggart was leaving the band after 20 years.
Yes, that major personnel shift – along with the desire to make new music – helped wipe away the desire to embark upon those Naveed dates.
Moving forward speedily, the band – Raine Maida (vocals, guitar), Steve Mazur (guitar), and Duncan Coutts (bass) – have emerged with a defiant, yet infectious new single, "Won't Turn Back." Decidedly poppier and more danceable than most songs in Our Lady Peace's repertoire, the just-released track has already found its legs.
"This is the best response we've had from a single since 'Clumsy,'" reveals Maida in conversation with Riffyou.com from an L.A. recording studio.
He continues: "It's definitely poppier than a lot of the stuff we've had, but I look at some of The Clash's stuff – and they've always been one of my favourite bands – and you talk about "Train in Vain," which today would be considered a pop song. That kind of justifies it for me. It just feels good. It's one of those choruses that feels really up, but I'm kind of singing like I did on Naveed…it has a really aggressive vocal thing to it. I like that juxtaposition."
On this day, the enthusiasm in Maida's voice seems to signify a fresh outlook for a band that – for better or worse – hasn't been afraid to shift things up sonically throughout their career. Maida admits that maybe they're stupid for not re-creating and cashing in on the same sound over and over again, but ultimately knows that his band would rather do business the other way.
When asked if "Won't Turn Back" is about having something to prove, Maida emphatically agrees: "We still have something to say as a collective," he affirms. "We obviously feel that a lot with other issues besides music, whether it's politically, or some of the social causes my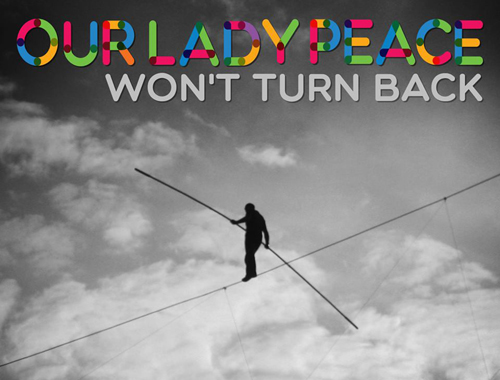 wife and I tackle. It always feels that we put so much work into this life…it's easy to give up on things sometimes, but perseverance is pretty important to me."
Of the song, Maida adds that it's a pretty good barometer for the album to come, while stating that it certainly won't be Curve or Clumsy Part Two. He explains that the band have embraced a sound that is more catchy rhythmically, has a danceability to it, all the while maintaining an aggressive underlying tone. It's not "fluffy," he assures.
"It's not as blatant as the song 'Won't Turn Back,' but another really amazing song we've recorded is called 'Falling into Place,'" he offers. "It's about all of the experience you have in life and everything you encounter – the struggles especially – and taking all of that in stride. That's part of life, man. If it was easy, you'd be bored.
"As you go through these struggles, that's how you get to learn about yourself," elaborates Maida. "That's how we look at our life as a band. I think each individual in the band feels that way as well. The struggles make you realize who you are, and we're at a certain point in our career where we finally realize that."
One such struggle was saying goodbye to Taggart, who at the age of 17 jumped in as the engine of Our Lady Peace and with Maida, was one of the two remaining original members of the band.
"For anybody that's been in a relationship for a long time, sometimes change can give you a new perspective. I think for us, that's pretty important," says Maida. "As sad as it is to say goodbye to Jeremy, what it does is make you re-think things and look at things closer…it's like a kick in the ass in a sense."
Maida explains that one of the weirdest things for him with regard to Taggart's departure is not seeing his address attached to an email in which praise regarding new material from the band is being offered: "That definitely feels strange," he says.
As for why Taggart left, Maida recalls it was around the time that the Our Lady Peace machine began to ramp up again in terms of booking studio time, getting the right producer onboard, and arranging tour dates. Plans for the next year were being laid out, and this is when Taggart approached the band about his exit.
"You'd have to ask Jeremy, but I don't think his heart had been in it the same way as ours have been over the last few years…probably," relays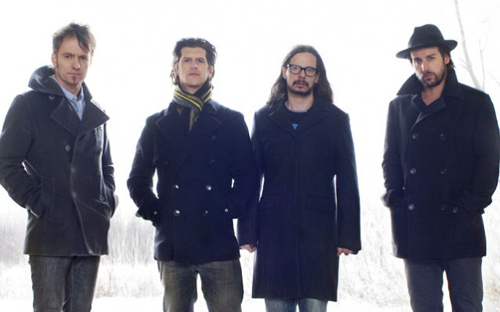 Maida. "You can kind of know…and it's hard to leave. I'm sure he thought about it years ago, but we're a family and that's all he's known growing up…since he was 17. And, that probably played into it in some extent."
If there's anyone hoping to find some type of underlying grudge existing due to Taggart's departure, you're looking in the wrong place. While Maida puts up a brave front, it's easy to tell by the sound of his voice that this scenario wasn't easy for him. That said, he wishes his now former bandmate well, and says that they're "rooting for each other."
"Jeremy started in this band when he was really young, so he deserves the chance to go do different things," adds Maida. "We all wish him nothing but the best. We're all supportive and it's all been [handled] with love."
For the next chapter of Our Lady Peace, those pages are already being written. The guys have partnered with producer Mike Elizondo (Dr. Dre, Eminem, Regina Spektor), who Maida credits for helping "push" the band's sound. During the recording process, Maida sees Jason Boesel (Rilo Kiley) handling the drum work, while Jason Pierce (Neverending White Lights) will handle the skin duties for tour dates.
Maida says that a title for the album hasn't yet been determined, but that he hopes to have something released before the end of the year. It might be a five song EP, or something in the seven to 10 track range – there's zero room for any filler.
"The music's amazing," he concludes. "There are three songs, ["Won't Turn Back"] included, that are three of my favourite OLP songs that we've recorded in a long time. I don't know how it happened, but the reaction's been amazing. Something like that was happening around Clumsy too. We had that song and thought we'd finished the record, but then all of a sudden I wrote '4 A.M.' and 'Superman's Dead' in two days. Then we thought, 'wow, this is a record now!' I feel like we're at that place now."
-Adam Grant
Tour Dates:
July 30   Festivent Ville de Levis – City of Levis
Aug 9     Mussel Bed Soiree – Lewisporte NFLD
Aug 15   The Rapids Theatre – Niagara Falls, NY
Aug 16   Edgefest, Toronto
Please be sure to follow us on Twitter @riffyou and at Facebook.com/riffyou.