Q&A: Amos The Transparent Discuss New Album "The Cold Escape"

For seven years, Ottawa-based alternative folk-rock collective Amos The Transparent have been steadily building up artistic miles and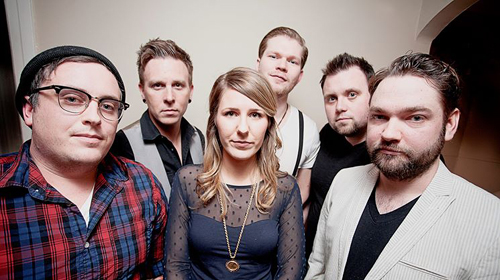 gaining a ton of fans along the way.
The band – Jonathan Chandler (vocals, guitar), Olenka Reshitnyk (guitar, vocals), Dan Hay (guitar), James Nicol (bass, vocals), Christopher Wilson (drums), and Mike Yates (cello) – are poised to put forth their fifth release, The Cold Escape, this fall.
Rifyou.com recently caught up with the band to learn more about it:
RY: You're set to release The Cold Escape this fall. What can you tell our readers about the direction/sound of the album?
ATT: "This Cold Escape, to us, is a return to our earlier work from a sonic perspective…it's a little more out there than the last record.  We also broke some new ground for the first time, as we wrote the album as a group in a room. We were prepared to record, as opposed to writing while recording, and really think it that helped to capture the story we were looking tell."
RY: I've heard that this will be a concept album. What inspired this decision and why is it the right time in the band's career to take on such an ambitious project?
ATT: "I don't think there is a right or wrong time to make a decision like that. The idea had been around for a while, and we just figured at this point we had no one to big brother what we we're doing and no one to tell us that it was a horrible idea, so we went for it. We're all first and foremost music fans and the kind of people who listen to records, sit down and listen to what an artist creates, hold it and appreciate it. I think we wanted to make a record for the other people like us. The idea or hope of trying to pump out that hit single is kind of behind us, and we just wanted to make something that we we're truly proud of."
RY: Was there any point during the writing/recording process of this album where you perhaps second-guessed the idea of building a concept album?
ATT: "There may have been a few times when we thought it may have been easier to just release some songs, but no, we had gone into this with the thought of making a fluent record and didn't really stop writing until it was just that."
RY: Even though the nature of a concept album is to provide listeners with a direct theme, characters and imagery, what else do you think they'll take away from it?
ATT: "We hope that everyone will take away something of their own. We've always tried to write from a broad perspective of human feeling and emotion. Whether someone can relate to the record as a story about love, everyday work, struggle, happiness, it's really going to be up to them. Although it is a story, there is plenty of room for interpretation."
RY: I see you went the route of PledgeMusic to help get this album released. Why'd you decide to do that?
ATT: "It seemed that Pledge offered a great way for us to engage with our fans and have them be a part of this record with us. Our fans really are a huge part of this band, be it the way they jump on stage and scream along with us, or the way they write us little messages and tell us how much our songs mean to them. We write for them, and this was a neat way for us to keep them up to date on what's happening and offer a way to get in on some exclusive stuff. Having so many people interested in pre-ordering the record and getting involved was really great motivation for us, and a great feeling."
RY: Some bands think crowd-funding is an excellent tool, some not as much. As an independent artist, can you really see a downside to it? If so, what is it?

ATT: "It's 2014 and we are an independent Canadian band. It's very cool by us, as we aren't going to be making it on The Voice anytime soon. Crowd-funding isn't as easy as some may think – we are basically selling ourselves, unique packages and exclusives. These are all things that we have to deliver on. Everyone that pledges gets something really cool. It's basically just an exciting way to pre-sell more than a record. The downside, well it's a lot of work, but well worth it!"
RY: I know it's important for most bands to show some kind of evolution from one album to the next. How do you think you guys evolved this time around?
ATT: "Well this band has evolved a great deal from the beginning.  If you look back, this started as two guys looking to record some folk
tunes. Now we are a group of six, and for the first time a group that all seems to be on the same page. I think we have evolved to become a cohesive unit that works together rather than a small subset of writers.
"From a record perspective, every LP/EP needs to be something different from the last. I think we have changed our outlook and sound to be less oriented on singles and more on the whole package for this record. We wanted to try something we haven't done before. Though this is contrary to pop culture of today that lives in a world of singles and song downloads, we still think there is a market for a good record start to finish. We wanted a record that tells a story to the listener; a record about life and life's high and low points; a record that evolves as you listen to it. To us, this is our most ambitious and exciting record."
RY: Once out, what are your hopes for this album?
ATT: "We hope that people like the record. We aren't, and have never tried to be the next big thing.  We want to make records that people will enjoy, a record that will be with them through the good times and help them through the bad. We hope this will be a record that they can relate too for years to come. Realistically, we hope people hear the record, buy the record, and hopefully we get to go visit some new wonderful places to play it for those people."
-Adam Grant
Please be sure to follow us on Twitter @riffyou and at Facebook.com/riffyou.