Interview: The Reverend Horton Heat Speeds Along

My introduction to The Reverend Horton Heat came in a very unusual way. One night when I was barely old enough to be considered a piss ant of society, I was sitting in my parents' basement rather pleased with myself for discovering Beavis and Butt-head. Had mom known of this latest viewing conquest, surely the TV privileges would've been temporarily revoked and a book would've been placed in my hands.
On this fateful night, the animated MTV metalhead burnouts were greeted by The Reverend's "Psychobilly Freakout" video and proceeded to freak out themselves. "It's a 'Psychobilly Freakout! Everybody pull down your pants!" exclaimed a trembling-with-excitement Beavis. From that point onward, The Reverend was firmly entrenched in my brain.
It's been almost a quarter of a century since that song was featured upon The Reverend's debut album, Smoke 'em If You Got 'em (1990) and Jim Heath, whose stage name is that of the band, continues to chug along.
On January 21, through Victory Records, The Reverend Horton Heat is poised to release the fast and furious rockabilly-centric album, Rev, a collection of tracks that Heath believes to be "edgier with more moshable songs," when compared to their last offering, 2009's Laughin' and Cryin' with The Reverend Horton Heat.
The lead single "Let Me Teach You How to Eat," is "about sex…in the very visible way," with an array of innuendos played out within culinary lingo.
To get this record done, the band – Heath (vocals, guitar), Jimbo Wallace (bass), and Scott Churilla (drums) – avoided the expense and restraints of booking studio time and instead opted to record themselves at their own pace.
Heath informs Riffyou.com that he'd been collecting recording equipment for a number of years and called in a few favours to secure the rest of the needed gear. Once all of that was in place, the trio headed into their rehearsal space to get tunes onto tape.
"When you do a big, high-dollar deal, there's a lot of pressure," explains Heath. "We can and will do that, but if you have a studio [booked] for a whole month, you get it all done, you're then stuck with however you did that song. There have been so many times [in the past] where we realized that we did a song too fast or too slow, or think that it would've been better in a different key.
"On our new album, there's a couple of songs that we completely re-did like four different times – that's something you're never going to be able to do on a big budget – unless it's a giant, giant, budget."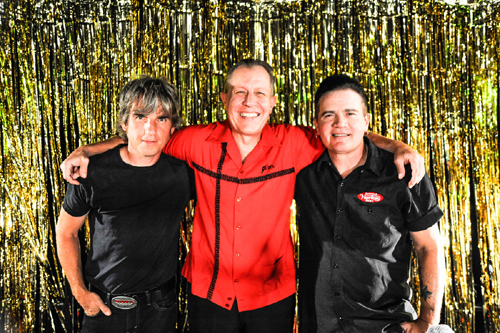 Although the group took control of its own recording destiny, the process wasn't without its hurdles. Heath notes that situations would arise where the band would have to compete with drum lessons occurring next door. As a result, the band would get into the studio very early to bang out some work before interruptions came to be – they'd even attempt recording over top of the barrage of banging and hope for the best.
Ahead of the album's release, Heath has been gallivanting through the U.S., while en route to Canada, testing out what's found upon Rev. In terms of the reaction, let's just say that it's all gravy thus far.
"It's been great," says Heath of the crowd response. "It's actually the best reaction we've had from our fans for a new album in quite a while.
"My business right now is to go around playing a lot of gigs and we seem to be doing pretty well," he continues. "People still want rock n' roll and I predict they'll still want alcohol and cigarettes too."
-Adam Grant
The Reverend Horton Heat plays The Hoxton in Toronto on January 20 and Club Soda in Montreal on January 22.
Please be sure to follow us on Twitter @riffyou and at Facebook.com/riffyou.