Interview: Slayer on Death, Anger & Survival

If ever there were ever a band that deserved to have an exclamation point at the end of its name, it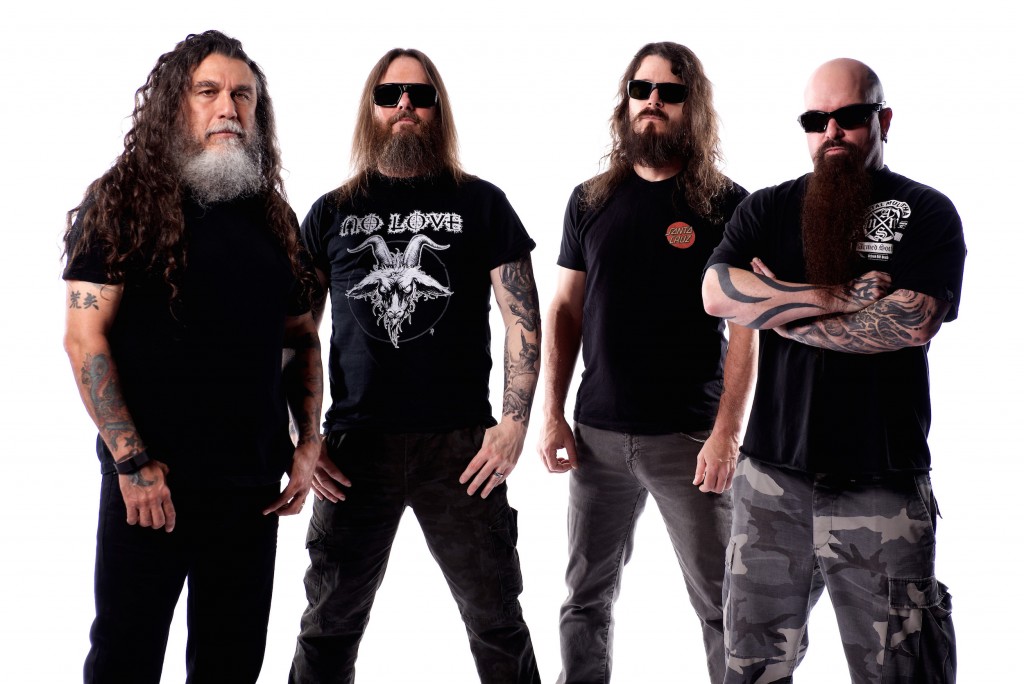 would be Slayer. Saying the metal legend's name in a normal tone of voice doesn't seem right. It needs to screamed, howled, roared or pushed from your stomach, through your lungs, up the throat and out the mouth like a runaway fireball. There is nothing mild about Slayer – nor should there be.
On September 11, Slayer will release Repentless (through Nuclear Blast), the band's 11th album and first since 2009's World Painted Blood. While in conversation with Riffyou.com, Slayer drummer Paul Bostaph says it's an album one should expect from the band, as its level of aggression stands up well against that of its predecessors.
"Slayer delivers its songs – and it's what you want," explains Paul Bostaph over the phone from a Mayhem Festival tour stop. "As a band matures, sometimes you lose that angst and rebellious side. But, I think this band maintains that, even through maturity. The subject matter is spread out and has diversified through Slayer's aesthetic."
Since we last heard from Slayer on album, a lot's changed. Bostaph rejoined the band about two years ago following the second departure of original drummer Dave Lombardo. Slayer also lost original guitarist, Jeff Hanneman, who passed away in 2013 due to alcohol-related cirrhosis of the liver. Guitarist Gary Holt of Exodus fame has since stepped in.
"It was very hard and a constant reminder that we lost our friend," says Bostaph of the Repentless recording sessions. "That being said, he was there the whole time. I always thought about Jeff as I recorded this album. There wasn't a moment where he wasn't on my mind. This performance meant a lot to me. His presence was there. We pushed through it without forgetting about our friend.
"I can only speak for myself – I didn't know what was going to happen, but I never felt at any time, in my heart, that Slayer would be done," he continues when asked if Slayer thought about hanging it up after Hanneman's death. "I felt like Jeff wouldn't have wanted us to quit, because this was his band. Period. That being said, we have to carry on with honour. Nobody ever foresees losing a friend. When that happens, you have choices: you can give up or you can carry on, and that's what we're doing. Was it an easy decision to carry on? I don't think it was an easy decision, but here we are."
By Slayer continuing on, Bostaph has a second opportunity to play with his buddies Tom Araya and Kerry King. Stating that he was "thrilled" to get the phone call to rejoin, Bostaph recalls being able to release everything pent up inside of him and "attack" the drums when it came time to perform Slayer songs once again.
"I was with them for such a long time before – who we are, fundamentally, as people hasn't changed," offers Bostaph. "Really, that's where you start with any relationship. It was like riding a bike again. My past experience gave me a real big advantage to know what to do [when in the studio.] I was able to draw from previous experiences with Slayer and bring everything back again. There aren't any expectations [placed on you by Araya or King.] Either you get it, or you don't."
Of course, being in Slayer also requires a lot from a person physically and mentally. Bostaph
conserves his energy throughout the day, until at least one hour before show time. It is then time to warm up, so that once Slayer hits the stage, his energy level is reaching a climax.
"It's about intensity and being in the moment – not anger," says Bostaph when asked if he needs to be in an angry mindset to bash out Slayer tunes. "For me, 'intensity' is a much better word. There have been times where things have happened on stage that has made me angry and all I do is beat the crap out of my drums. But, that's not [part of] the music process. With Slayer, not every song we have is angry – some are very dark and the moods change. So, if you only approach the music from an angry angle then, as a musician, you're missing the interpretation."
As a collective of musicians, Bostaph believes that Slayer's goal is still to push the boundaries of its genre and listeners. The goal, as he explains, isn't to freak people out. Rather, it's about writing and performing material that's interesting to the band and its dedicated fan base.
"As long as we are doing this, yeah, we want to push boundaries," says Bostaph. "Sometimes you stumble upon a formula that really pushes boundaries and its magic and lightning in a bottle. Other times, it takes years to come up with a really great album or another pinnacle album. We're going to keeping trying to push the boundaries – that's what we do. That's what music is all about."
-Adam Grant
Please be sure to follow us on Twitter @riffyou and at Facebook.com/riffyou.