Kirk Hammett of Metallica Becomes a Zombie Toy Again

First Kirk Hammett fought past the negativity to annihilate the fickle Glastonbury crowd with his boys in Metallica. Now he is once again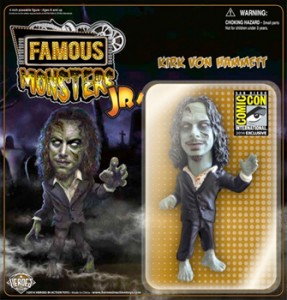 being immortalized in the form of a zombie action figure.
The toy (ahem, adult collectable), is being produced by Famous Zombies Jr. and has transformed the likeness of the guitar legend into a greened, white-eyed, walking-dead-esque character named Kirk Von Hammett. Only 300 figures will be produced, and Hammett will be on-hand at the Nuclear Blast Records/Stern Pinball/JSR merch booth at Comic-Con in San Diego from July 25-26 to promote the launch.
"Being a fan of comics and movies since I was a kid, it's just a huge honor to be at Comic-Con on both sides, selling and buying," explains Hammett in a statement.
This is not Hammett's first foray into the horror paraphernalia business, as he is currently the boss of Kirk Von Hammett Toys, and already has a number of products of this sort on the market.
Even still, how cool does this one look?
-Adam Grant
Please be sure to follow us on Twitter @riffyou and at Facebook.com/riffyou.