Listen to New Metric Track, "The Fatal Gift"

Over the holidays, Metric didn't focus on discounting items in their web store like most other bands do. Instead, they shared with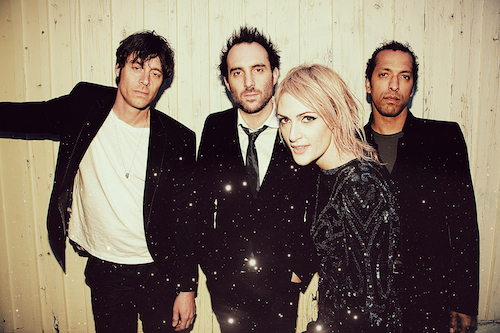 us "The Fatal Gift," a new, unfinished song that sounds more like an Emily Haines solo treasure, than something you'd here from her band.
"Last year at this time, we were staggering home from our last leg of touring Synthetica, and we were beyond ready for a hard won year off," reads a note posted by Haines on the official Metric website. "'This time, it will be a REAL year off!', we proclaimed, swearing we would not go straight into making another album as soon as we had unpacked our bags. And yet, here I am, writing this letter to you from the studio, fully immersed in fresh music and somewhat amazed that we've managed to keep on loving what we do for this long.
"So much has gone down this year but I'm feeling surprisingly refreshed and excited. I was really enjoying not having to care what happened next and then by accident we made something new. Meanwhile, the internal voice that constantly highlights my flaws, ignores my accomplishments and only reminds me what I can't do seems to have worn itself out and quit. It may be time to put my heart back on my sleeve where it belongs, but that is often easier said than done.
"What the hell, I'll start now with the song below, 'The Fatal Gift.' It doesn't really sound at all like anything else we're doing and stands alone. It's unfinished but I like it enough the way it is to play it for you now. The question is, did I accidentally write a dark Christmas carol last summer? Looks like we're about to find out."
Metric's last album, Synthetica, came out in 2012 and is arguably the band's strongest album to date.
You can listen to the "The Fatal Gift" right here:
Please be sure to follow us on Twitter @riffyou and at Facebook.com/riffyou.