The Night in Which I Was Introduced to Arcade Fire

On Saturday, October 11, 2003 I was dragged against my will to Toronto's Horseshoe Tavern. The headliner was of zero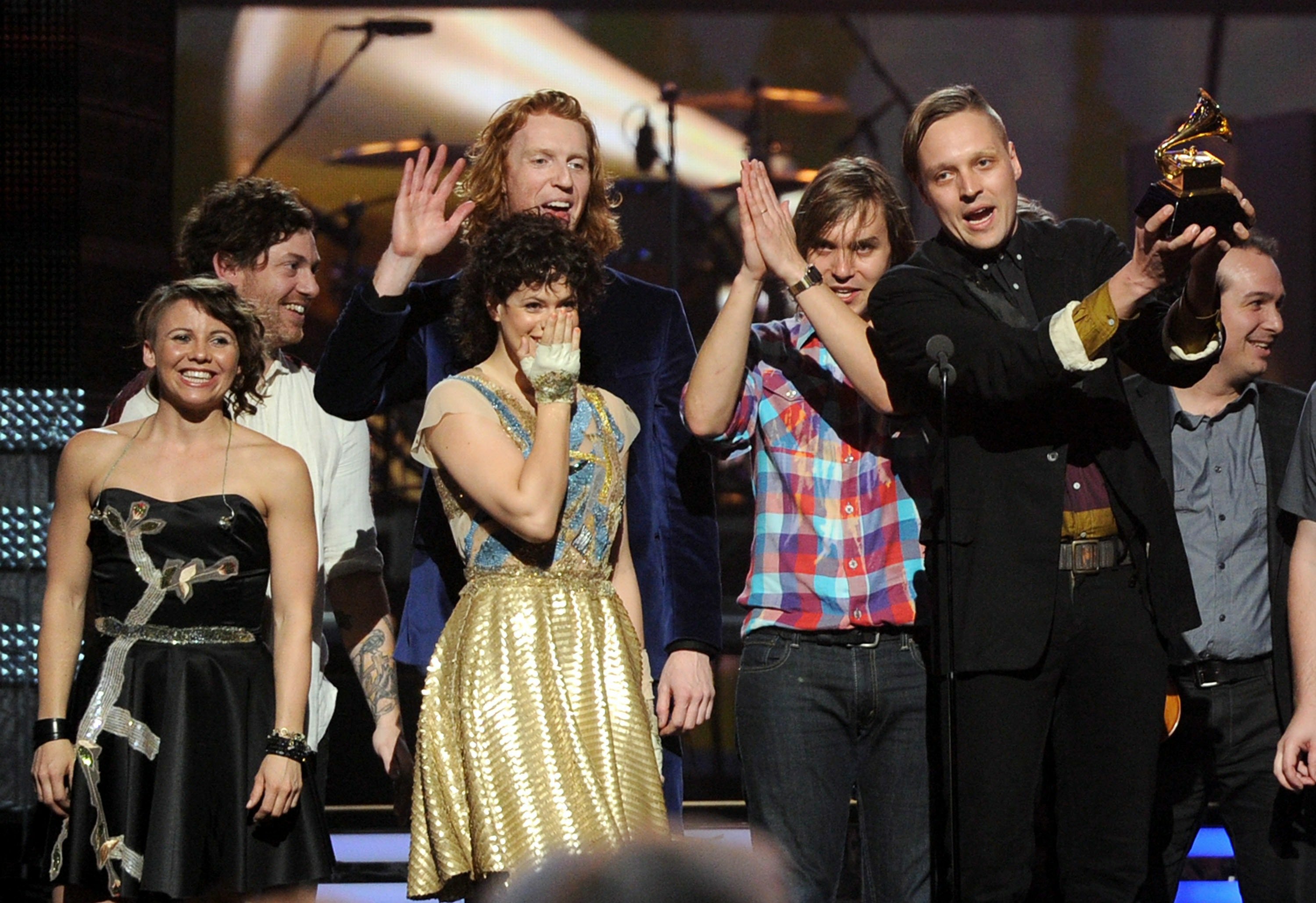 interest to me, as now was the girl who I promised to go with. The evening before, an enormous revelation took place: she just wasn't that into me. The following afternoon, hours ahead of the show, I did all I could to get out of going to it, but felt enough peer pressure from others in the group to get over myself and get in the car.
While in full-swing brood mode, something magical was preparing to happen.
Through the muttering noises a club crowd makes between bands, my eyes shifted to the stage as a pack of sheik, yet misfit-looking individuals got ready to go. The alarmingly tall fellow slow danced with his pint-sized, curly-haired female partner to the music over the P.A., as the band continued to get their gear in order. When show time hit, the sizeable (even then!) collective immediately thrust itself into the eyeballs and imaginations of those huddled on the tiny floor in front of them.
There was at least one accordion; one or two technical issues; an impressive level of indie ambitiousness; shouting-away-from-the-mic vocal leaps; and band members slamming drum sticks against strapped on motorcycle helmets, as if saying that past percussion tools were so passé. The crowd stopped and started at the same time, flabbergasted by what was happening before them. The energy was inspiring; the sound was fresh and on the verge of becoming epic; and the band needed rides back home to Montreal for Thanksgiving weekend.
As they sought rides, I bought their EP at the side of the stage and told anyone who would listen for the coming months, "I can't wait until the world hears this band."
That band was Arcade Fire.
Less than a year later (September 14, 2004), the band released its seminal debut album, Funeral, and the world had zero excuse not to hear Arcade Fire.
"Neighbourhood #3 (Power Out)" had a daunting feel, but a raw energy and uniqueness that had been missing on radio for some time. The longing and chasing back of lost love on "Crown of Love" can still rattle your heart to this day. Meanwhile, "Wake Up" refuses to leave you goose bump-free and not reflective about where your life has been and where it's going. In a word, the album is 'magic.'
As we sit 10 years removed from an album that introduced us to one of the most crucial and innovative bands of this generation, let's take a few minutes to reflect on some of Arcade Fire's finest musical moments since:
-Adam Grant
*Part of this article originally appeared in our October 2013 review of the Arcade Fire album, Reflektor.
Please be sure to follow us on Twitter @riffyou and at Facebook.com/riffyou.