Puscifer is Taking "Money Shot" on the Road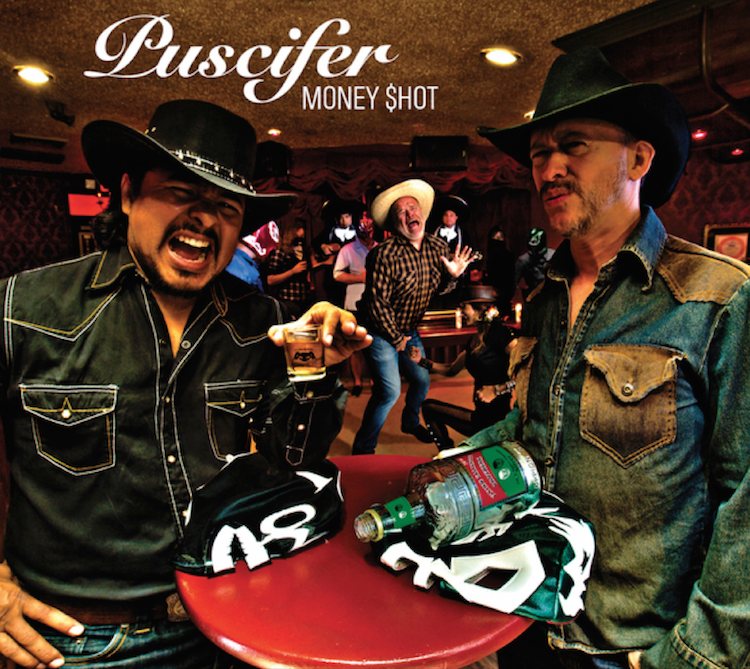 While we still don't know exactly when Tool will return with a new album or tour, the band's frontman Maynard James Keenan is keeping busy with his other band, Puscifer.
As previously reported, Puscifer's latest album, Money Shot, will be released on October 30. Now we know that the band will launch a North American tour two days later in Phoenix. The 28-date tour will also make stops in Dallas, New York, Chicago, Denver, Seattle, Las Vegas, Los Angeles and more. Tickets go on sale August 21.
"As is the Modus Operandi of Puscifer, there will be a whole new show to accompany the Money Shot release. We've been leaving a few clues here and there as to what it may entail," explains Maynard James Keenan.  "As usual, we prefer to Show rather than Tell. Odds are if you've been a fan of the diverse nature of our performances in the past, you'll want to go ahead and place those bets."
In addition to revealing tour plans, Puscifer has also shown off Money Shot tracklisting and artwork (seen above.)
"It's extremely satisfying to witness simple conversations and ideas transform into completed sonic landscapes," says Keenan of the album. "And to have these stories go above and beyond the initial ideas makes my grumpy heart swell three sizes."
Money Shot tracklisting:
1. "Galileo"
2. "Agostina"
3. "Grand Canyon"
4. "Simultaneous"
5.  "Money Shot"
6. "The Arsonist"
7. "The Remedy"
8. "Smoke and Mirrors"
9. "Life of Brian (Apparently You Haven't Seen)"
10. "Autumn"
Tour Dates:
November 1     Phoenix, AZ     Monster Mash Festival
November 3     Dallas, TX     Majestic Theatre
November 4     Austin, TX     Bass Concert Hall
November 5     San Antonio, TX     Tobin Center
November 7     New Orleans, LA     Saenger Theatre
November 8     Atlanta, GA    Cobb Energy Performing Arts Center
November 10     Charlotte, NC     Ovens Auditorium
November 11     Bethesda, MD     Strathmore Theatre
November 12    Boston, MA     The Orpheum Theatre
November 14     New Haven, CT     Shubert Theatre
November 15     Philadelphia, PA      The Fillmore
November 17     New York, NY     Terminal 5
November 18     Albany, NY     Palace Theatre
November 20     Cincinnati, OH     Taft Theatre
November 21     Chicago, IL     Riviera Theatre
November 22     Kansas City, MO     Arvest Bank Theatre
November 24     Denver, CO     Bellco Theatre
November 25     Salt Lake City, UT     Kingsbury Hall
November 28     Portland, OR     Keller Auditorium
November 29     Spokane, WA     INB Performing Arts Center
November 30     Calgary, AB     Southern Alberta Jubilee Auditorium
December 2     Vancouver, BC     Queen Elizabeth Theatre
December 3     Seattle, WA     Paramount Theatre
December 6     Fresno, CA     Warnors Theatre
December 8     Oakland, CA     Fox Theater
December 10     Los Angeles, CA     Ace Theatre
December 11     Los Angeles, CA     Ace Theatre
December 12     Las Vegas, NV     The Pearl at The Palms Casino
Please be sure to follow us on Twitter @riffyou and at Facebook.com/riffyou.