Q&A: Bigwig Returns After Being Battered
From 1995-2006, beloved New Jersey-based punk rockers, Bigwig, were on a torrid pace. During that span, the guys released four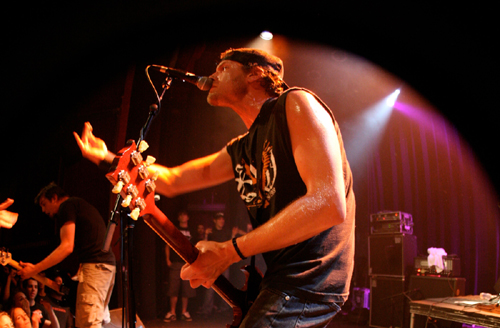 full-length albums, a pair of 7", as well as a split. Unfortunately, there hasn't been anything new since 2006's Reclamation.
No, the band – Tom Petta (vocals, guitar), Mike Gurnari (guitar, backing vocals), Evan Ivkovich (bass), and Rob Ferreira (drums) – didn't call it a day. Unfortunately, during its years away, Petta suffered an injury that would derail his playing ability for quite some time.
Having gotten past the battle wound, Petta and company are trekking back through Canada this month for the first time since Reclamation. Last week, Riffyou.com hooked up Petta to discuss the time away, when we can expect new music, and if 20th anniversary plans are in the works.
RY: Firstly, how long has it been since you last visited us Canadians on a Bigwig tour? What moment from that occasion stood out for you?
Tom: "Well it has been a few years. I have personally been here a few times since, producing different bands in Ontario and Quebec. I fucking love Canada! I think our last time up as a band was following our last release, Reclamation. Those tours were a blast. We were sharing a stage with The Flatliners, Big D, and Death by Stereo…each show had its moments for sure. Honestly, there is never a dull minute. Wheels falling off vehicles, gear stolen, and bar fights. This upcoming Ontario run with Only Way Back, Letterbomb and The Socials is going to be lots of fun!"
RY: You're booked for Montebello's Amnesia Rockfest, alongside a huge collection of punk/hardcore legends (NOFX, Lagwagon, Black Flag, Henry Rollins, Dead Kennedys, The Misfits). What does it mean to your band to partake in such a festival? Also, who are you excited to check out?
Tom: "Yes!!! To the band it means 'Will there be a poutine stand?' Rockfest looks like an amazing lineup! I'm so stoked to be playing with some of my favourite bands and friends. We have been fans of, grown, played and toured with many of the bands at Rockfest (except Motley Crue….don't know em'), so having this event in Quebec just makes it sweeter. Quebec has been a huge part of Bigwig's touring, as it's only six hours from home, and one of the most musically open-minded and diverse places I have visited.
"I'm going to be running stage to stage trying to soak it all in. Strung Out, Suicidal Tendencies, Megadeth, NOFX, Blink-182…[there are] too many to name. It's going to be guitar heaven!"
RY: Reclamation is now over eight years old. When can fans expect a new album from you guys? If something is in the works right now, how would you describe the direction of the material?
Tom: "I wasn't expecting to have such a pause in record releases. A few years back I had an accident that ended up removing the top of my pointer (picking hand) finger clean off with no reattachment. After surgery, I basically had to relearn guitar on my right hand. I wasn't willing to stop playing guitar for the band, so we took a break.
"My hand took a good two years to heal up enough to hold a pick and get back to proper shredding.  During this time, we were writing as much as possible. We have 23 new songs and are working out some details. I'm not sure of any release date, but I can tell you that we are VERY focused on getting into the studio as soon as possible, with or without a record label.
"The new material, musically, isn't far from our last releases. The songs we are working on now are a balanced mix of blazing fast melodic riffs to some darker slower tunes. Same ole' here in the dirty Jerz!"
RY: When putting your albums together, how much planning goes into the concepts/subject matter you hope to explore? How much just comes live off the floor?
Tom: "Lots of planning goes into the music and lyrics. However, during that period, it doesn't seem like 'planning' at all. It's just a process that happens and comes together. We don't clash on many views or musical preferences, so it just works. Many of the ideas and decisions are also 'live,' yes. Sometimes, months of over-thinking something can be squashed by a fresh direction."
RY: Although you definitely have a fan base out there, how much thought do you put into the fact that such a delay between albums may have cost you some supporters?
Tom: "You mean the Infidels?! 'If you're not now, you never were!' He says with a laugh. "I'm not worried. Anyone that has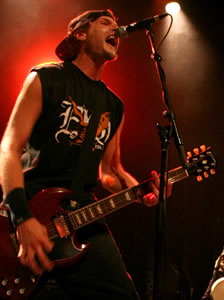 followed the band knows we have always had time between records and this is typical for us…and a good thing!  We were on the road so often it was hard for us to write or record yearly. Also, when there is nothing for us to say or write, it's best not to release filler garbage to an audience with high expectations. On that note, we have never typically compiled music for a time schedule. It just happens when it happens."
RY: Since Reclamation, the punk/hardcore scene has continued to expand (and in the minds of some) become over-saturated. Do you see it this way? Why or why not?
Tom: "Hmm, Well then! It must have been Reclamation that sparked this expansion, right?!" He jokes."Seriously, either way, it makes me happy to see people opening minds to different music and ideas. The crappy or fair-weather bands get eaten in time anyway. There will always be a second (or third) wave of something copying something successful or nostalgic. Odd yes, but that's just the way it goes. I respect any band or individual that is passionate and true to their trade/art. Fakes and flakes will fall away. I feel that more people should create and make music."
RY: You guys formed in 1995, so the 20th anniversary is creeping up. Do you have any plans for that occasion? Perhaps a special tour or album re-issues?
Tom: Yes it is! Such an odd and great feeling. There are no set plans as of yet. There has been some talk of re-releasing our discography on vinyl with some extra tracks; a DVD compilation of live shows; and a 20th anniversary tour. We will be updating our pages when all of the details are solid."
Where do you see Bigwig by the time this year is over with?

Tom: "Dead in our RV due to carbon monoxide poisoning because one of us didn't open the window. Or, alive and on tour supporting a new record!"
-Adam Grant
-Photos by Gabe
June 2014 Tour Dates:
14 Saturday – Guelph Club Vinyl, 52 Macdonell st, Doors: 5, $12 adv. $15 @door,
w/ Only Way Back, Curbside, Wasted Potential
15 Sunday – Burlington Toneland Stage, 485 Brant st.,
w/Only Way Back and more TBA
16 Monday – Saint Catherines Detour Music hall, 88 St Paul, Doors: 8, $13 @door,
w/ Only Way Back, Dead To Rights, The Maysides
17 Tuesday – Toronto The Cave, 529 Bloor st West, Doors: 8, $11 tickets,
w/ Only Way Back, Letterbomb
18 Wednesday – Barrie Fitzys By The Bay, 5 Mulcaster st, Door: 9, $12 adv. $15 @door,
w/ Only Way Back, Letterbomb, The Socials
19 Thursday – London Call The Office, 216 York St., Door: 9, $12 @door,
w/ Only Way Back, Castles In The Air
21 Saturday – Montebello, QC – Rock Fest, set time 7:40
Please be sure to follow us on Twitter @riffyou and at Facebook.com/riffyou.