Q+A: Cold Weather Touring w/ The Brains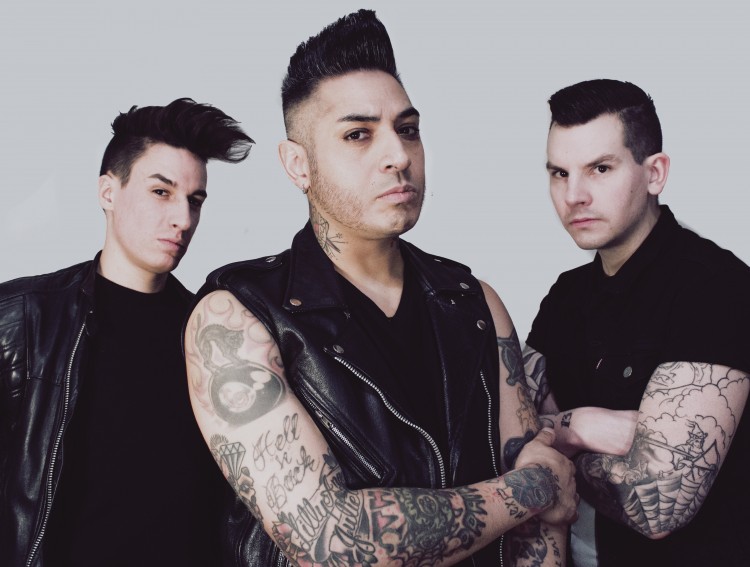 In many ways, touring is what it takes for a band to expand its appeal, hone its craft and become (usually) a tighter knit unit. Unfortunately, sometimes touring is required when the cold slap of winter is perpetually back-handing the planet.
Cold weather touring isn't for the faint of heart, but it's a necessary evil for bands. With that in mind, Riffyou.com is asking a bunch of musicians what it's really like traveling the frigid roads and coming out the other side.
In our first edition of Cold Weather Touring, we spoke with Colin Irvine of Quebec-based Psychobilly band, The Brains.
RY: What vehicle do The Brains use when touring and how does it handle cold weather touring?
Colin: "We have a newish Ford e-350 xlt super duty. It's a fucking beast. Top winter tires , super bright headlights, traction control and a big v8 engine. It chews up mountain roads, haha!"
RY: Tell us about the worst, funniest, or scariest cold weather touring experience you've ever had.
Colin: "On last year's winter tour, we were headed from southern Ontario to Rouyn Noranda, which is like six hours north of Montreal. All in all it was to be like a 10 hour drive. We made it to this crucial junction where you get onto this smaller highway to cut north into Quebec, but the road was closed because a truck carrying a wind turbine blade had taken a shit in the ditch and was blocking the whole highway. The storm that caused that accident was getting worse and we were out of options. We stopped into the local police station and after I explained the situation and showed them our studded tires, the cop drew a map through logging roads and sketchy unpaved highways. 'It's a long shot and you're probably gonna see us tomorrow morning when you get pulled out of the ditch, but if you want to make your concert it's your only shot.' It was the most dangerous and ridiculous drive I've ever done and was white knuckle the whole way. Deep snow, no visibility, sharp hills and turns. It was brutal. After twonhours of grinding it out on the back roads we finally hit highway again and made it to the gig just as the first band was going on. It was surreal and we partied so hard that night."
RY: What does your emergency roadside kit consist of? And how many shovels do you pack?
Colin: "We have two shovels – one is a military style collapsible one and the other is your average snow shovel. We have tools, visibility cones, glow sticks, first aid and extra oil, gas and coolant. We don't fuck around."
RY: How much does touring in a cold vehicle mess up a person's sleeping patterns?  
Colin: "We actually stay really warm. The heater in the back is hotter than hell. Actually our drummer Phil was having nightmares while he slept in the back, hahaha! He'd wake up all scared and turn off the heat in the back."
RY: If given the option, which weather condition would you rather drive in and why? A Blizzard, Freezing Rain or a Frosty and Wet Windstorm?
Colin: "I would take the blizzard I guess because the other two sound slippery."
RY: If you were only allowed to bring one of the following items on a winter tour, which item would it be and why? Winter Boots, Thermal Socks, Parka, Gloves, Long Johns, or a $100 Tim Horton's gift card?
Colin: "I take all those things, but if I had to limit it to just one I'd say a nice warm coat. I'd be miserable without one."
RY: What music do you play as you trudge through shitty, scary weather conditions? How does it help you out?
Colin: "When it's go time on a snowy mountain road, I get into Judas Priest and Pantera. If you see a madman going 120 round a bend throwing the horns up out the window in a large white van, that be me."
RY: When touring in the cold, what's worse: loading your gear into a venue, or loading out after a gig? And why?
Colin: "Loading out for sure – you're  drunk and it's hard holding a jazz cigarette and a bass amp at the same time."
RY: Have you ever been so cold on the road that you've considered retiring as a musician and finding a cubicle to forever call home? If not, what's the strangest thing to cross your mind during such a scenario?
Colin: "Hell no! I'll never give this up no matter what we go through. One time while on a winter tour in Finland the side door of our rental van broke and needed to be held shut with ratcheting tie straps. I said to myself, 'This is how I'll die.' But, I was totally at peace with it, haha!"
RY: What lessons have you learned while touring through the cold?
Colin: "We've learned how to load in and out FAST."
RY: What is one positive about touring in brutal weather as a band? 
Colin: "It brings you together as a team, working to overcome the odds. The 'never give up' ethic shines brightest in the face of adversity. When you roll up to the venue after a hard drive and you high five and all go for a Guinness, that feels good."