Q&A: Devin Cuddy Branches Out from Family Tree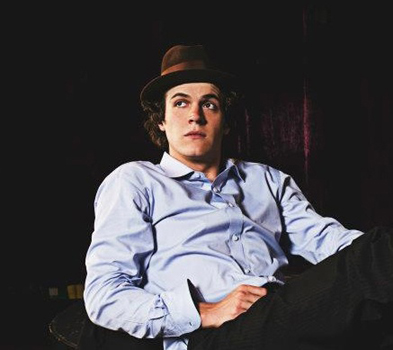 Devin Cuddy is in the fortunate and unfortunate position of being the son of a famous musician. On the plus side, Devin, the offspring of Blue Rodeo co-frontman Jim Cuddy, was able to grow up surrounded by music and musicians, and now have access to his father's wisdom. The down side, which Devin doesn't really convey at all, is that it's hard not to listen to his music and attempt to draw similarities between it and the work of his father.
While listening to Devin's debut album, 2012's aptly-titled Volume One, it's hard to not hear a little Jim in the vocals. But, beyond that, it's fair to say that Devin is succinctly carving out his own niche. His music blends old-time blues and country, and feels reminiscent of what one might've heard over half a century ago while staggering around a cramped, oddly decorated watering-hole filled with the usual mix of the inebriated and those on their way to that state. Let's just say it's damn good.
Devin is now halfway through the construction of his follow-up album, as he prepares to join his father and Blue Rodeo on tour at the beginning of 2014. Riffyou.com caught up with Devin this week to discuss his inexplicable sound and family tree.
RY: You've grown up around music and been playing it since childhood, so you've had a lot of time to decide what you wanted to do. Is this first album what you envisioned when you first decided to take a stab at a music career?
Devin: "For sure. With first records, you have up to then to write all of the songs – there are no deadlines. The songs came rather organically, and I had been writing them over a period of six years. So, I had a lot of time to let the songs take shape. It was very easy to go into the studio, because everything came out so naturally. It's a satisfying feeling."
RY: I'm sure some people would argue that the music you're playing now wouldn't lend itself to someone your age [late 20s]. What drew you to the classic blues/country sound you're putting forth?
Devin: "The New Orleans and blues side was something that I gravitated to at a young age…[after] I heard a Louis Armstrong CD. It was just something that I really liked. There was something about it – the music is very upbeat and there's a really fun aspect to it that we try to convey as well. There was also something about the New Orleans imagery and vibe that I gravitated towards, so I tried to replicate some of those things that I was initially drawn into. I found country music later on and that was more natural…my father had been into it and I started to hang out with a lot of country musicians. Bridging the gap between those two genres is a real challenge."
RY: Based on who your father is, it probably would've been very easy for you to go toward the Blue Rodeo sound. Was it an on purpose choice to keep a distance between how you and Blue Rodeo sound?
Devin: "That's a good question, but no it wasn't. I think I was drawn to that style of music before I knew that I wanted to be a musician. It was very organic. It's funny, I've been drawn more to my father's music now that I am a musician than when I was younger and it was peripheral and normalized."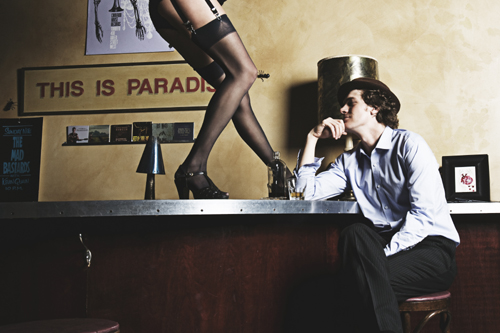 RY: I guess some people don't realize that when you are that close to it, especially when a relative is involved, it's just like 'okay, dad's going to work.'
Devin: "Exactly. People ask me a lot about that. Blue Rodeo broke before I was born, so I don't have a backdrop of what it's like to not have that in my life."
RY: When you got started and people begun to determine who you were and who your father was, was there a lot of time where people overlooked the music you were doing and looked too closely for comparisons between you and your dad?
Devin: "There's a small, ongoing aspect of that. Something I've realized a lot is that the Blue Rodeo fans I have encountered are big music fans. I think Blue Rodeo for a long time has made a point of trying to bolster their friends' music and music that they like…opening bands are very carefully selected. So, they're very receptive, musically. Interestingly enough then, I haven't had a lot of [those comparisons], I've had a lot of people say, 'your music is so different and so great.' That was a very big realization for me over the last year."
RY: Fathers are known to provide advice to their children on numerous subjects. What types of pointers has your father provided you since entering the music industry?
Devin: "He never pushed me into the music industry – he let me find it myself. Now that I am doing it, I find that I'm getting more advice on practical day-to-day things. More so I find myself going to him and asking questions. The deeper I get into it, the more valuable that information [from him] is to me. He's a great source to go to."
RY: What is the most useful piece of advice that he's provided you with?
Devin: "He's taught me a lot about professionalism and always approaching every show and every experience with the same intensity and interest…and to be nice all the time. Those things are very important in terms of sustaining a long career. You have to start early with that stuff because practice makes perfect. Other than that, it's a lot of practical knowledge that is the most useful – things about the industry and how to survive the road are things that I've put into practice the most so far."
RY: And you're touring with Blue Rodeo next year. What do you anticipate? Not a lot of fathers and sons get to have such an experience together.
Devin: "It's going to be really fun. I travelled with them when I was a kid, so it'll be cool to do the same thing but be involved in the show. It's going to be a great family experience as opposed to just working. I'm looking forward to that a lot."
Catch Devin Cuddy Friday, December 20 and Saturday, December 21 at the Legendary Horseshoe Tavern in Toronto, ON, as he opens for The Skydiggers.
-Adam Grant