Q&A: Dropkick Murphys talk Patriotism, Bombings, & Stage-Sharing

For 18 years, Boston's Celtic punk kings, Dropkick Murphys, have arguably become one of the scene's most beloved bands to pledge devotion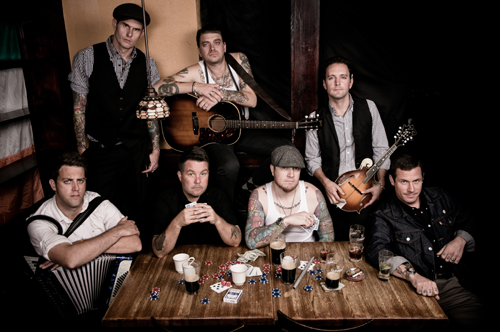 to. (You can win tickets right here to see them play Riot Fest Toronto in September!)
They can equally enthrall audiences with fist-pumping, pit-bangers, and slower, more traditional sounding Celtic music selections. While some may just know the band for their monstrous single, "I'm Shipping Up to Boston," Dropkick Murphys – Al Barr, Tim Brennan, Ken Casey, Jeff DaRosa, James Lynch, Scruffy Wallace, and Matt Kelly – have a lot more to offer than that.
In this Q&A, Riffyou.com catches up with Kelly to discuss the grand affection Dropkick Murphys hold for Boston, the bombings that turned the city upside down, as well as the band's willingness to share the stage with those in the crowd.
RY: For a lot of bands, summer is festival season. Most festivals have their quirks – what's the most weird/random experience the Dropkick's have experienced at one of these events?
Matt: "During the George Street Festival in St. John's we raised a bunch of money for charity by having people come up and shave their heads on stage during our set, including our own Ken Casey and his elder son. Ken then took the 'ice bucket challenge' and it really was a rubbish barrel full of ice and water…much more chilling and ballsy than a lot of the vids you now see going viral on the Internet. We typically have a lot of stuff going on while onstage, but the shenanigans were just insane at that gig."
RY: Signed and Sealed in Blood is closing in on two years old now. Would it be fair to assume that a new album is in the works? If so, how are the new songs sounding/feeling to you? Also, when would you like the album to come out?
Matt: "We've only just started throwing ideas around during our last tour and via e-mail during our 10 days off. We plan on getting back in the practice space and writing again come this December and would like to record around April or May. The songs are in such primordial stages that it's hard to tell how they'll come out. But, I really dig them…they could really go in any direction at the moment."
RY: A lot of bands are very patriotic regarding the country they come from, but you guys – perhaps more than most – have an emphatic regional pride for your hometown of Boston. As a Canadian who has only been to Beantown once for a short stay, can you provide me some insight as to why the city means so much to you and the band?
Matt: "Well Boston and the surrounding area is pretty much the birthplace of America (the US that is). New England is an old region with a lot of history and is fairly unique compared to the rest of our country. During and post-Industrial Revolution, there were struggles to unionize, there was adversity faced by immigrants in getting jobs and putting food on the table, et cetera.
"Let's face it, we're a country of immigrants so a lot of our ancestors fought these battles first-hand and stories have been passed down as a point of family or neighborhood pride… and that extends to regional pride as well.
"Also, when it comes to our sports teams, we weren't always the 'City of Champions.' There were decades of drought for all our major sport clubs and you really had to be dedicated to your teams to follow them. It took, eighty-six years for the Red Sox, and thirty-nine years for the Bruins [to win championships]. Being built up and knocked down over generations of fans definitely builds a gritty fan base and that's how we came up as kids… and that's definitely a reflection on New Englanders in general.
"Boston was always the dark horse standing in the shadows and is now looked at as, again, the 'City of Champions.' I don't know, I guess in a nutshell it's just growing up there and us being proud of where, what, and whom we come from."
RY: The Boston Marathon Bombings happened a little over a year ago and was obviously a horrible circumstance felt by those around the world. What feelings came over you when that happened, and what did the incident teach/reaffirm to you about Boston and its citizens?
Matt: "We felt helplessness, feelings of dread, and a loss of innocence…I don't know— it was truly awful. A couple of our wives work in the area of the bombing, so there was a real air of panic at first for us. We were in Santa Cruz, CA, when it happened, so being three-thousand miles away could have been three-million miles. We talked about canceling the rest of the tour and heading home to be with loved ones; then we talked about what we could do to help, and that's when we decided on the t-shirt drive.
"The way the general public reacted to the tragedy and waited it out speaks of the resiliency of our people. Keeping a 'stiff upper lip' and carry on even in the face of such horrors and fear-mongering (by whoever perpetrated it, as well as the media wolves) was a nice thing to see, even if it was negative circumstances that had to bring out the character of the people of Boston."
RY: We find it great that you guys immediately jumped into action from a philanthropic angle to help out those affected by the attacks. How important was it for you at that time to help people out people who were struggling? Not all bands are willing to do that.
Matt: "Well, we wanted to do something. Using the band's popularity and the 'name recognition' was a perfect way to spread the word about the t-shirts. I think that the shirts were tastefully done, without having our name plastered all over them as a cheap promotion. And, the labour to make them was donated as well— so literally hundreds of thousands of dollars were raised and we were able to give that directly to the victims and their families to help out with medical expenses.
"We also released a single with otherwise-unavailable tracks and a re-recorded a version of our song 'Rose Tattoo' with Bruce Springsteen on guest vocals, which was available on iTunes and raised an additional bunch of money for the victims.
"I think any band in our position would do what we did. It's the right thing to do and probably one of the least-selfish ways you can use your popularity as a tool."
RY: The track "I'm Shipping Up to Boston" came out almost 10 years ago. What has it been like to see the popularity of that song explode the way it has? Apart from being the unofficial anthem for Boston, it's intriguing to hear it played at sporting events in other cities.
Matt: "It's definitely done good things for us…bringing us out of the 'underground' in Boston and into the local mainstream, I suppose. I don't think it was an immediate 'explosion,' it was more of a rise. I mean, the single didn't sell a million immediately.
"It's definitely funny hearing the song played in places outside of Boston and New England— though in defense of those who do it, it doesn't have any sports connotations in the lyrics.
"The only downside of the song being so popular is sometimes at our shows you'll see a few people fight to the front of the barricade, only to sit there looking bored out of their minds for the hour and fifteen or so of the set, until we play 'I'm Shipping Up to Boston' — then they go nuts for the one song and leave. I hate that!!" (laughs.)
RY: I love the tradition you guys have of bringing the crowd up on stage with you for a track. Some bands like to keep a safe distance between them and fans at shows. What makes you want to push down the barrier and have them right there beside you?
Matt: "We've always, always done that. It's a leveling-of-the-playing-field kind of thing. In the early days at Boston clubs like the Rat(hskellar), when we did 'Skinhead On the MBTA' – which is our twisted rendition of the Kington Trio's 'Charlie on the MTA' – everybody would just flood onto the tiny stage and sing along. When we got out to other cities and eventually on tour, we brought what had then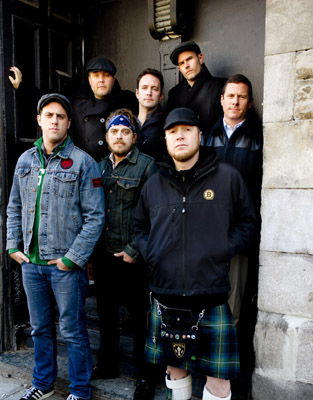 become a tradition with us. It just snowballed from there.
"After a while, we'd noticed it had started becoming a sausage party of sorts up there, so that's when we started inviting chicks onstage for 'Kiss Me, I'm Shitfaced.' To quote 7 Seconds, it's 'not just boys' fun!'
"You know, so many bands put themselves on a pedestal and think their shit doesn't stink. We know how lucky we are to be doing what we're doing, and know so many people who would give their right arm to be out doing this as a full-time job. I think when people meet us they're disappointed because we're not larger-than-life caricatures of drunken, 'whiskey-soaked' (a popular appellation people describe us with) Boston Irish goofballs. We're just regular guys who have an awesome job!"
RY: Last year you guys appropriately removed a person from a stage (at Terminal 5 in New York) when he began making Nazi salutes. What do you remember about that incident?
Matt: "Yeah, it's amazing how quickly that little incident spread. Back before everybody had a camera on their phone, that sort of stuff would happen all the time for bands. That one fellow in New York was just an uninformed dork who heard us say 'skinhead' (for 'Skinhead On the MBTA') onstage, and he got the wrong idea about it, and expressed his opinion on it by seeking Kyle repeatedly. No, we're not harbingers of the Third Reich, nor are we in favour of totalitarian government regimes based on race…nor are most skinheads. But that's another story for another day."
RY: Finally, Boston has/had some of the best sporting figures of all time. Who would you rather share a few pints with – David Ortiz, Cam Neely, Ray Bourque, Tom Brady, or Larry Bird? And why?
Matt: "I'd have to say good ol' Cam Neely! The Bruins are my favourite sports team, and hockey my favorite sport, so Cam would be the man to knock back a few scoops with. He seems like a hot ticket, is one of my favourite players of all time, and seems like he likes beer. So why the hell not!"
To learn more about the charity initiatives of Dropkick Murphys, please visit www.claddaghfund.org
-Adam Grant
Please be sure to follow us on Twitter @riffyou and at Facebook.com/riffyou.