WIN TICKETS TO RIOT FEST TORONTO!

Riot Fest is taking over Toronto for a second straight year, and we would like to give you and a friend the chance to get on the General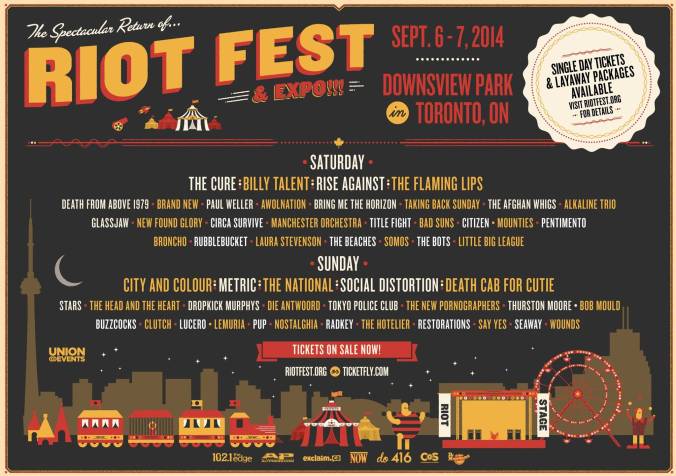 Admission Guest List!
All you have to do is, follow us on Twitter @riffyou or at Facebook.com/riffyou, and tell us which Riot Fest band you would start a riot to see. Please use #riffyouriot to ensure that we see your entry.
Contest closes Friday, August 29 at 5pm EST. The winner will be contacted shortly thereafter.
Riot Fest Toronto will be held from September 6-7 at Downsview Park. The lineup includes:
The Cure, City and Colour, Metric, The National, Billy Talent, Rise Against, The Flaming Lips, Social Distortion, Death Cab for Cutie, Death from Above 1979, Brand New, Paul Weller, AWOLNATION, Stars, The Head and the Heart, Dropkick Murphys, Die Antwoord, Tokyo Police Club, The New Pornographers, Taking Back Sunday, Bring Me the Horizon, The Afghan Whigs, Alkaline Trio, Glassjaw, Bob Mould, Thurston Moore, Buzzcocks, Clutch, New Found Glory, Circa Survive, Manchester Orchestra, Lucero, Title Fight, Bad Suns, Citizen, Lemuria, Mounties, PUP, Nostalghia, Radkey, Rubblebucket, Pentimento, Broncho, The Hotelier, Laura Stevenson, The Beaches, Somos, Restorations, Say Yes, Seaway, Wounds, and Little Big League.
Please be sure to follow us on Twitter @riffyou and at Facebook.com/riffyou.