Q&A: Kid Koala on Arcade Fire Tour & his Art of DJ-ing
Kid Koala (or Eric San if you prefer birth names), sure is one multi-talented individual. To most, he may strictly be thought of as one of the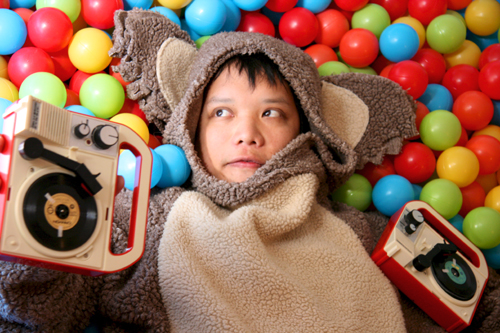 most renowned scratch-centric DJs in the world, but there is much more that comes out of this creative beast.
He releases albums; creates film scores; authors graphic novels; and has toured with some of the world's more critically-acclaimed artists, including (but not limited to) Radiohead and Arcade Fire.
Add this all together with a young family, and Kid Koala is up to more than many of us could handle.
Fortunately, he was able to take some time to chat with Riffyou.com about being on one of this year's biggest arena tours, which projects he currently has in the works, and his art of DJ-ing.
RY: You were recently on the road with Arcade Fire. We were at the Toronto show in March and able to witness the spectacle. What was it like to be part of it?
Kid Koala: "I had a wonderful time running with Arcade Fire on the Reflektor Tour. It was like being part of this big carnival!"
RY: Not a lot of 'rock' bands opt to bring in DJs as supporting acts on massive arena tours. Did the band express to you why they wanted such music on the bill? What's more, how do you think the crowd reacted to what you had to offer?
Kid Koala: "Win, Will and Regine told me the first time they saw me perform was when I was on tour supporting Radiohead back in 2001. They said they drove down to Boston for the show and hadn't really seen this style of scratch DJ-ing before that. So I guess I have Radiohead to thank for the introduction!
"AF didn't want the tour to feel like a standard arena rock show. They wanted to have a vibe going the minute you walked into the space. I actually got to play three sets [each night]! An early warm-up vibe set just as people were finding their seats etc., a showcase set where I got to do more of my own songs and scratch it up, and an after party dance set after Arcade Fire finished their show.
"Win wanted the party to keep going after they were done. Usually everyone in the stands would go to their cars, or whatever, but the kids on the floor were in full party mode and on several occasions there were a few thousand of them dancing the night away until the arena staff kicked everyone out."
RY: I've seen that you're currently working on music for the next Jason Reitman film. What could you tell us about that?
Kid Koala: "I can't talk about it in too much detail right now as it's still in production. But, I've worked on some music for a few scenes, and also wrote a song with Emiliana Torrini from Iceland who's one of my favourite singers."
RY: What types of challenges often present themselves when attempting to put music together for a movie, as opposed to making an album or putting on a show?
Kid Koala: "I just try to make music that supports the narrative and feeling of the scene. You don't have to worry about the visuals because that part is done by the filmmaker. You just need to give it that little extra energy through the music. The way the film is written, acted, shot and edited, there's already a tone and inherent rhythm there. I just try to harmonize with that. Sometimes it's a very delicate process."
RY: Apart from the movie, what other projects/ideas do you have up your sleeve?

Kid Koala: "I worked with director KK Barrett on a live version of my book Nufonia Must Fall. Essentially, a miniature set has been built of every scene in the book and a troupe of puppeteers act out each scene live. It's all filmed in real time and projected on a screen.
"Meanwhile, the musical score is performed live by myself and the Afiara String Quartet. It's a very dynamic show and we all work together each night to make it work. It's like the craziest band ever. Instead of synchronizing with just the other musicians, you have to sync with the puppeteers, camera operators, and foley artists. It's super fun."
RY: There's been that age-old argument by certain factions of the music community that DJs just make a living off of other people's work and use lots of technology to mask any wrinkles. What are your thoughts on that?
Kid Koala: "My first instrument has always been the piano. I didn't get a turntable until much later. When I first started scratching, I loved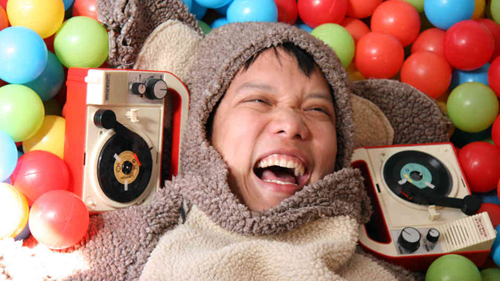 the craft of digging for records and learning to layer pre-existing sounds. It provided me with a lot of solace and an avenue for expression as a kid.
"But nowadays, I'm doing a lot more score work that requires completely original music. It's changed a bit so, it's more about composition. Now I'll write a piece on piano or guitar, and then cut those sounds on to a record. I have my own record cutter in the studio, so I can make custom plates (yes, I'm that nerdy).
"I've always loved the craft of scratching. It can be such an expressive form. You can bend notes and sounds in a million different ways through scratching. I've always loved the range of sonic possibilities that playing a turntable could provide. And, that is still the focus and core of why I still practice every day. So yes, I still use turntables and records, only now it's records of completely original sounds that I recorded on my own instruments."
RY: Lastly, you perform at a lot of large scale events and clubs. But, if you were to perform in one venue for just 5 people, who would they be and why?
Kid Koala: "My kids. My wife. My Parents. They're the closest to me. They're equal parts my harshest critics and my biggest supporters. Trying to entertain my 6- and 2-year-old is much more difficult than playing to a club full of drunk people."
-Adam Grant
Please be sure to follow us on Twitter @riffyou and at Facebook.com/riffyou.