Q+A: Jesse Hughes on the Brotherhood of Eagles of Death Metal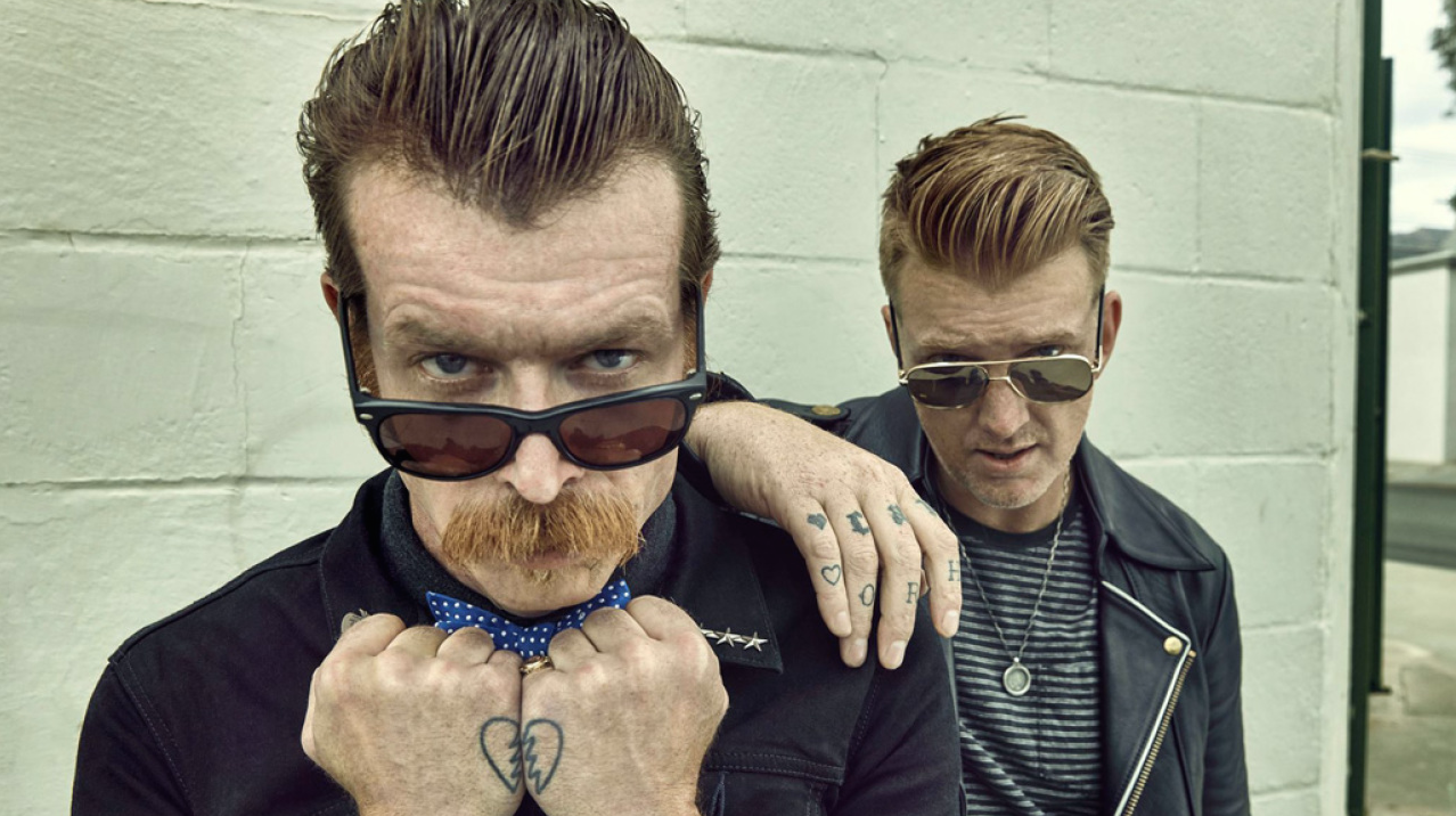 When listening to Eagles of Death Metal, a couple of things come across right away: the band has chops, a wicked sense of humour, as well as thorough enthusiasm for what it does. What's not automatically evident, but just as vital, is the deep friendship of the rock outfit's patriarchs, Jesse Hughes and Josh Homme.
At Riot Fest Toronto, Riffyou.com sat with Hughes to learn more about the new Eagles of Death Metal album, Zipper Down, but instead received insight into a bond that's survived playground bullies and rocked before thousand of sweaty concertgoers.
RY: It's been a few years since the last Eagles of Death Metal album. How's it feel to be back?
Jesse: "This is the coolest job in the world. I made a solo record, Josh made a Queens of the Stone Age Album, but Eagles of Death Metal is the easiest band to be in. It's like a child sex manual: two arrows and out, that's it. It's very simple. And, it's with my best friend in the entire world. Truly my best friend."
RY: A lot of bands say that they're best friends, but in your case, I think more people actually believe that.
Jesse: "I love Joshua with my whole heart. No one has been more important, critical, ever present and ever faithful than Joshua. Truly. In doing what we do, we have opportunities to have situations that other people wouldn't normally have the opportunity to either bond through, or not bond through. We've had some extreme situations that we've been through, so we're really bonded to each other in a unique way. Joshua really walked me onto the playground of bullies and fought them with me. So, I got to skip all that shit. I never had to corrupt myself the way other people have. I've never had to lie. I've only been able to play with the finest people in the [music] business, right from the get go, because of working with Joshua. These are advantages that are not lost upon me. The fact that our crew from the desert is so tight and suspicious of outsiders, it's one of those synchronicities of unintentional events that just gives fire to create a situation that, for me, allows me to be what I am."
RY: How tight are you and Josh when not recording or touring together with Eagles of Death Metal?
Jesse: "Honest to God, I am with Joshua three days a week – easily. It's just like Ozzie and Harriet whenever Thorny would come over. That is the relationship we have. He is also my confidant. And, I am one of his advisors. We're more like master-blasters. And, I've been far more present than the myth of my reality will let you be able to see. I need him and he needs me."
RY: What's made the friendship work and thrive as long as it has?
Jesse: "Unique factors. Both of our mothers attended Bob Judge University at the same time – it was one of the strictest Christian colleges in America. We were the only two redheads in the desert when I moved there. We have grandparents that we admire and love. And, we were both raised by dads who didn't want us to be pussies or followers. We were raised as very tough. I am an Eagle Scout. We both love Ronald Regan. Why were Doc Holiday and Wyatt Earp get along? One was an outlaw, one was a lawman, but they were best friends."
RY: On a musical level, when did you and Josh first realize that you had a synergy?
Jesse: "We shared appreciations for music that weren't commonly appreciated. Pretty music in the '80s; we listened to lots of soul and funk together when people weren't. And, we played soccer together. So, we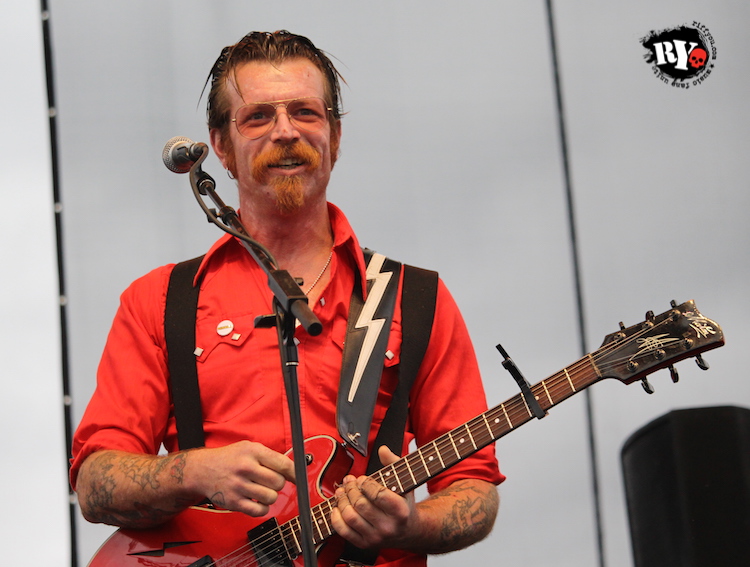 had moments to bond on a team level. Also, I got picked on a lot. With bullies…Joshua had this weird sense of justice. If a bully was picking on you, Joshua would walk into the room and go, 'Ah, I was just telling my old pal here that I'll see him later.' Then, they'd run. He loves the underdog and he hates the bullies. And when King Kong hates bullies, that's an act of God."
RY: Now at this point in your lives when you guys are making music, how much do you try and challenge each other to see what creative levels you can get to?
Jesse: "We challenge each other in different ways. I write music that makes Joshua laugh. It's easier to write for a small audience when your small audience is great. I'll bring back shit and he'll say, 'You fucker, I was going to steal that.' We are trying to complement one another. That's really the way it's supposed to be. We both have similar voices. I always try to complement what he does. If I say, 'Dude, this needs a guitar…' I turn around and he already has the guitar. Honestly, there are songs where we are coming up with parts where we haven't said a word, except for, 'I know, I know, I know.' That unspoken communication doesn't come without the unique frequency between us."
RY: So things just happen without really having to think about them?
Jesse: "You know, the worst blow job I ever had was amazing. And when I am getting one, I don't really give a fuck as to why it's happening. It is happening and that is enough for me. I don't know why. And, because I am such a devout Christian, the 'why' is not the most important question. It doesn't matter. I can't understand what I can't understand, so why try? My grandpa used to tell me, 'Let the facts dictate the terms of your decisions.' If it looks like an Indian and smells like an Indian, it's not fucking John Wayne, so why pretend? That's a good theory in music. Check your ego at the door and let the music tell us what it wants. Really, that's what Joshua and I do – that's actually our theory. If you overthink the music, you'll know it, you'll hear it. Normally, if you're just trying to make the best song you can make, it's like a Ouija board telling you what it wants."
-Adam Grant
Please be sure to follow us on Twitter @riffyou and at Facebook.com/riffyou.