Q&A: Language Arts Finds Their Alternative Space

For Kristen Cudmore, the chief-orchestrator of alternative act Language Arts, the road to her new album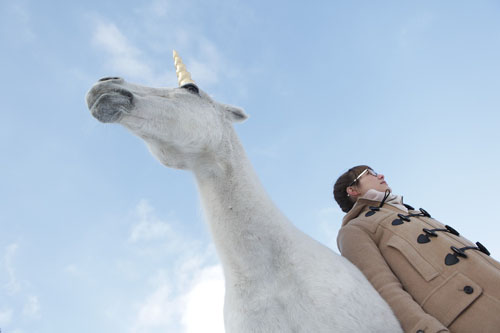 Wonderkind was a mighty long one. Life happened, as did music industry complications, but at the end of it all, a beautifully diverse album that takes hints from electro, indie, and folk made its way to listeners on April 1.
Along with her band – Neil MacIntosh (drums), Joel Visentin (keyboards) and current bassist Soren Nissen (Joe Ernewein played bass in the studio) – Cudmore's filled with excitement for Wonderkind, and was generous enough to share her thoughts about it with Riffyou.com.
RY: Your last album came out in 2009, and this one was about four years in the making. Why was there such a gap between albums?
Kristen: "Where Were You in the Wild?, our 2009 release, came out independently. At that time, I was living in Vancouver and we [the band] were coming to Ontario, from BC to perform, multiple times a year. I started to realize that a lot of time and money was spent travelling to perform in Toronto and that we might have better opportunities to be based out of Toronto. I relocated to Toronto in the fall of 2010 and had to take a hiatus to allow my back to heal, due to chronic pain from classical guitar playing.
"In 2011, I wrote the album Wonderkind. Then I had to assemble a Toronto band and make sure they were the right fit for the music and for the hang. We did a couple mini tours in southern ON and to NS and then we signed up with [producer] Darryl Neudorf to record the album. In 2013, we met MapleMusic Recordings and five months later, we had a deal to put out Wonderkind on their label. Then I went back to Europe and returned with the intent to release November of 2013. Things kept coming up where our release got pushed back to February and then again to April."
RY: Listening to Wonderkind, it's easy to see that you wear a lot of influences on your sleeve – alt-pop, electronic, folk, and whole whack of stuff I couldn't begin to classify. How would you best describe your sound?

Kristen: "The only way I can answer honestly is to tell you that it sounds like me. I am a classically trained guitarist who loves underground hip-hop and artistic veins of rock and jazz, as well as 20th century guitar music. My bandmates all went to Humber (College jazz program) and my bandmates in Vancouver went to Capilano. So, when I arrange parts, I have them in mind, but I also write in layers on my looping pedal and give them options to use my ideas. Wonderkind is almost exclusively my arrangements or their interpretations of my arrangements."
RY: What I really appreciated about all of those sonic influences was that they made Wonderkind 'different' in the best kind of way. How important is it nowadays to create music a little left of centre?
"I think the most important thing is to be yourself. There is no other you in the world, so if you're genuine about your process and you peel away the ego, you can usually get some pretty neat and original nuanced sounds. Sometimes I hear other bands that sound a lot 'cooler' to me and I think, 'I wish I could sound like them, or I wish that I wrote a song like that.' But I need to focus on my path and cheer on theirs."
RY: Have you forever been one of those artists that take great pride in positively challenging audiences and giving them something they might not hear every day?
Kristen: "What I take pride in, is the process of creating something new and knowing that if even one person at the show appreciates the experience, then it was a success. I think audiences go to shows to hear something different, otherwise they probably wouldn't leave the house. I am always thrilled to share what I love the most,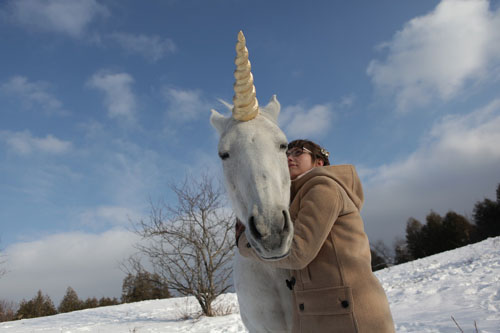 with willing ears, and I feel very lucky for that. If our music is challenging for our audiences, it isn't something we intend to do, but it is always a compliment if someone lets us know that they latched onto something that we do, that isn't regularly done."
RY: Female-fronted alternative acts really seem to be gaining great traction nowadays. Would you agree with that? If so, why do you think that is?
Kristen: "I know that there has been a lot more effort put forth to give females this traction but many of these artists have been there all along. Sometimes this effort to expose traction comes in the form of articles or statistical charts. I wish that there were more female bands getting attention, though, yes.
"It seems to me that female artists that breakthrough in a billboard sort of way, eventually become sexualized but the male artists that break through usually become cheese balls or misogynists. This is clearly a generalization …but I don't know what's worse! Anyway, in the league that I am at, I see a lot of amazing bands, both female and male, and I would hope that everyone is getting a fair shot at being heard based on their artistic merits and not on their sex or gender identity."
-Adam Grant
Please be sure to follow us on Twitter @riffyou and at Facebook.com/riffyou.