Getting to Know: Winnipeg Rockers, Dr Rage & The Uppercuts

In today's Getting to Know, we meet mixed-bag Winnipeg rockers, Dr Rage & The Uppercuts. Their influences are vast, as is their desire to please crowds. If you are in an up and coming band that would like to partake in a Getting to Know feature, contact editor@riffyou.com to receive the questionnaire and instructions. Thanks!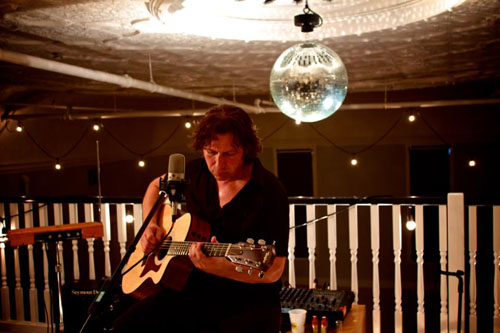 Band Name: Dr Rage & The Uppercuts
Band Members: Dr Rage (vocals, lead guitar, keyboards), Colin Musulak (drums), Chris Parkes (guitar), Dan Grapko (guitar), and Steve Silver (bass).
Years Active: 9
City of Origin: Winnipeg, MB.
Who are you and what do you do?
"I am Dr Rage, frontman for the band."
In 100 words or less, tell us how your band has gotten to this point.
"We've all been playing music in a variety of capacities for quite a while. This band is our way of letting the rage out and expressing ourselves musically. It's also just a really good time."
What is your latest release and how would you best describe it to someone who hasn't heard your band?
"Our latest release is our third album, aptly titled Rage 3. It is an evolution for the band. We have become a lot more genre-defying in our approach to music and the diversity shows in this recording – we do everything from blues rock, to gypsy punk, to grunge metal…you really just have to hear it to get it. It is a full length album available on vinyl, CD and digital."
When making an album, which aspect of the process do you put the most time into and why?
"We have always taken a lot of pride in being able to pull off all of our music live. All of the songs on this album were crowd-tested for well over a year before we tracked them. That being said, a lot of time went into the tracking, mixing and mastering of the album. We like to think that every stage of the process is equally important if you want to put out a world class recording."
What is the best part about your band and why?
"Our live show – because there is a ton of energy. We really like to engage the audience and feed off of the energy we get back from them. It's actually taken us quite a while to find the balance between the live energy and the act of attempting to put that into a studio recording, I think that this album is the closest we've ever come to capturing that vibe."
What makes your band unique from the rest?
"We are not afraid to really mix it up musically and explore a wide range of styles. We also have a twisted sense of humour and a very natural way about approaching a crowd. We always get comments from people after a show about how the atmosphere we created on stage felt like they were hanging out with friends at home."
How does your band survive the challenges of touring/gigging?
"By having other jobs to pay the bills. Ha! No ,seriously, that 'is' how we survive."
Would you rather be critically-acclaimed; rich and famous; or an under-the-radar band with a dedicated fan base?
"I think that we would like to be as rich and famous as possible, without losing whatever it is that makes us who we are…if that
makes any sense. I mean really, who doesn't want to make a lot of money? Critical acclaim is nice, but it doesn't buy you groceries unless it is accompanied by an enthusiastic fan base who is willing to show support in more ways than hitting the 'Like' button."
If you'd have to compare your band to another one out there, living or dead, who would it be and why?
"This question has always been a challenge for us. We have not had a lot of success in trying to pick bands for the 'who do you sound like' category. We have elements that sound like The Black Keys, or Zeppelin or Soundgarden, and then other elements that can be in the ballpark of Tom Waits or Zappa or Gogol Bordello. How the hell do you just narrow that down to one or two bands? It just doesn't work."
Which band/musician would you like to share many drinks with? What would you talk about?
"For me, that would have to be Tom Waits or Keith Richards. I just find those guys fascinating and they both are very good storytellers. That said, Keith may be a bit difficult to comprehend at times. "I would talk about pretty much anything that they wanted to. I would probably steer clear of asking them the typical 'what was it like' fan questions that they must get all the time. Although, I would have to ask Tom what it was like hanging with William S. Burroughs during The Black Rider sessions."
Please be sure to follow us on Twitter @riffyou and at Facebook.com/riffyou.